Cameron Looks Surprisingly Relaxed at EU Summit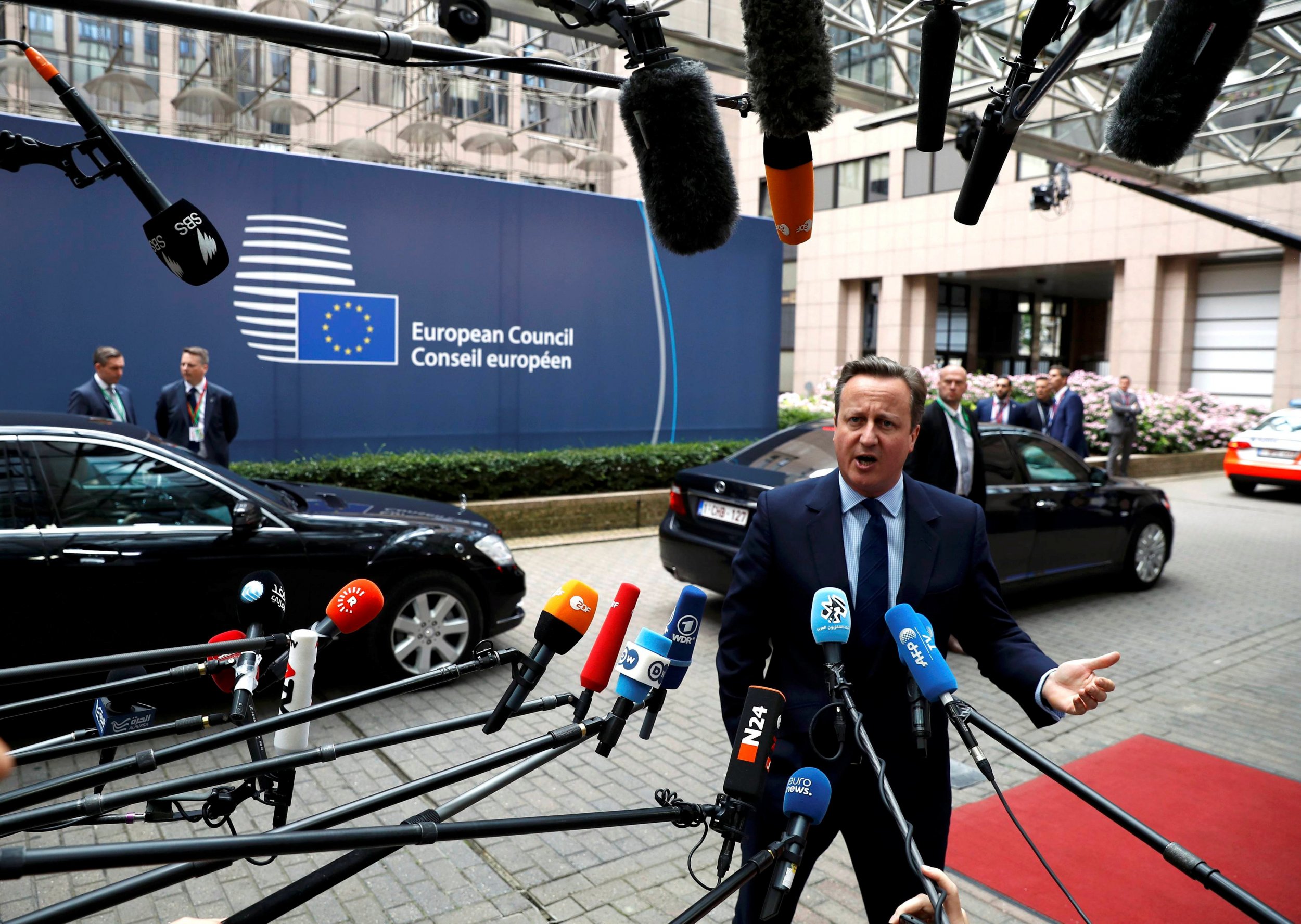 'Praised to grave,' loser Cameron slides out of Brussels
By Elizabeth Piper and Alastair Macdonald
BRUSSELS (Reuters) - It had been billed as David Cameron's most awkward summit, a time when he would be forced to rake over the mistakes which led to Britain voting to leave the European Union.
But in Brussels on Tuesday, at least for the cameras, the British prime minister cut a relaxed figure, one who shared his regret with other leaders but one who was resigned to offering advice from the sidelines on how to fix a broken relationship.
For the others at the table, summit protocol -- and a dash of genuine fellow feeling for another high-flying career undone at the ballot box -- ensured a formal politeness. But outside the room many leaders, and their spin doctors, made clear they blame Cameron for driving the Union to the brink of collapse.
"Cameron was praised to the grave," one diplomat said of the funereal good humor over a dinner of beef in the European Council building. "There was a lot of personal, emotional tone."
Outside, however, as Cameron aides told British reporters that he felt easy EU migration policy had cost them Britain's membership -- and Cameron his job -- EU officials hit back, accusing the British leadership of reaping the whirlwind of years of anti-EU rhetoric and making vows to cut immigration he could not keep.
"Don't blame other people for your own failures," one senior EU official said of Cameron's complaints over migration policy, noting that Britain had long wanted cheap east European labor.
Cameron gave little sign of having heard such criticism.
After relinquishing his premiership when Britain voted for a Brexit, or British exit, against his advice, Cameron came to Brussels as a caretaker leader, one who wanted to help "shape" Britain's future ties with the EU for a new prime minister.
"What's he got to lose?" said a government source.
"He could have not turned up tonight, or he could turn up tonight and ... set out what he continues to believe is what is in the best interests for Britain."
As he shook hands with German Chancellor Angela Merkel, European Commission President Jean-Claude Juncker and European Council President Donald Tusk and others, there was occasional awkwardness but also, his aides said, he was pleased that he had won some "understanding" that he had to resign.
And despite irritation that he has reneged on a promise to trigger the withdrawal process immediately, an EU official also acknowledged that Cameron's move to leave that job to whoever succeeds him was the mark of "a clever tactician to the end".
There were displays of frustration, pity and scorn from EU leaders and lawmakers who pressed him to give early notice of Britain's intention to leave the bloc. But there was also "sadness and regret", Cameron said.
In what will most likely be his last EU summit, Cameron may even have seemed somewhat relieved.
The British leader has never hidden a dislike of Brussels and its institutions that make up the European Union, a bureaucracy that has deeply divided his ruling Conservative Party for decades and helped bring down two of his predecessors, Margaret Thatcher and John Major.
After hailing a deal in February to win Britain a "special status" in the EU that he expected would help convince Britons to vote in favor of remaining in the bloc, he said: "I do not love Brussels. I love Britain."
But he argued it was his "hard-headed assessment" that it was in Britain's best interests to stay - an argument he repeated for weeks before the vote, but one which not everyone in his party, or in the country, believed was totally heartfelt.
It took the British prime minister years to get to grips with the EU system, sources close to Cameron and in the EU have said. He often failed to understand how irritated he was making others. Or looked bored and uninterested in proceedings.
This time, it was relatively plain sailing. The state in which he leaves Britain's relations with the EU was, an aide said, "a difficult issue to work through". But, as Cameron, 49, contemplated retirement, those issues were for his successor.