Cameron Peak Fire Update: Glacier View, Other Evacuations Ordered As Colorado Fire Doubles in Size
The Cameron Peak fire exploded over the weekend, forcing people to evacuate from their homes as firefighters work to contain the flames.
Flames in Colorado ignited on August 13 in the Arapaho and Roosevelt National Forests near Cameron Pass. Firefighters worked against dry and hot conditions, and the fire has burned through nearly 60,000 acres, nearly doubling in size over the weekend.
As of Monday, mandatory evacuation orders were in place for the intersection of Highway 14 and County Road 103 north to Four Corners, south of County Road 86 from County Road 103 east to County Road 73C and south to Highway 14. Other areas under mandatory evacuation orders include:
Long Draw Road and Long Draw Reservoir
Pingree Park Road from Highway 14 south to the housing district east of the Colorado State University Mountain Campus
Buckhorn Road from Pennock Pass to County Road 27
Stove Prairie Landing south on County Road 27 to County Road 44H and east to include Stratton Park
Glacier View
Glacier View Meadows, a residential neighborhood, consists of about 970 lots. The Red Cross was set up at Cache La Poudre Middle School on Sunday to help evacuated residents obtain shelter and the Larimer Humane Society coordinated shelter for small animals.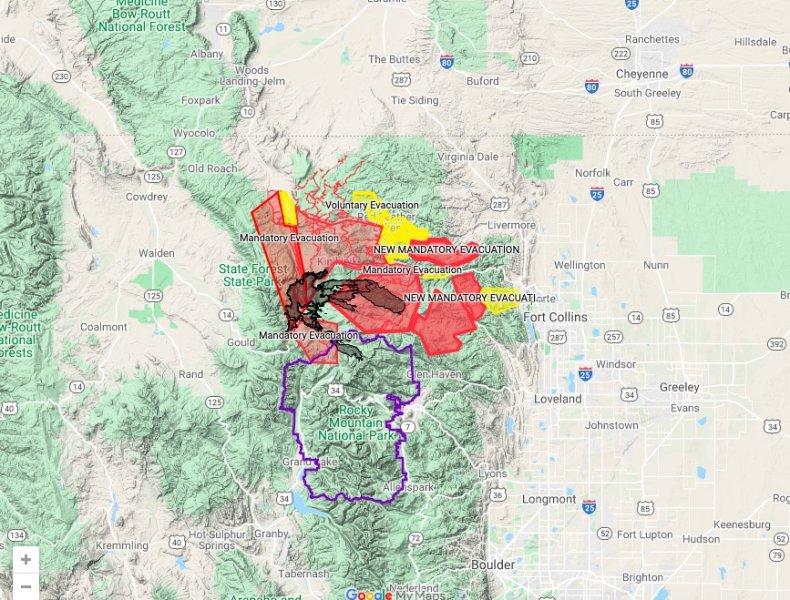 Nearly 800 people were assigned to the blaze that stands at four percent containment as of Monday morning, according to Larimer County. They're working to protect structures and expect residual intensifying into the evening. "Active to extreme" fire behavior is expected for the next 24 hours, but incoming cooler weather and snow could diminish the behavior.
About 24 hours after Colorado experienced record highs, the state was hit with a winter storm watch and Fort Collins, where the fire is burning, could see the earliest snow on record, according to Colorado Public Radio. It's been 20 years since it snowed in September in Colorado and assistant state climatologist Becky Bolinger told CPR it's an "incredibly notable event."
Three to seven inches of snow accumulation was expected by Wednesday, according to the National Weather Service (NWS).
Now the seventh-largest wildfire in Colorado's history, Paul Bruggink, a spokesperson for the Cameron Peak fire team, told The Denver Post it could spread further into the forest depending on winds and temperatures. While snow could slow the fire down, Burggink said he didn't expect the precipitation to extinguish it.
Larimer County officials hope to have the fire fully contained by October 31. If it grows to more than 72,962 acres before being contained, it'll overtake the 2002 Missionary Ridge Fire for the 6th largest wildfire in state history.
Newsweek reached out to the Larimer County Sheriff's Office for comment but did not receive a response in time for publication.
Cameron Peak Fire Update: Glacier View, Other Evacuations Ordered As Colorado Fire Doubles in Size | U.S.