Camilla 'Felt Empathy' for Diana Due to Charles' 'Regimented' Routines
Camilla, Duchess of Cornwall felt empathy for Princess Diana over dealing with Prince Charles' regimented demands, author Tina Brown has revealed in her upcoming title The Palace Papers: Inside the House of Windsor—The Truth and Turmoil.
In an extract published by The Telegraph, the ex-Vanity Fair editor writes that the usually "upbeat" and "encouraging" Camilla struggled with royal life following her marriage to Charles in 2005.
Brown wrote: "The ambivalence of her position was becoming untenable. For a while, she had thought that there was an upside to not being Charles's wife. She had always hated flying, speaking in public, dressing up and getting press attention. She had never had a calendar filled with things she didn't want to do, which essentially defines the royal way of life."
One of the main gripes with her new royal life, according to Brown, was the tightly regimented way that Charles ran his day and by extension expected his wife to run hers. "The prince's routine was relentless," Brown recounts:
"Punctuality had never been Camilla's strong suit, but Charles expected her to be ready for engagements at his own regimented pace. When she asked where they were going, he would snap: 'Haven't you read the brief?'"
Here, according to Brown, Camilla began to sympathize with her love rival, the prince's first wife Diana, who complained of the tight constraints placed upon her when she became a princess. Brown writes, "One of [Camilla's] friends at that time told me that she had even started to feel some empathy with Diana's manifold discontents."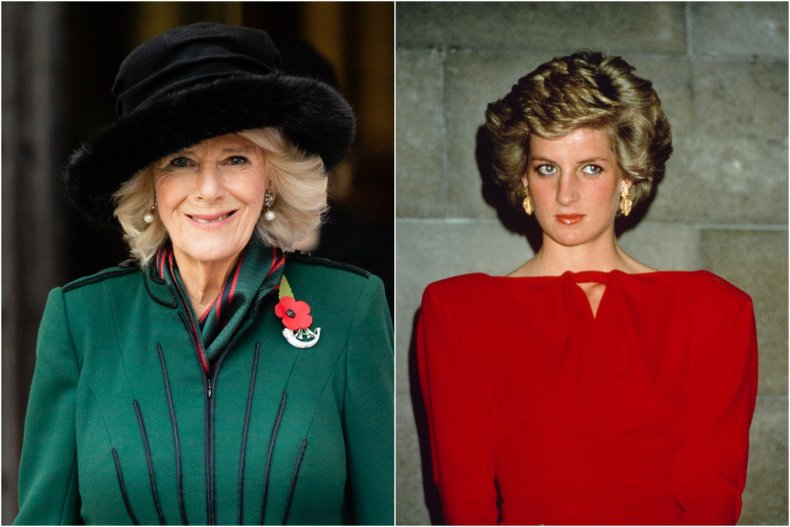 Camilla's Motto: 'Thou Shalt Not Whine'
Charles and Camilla had known each other for over three decades when they finally married in 2005 following the long and drawn out process of obtaining Queen Elizabeth II's blessing.
In a 1994 interview with Johnathan Dimbleby, Charles had admitted to being "unfaithful" to Diana during the course of their marriage and though not explicitly referenced, the press drew the conclusion that Camilla was his extramarital paramour.
This suspicion was near confirmed by Diana a year later in her controversial 1995 Panorama interview with Martin Bashir.
When asked by Bashir if she thought "Mrs. Parker Bowles was a factor in the breakdown" of her marriage, she replied with the now famous statement: "Well, there were three of us in this marriage. So, it was a bit crowded."
The Panorama interview set in motion the Waleses' divorce, with the queen deciding after its broadcast that enough was enough.
The queen would reportedly not agree to meet Camilla during Diana's lifetime. After Diana's death in 1997, the queen put off an official meeting until the year 2000.
Throughout the course of Charles and Diana's marriage, in particular following the Panorama interview, Camilla became the focus of intense media attention and criticism. Despite the efforts that were gone to in order to provoke a reaction from her, Camilla never gave an interview or rebuked claims made against her.
Brown writes that, "If Camilla had a family motto, it would be 'Thou Shalt Not Whine.'"
Even given these setbacks, Charles and Camilla announced their engagement on Valentine's Day in 2005 with the queen's blessing.
Camilla's Cold Feet?
Despite the long road to the altar and the couple's obvious affection for each other, the success of the royal wedding day wasn't a foregone conclusion.
In her book, Brown recounts the issues faced on the day itself, from worries that the couple may be booed to the date having to be postponed owing to the death of Pope John Paul II. As a result, Brown writes, "the otherwise stalwart Camilla went into meltdown.
"She developed a chronic case of sinusitis and spent the week with girlfriends ministering to her shredded nerves. On the day of the wedding, she had to be coaxed out of bed."
When she was convinced to get up and dressed, Camilla and Charles' wedding day passed better than some had expected. Brown states that the crowds outside the registry office at Windsor "weren't hostile" and she was presented with a wedding ring made from a nugget of Welsh gold which royal wedding bands were traditionally made from.
The queen, according to Brown, told the newlyweds, "There is very little of it left–there won't be enough for a third wedding."
Blessing From The Queen
After the wedding and blessing ceremonies, the Queen gave a speech which signified that Camilla was well and truly welcomed into the royal fold. According to Brown, making reference to the Grand National (Britain's premiere horse race), the monarch told the assembled guests:
"I have two important announcements to make. I know you will want to know who was the winner of the Grand National. It was Hedgehunter. [Deadpan pause.] Secondly, having cleared Becher's Brook and The Chair and all kinds of other terrible obstacles, they have come through and I'm very proud and wish them well. My son is home and dry with the woman he loves. They are now on the home straight; the happy couple are now in the winners' enclosure."
In the 16 years since their marriage, Camilla has performed her royal duties in the shadow of comparisons to Charles' first and revered wife, Diana. These comparisons have not prevented the public from warming to her. A March 2022 poll by YouGov found that in the U.K. the duchess holds a 48 percent approval rating, placing her ahead of Prince Harry and Meghan Markle.
The duchess is poised to receive criticism from Harry in his memoir published later this year following claims by Brown that the prince "can't stand" his step-mother and could "go after her" in his book.
Despite her earlier reservations about the duchess, the queen has apparently become one of Camilla's biggest supporters within the royal family. In February 2022 the 95-year-old monarch released a statement which included the line:
"When, in the fullness of time, my son Charles becomes King, I know you will give him and his wife Camilla the same support that you have given me; and it is my sincere wish that, when that time comes, Camilla will be known as Queen Consort as she continues her own loyal service."