British singer Harry Styles released his second solo album, Fine Line, on Friday, and there's a select piece of audio that may surprise some listeners. The star recently admitted that he asked one of his ex-girlfriends to appear on the song "Cherry," and her voice can be heard at the end of the track.
Styles did not specifically indicate who the name of the ex-girlfriend on "Cherry," though fans have speculated it's Camille Rowe, a French-American Victoria's Secret model who reportedly dated Styles from 2017 to 2018.
The former One Direction member revealed the decision to add an ex-girlfriend to the song in a conversation with Beats 1's Zane Lowe last month. "When we listened back to the album, I asked her to add it in. I think she liked [the song,] he said, according to U.K. publication Metro.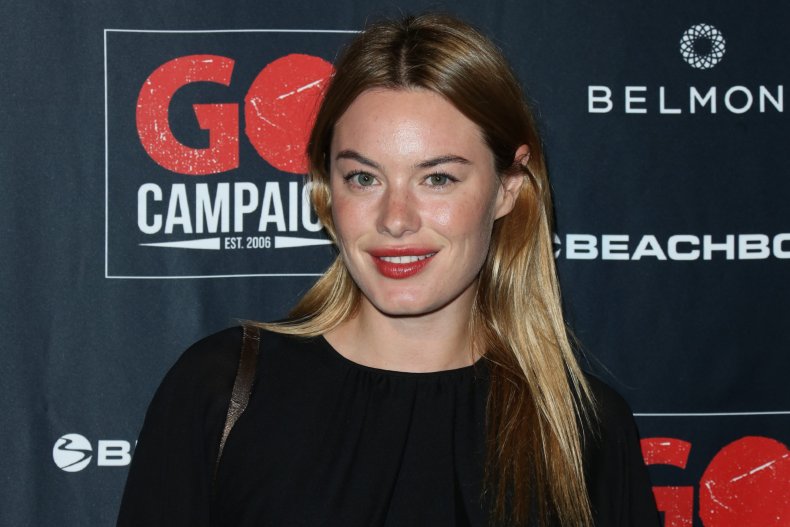 "I wanted it to reflect how I felt then," Styles further explained. "I was feeling not great. It's all about being not great. 'Because, you get petty when things don't go the way you want it. There's parts that's so pathetic.'"
In addition to Rowe, Styles has also been linked to model Kendall Jenner, pop star Taylor Swift and television presenter Caroline Flack.
Here are three reasons why Styles' "Cherry" and Fine Line are possibly connected to Rowe.
Rowe's New Relationship
Lyrics from "Cherry" surfaced online before the song's release, and one line in particular questions if the new boyfriend takes the woman "walking around his parent's gallery." Rowe has been linked romantically to Theo Niarchos, a famed gallerist. Another possible clue that it might be Rowe's voice on the song is that the ex-girlfriend's spoken words are said to be in French.
"Watermelon Sugar"
Another clue possibly links Rowe to the singer's new record. For instance, Styles released a single titled "Watermelon Sugar" ahead of Fine Line (He performed the track during his recent appearance on Saturday Night Live). In a 2017 conversation with Elle, Rowe mentioned Watermelon Sugar by Richard Brautigan as one of her all-time favorite books.
"Falling" Lyrics
"Falling," a song from Fine Line, mentions "wandering hands" in its lyrics. Some have interpreted that line as a reference to cheating in a relationship, although there has been no confirmation that this was the situation between Styles and Rowe. In a recent Rolling Stone profile, Styles said: "It's not like I've ever sat and done an interview and said, 'So I was in a relationship, and this is what happened.' Because, for me, music is where I let that cross over."
Fine Line follows Styles' 2017 self-titled album, which contains such tracks as "Sign of the Times" and "Sweet Creature."