Johnny Depp's attorney Camille Vasquez is adamant that Amber Heard's loss in a high-profile defamation trial has no connection to, and will not have any ramifications for, the #MeToo movement.
Vasquez and her colleague Benjamin Chew, who both represented Depp during the recent multi-million-dollar suit, have been giving a number of television interviews to discuss the case. Depp won the trial against ex-wife Heard which came about after she wrote a 2018 op-ed stating she was a survivor of domestic violence.
Chew and Vasquez have been answering a number of questions relating to the trial: the key to victory in the case, the effect social media had, and how they got Kate Moss to testify.
One topic that has come up during multiple interviews is the damage the case could cause to the Me Too movement, potentially preventing other victims from coming forward. Vasquez believes that's an unrelated issue to the Depp v. Heard trial.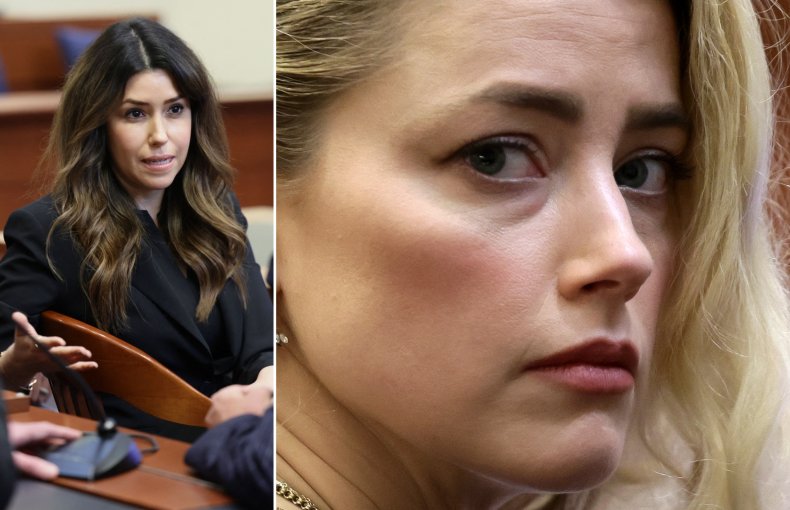 "We encourage any victim to come forward. Domestic violence doesn't have a gender," Vasquez said on Good Morning America. Host George Stephanopoulos stated victim advocates argued the verdict is going to have a "chilling effect" on domestic violence victims and would be a "blow" to the Me Too movement.
Responding to whether she thought the trial and verdict could be seen as a setback to the Me Too movement, Vasquez said, "We do not. We believe that the verdict speaks for itself. The facts are what they were. The jury made a unanimous decision based on those facts."
Over on another interview, this time with Savannah Guthrie on the Today show, the topic of Me Too came up again.
"People have wondered whether there is a larger resonance to this trial, whether it sends a message. Do you see any larger message beyond the case you tried?" Guthrie asked.
"No. I mean, frankly, we don't," Vasquez curtly replied. "We're here to talk about the case that we tried, right? We encourage all victims to come forward, have their day in court, which is exactly what happened in this case."
After the trial ended and again after the verdict came in, countless opinion pieces were written in news outlets discussing the case in relation to the Me Too movement. What this case said about the movement and its future was widely discussed online and continues to be.
During the trial, a viral thread started online discussing where men "ruined" by the Me Too movement were now. The thread found that most of them are continuing to have successful careers.
Right-wing political commentator Candace Owens however accused Heard of benefiting from the Me Too movement. She wrote in a tweet in April, "I'm on record calling Amber Heard a liar from day one. Many people don't realize that an abusive sociopath was able to seamlessly destroy a man because of the #metoo campaign."
After the verdict was announced, Heard said the result was "a setback" for other women. "It sets back the clock to a time when a woman who spoke up and spoke out could be publicly shamed and humiliated. It sets back the idea that violence against women is to be taken seriously," she said in a statement.