Republican members of the U.S. House said they were blocked from asking questions about the situation in Afghanistan during a briefing with key members of the Biden administration on Sunday.
At least one has claimed she felt misled about the rapidly deteriorating conditions in the South Asian country, as the Taliban took over. Secretary of State Antony Blinken, Secretary of Defense Lloyd Austin and Chairman of the Joint Chiefs of Staff General Mark Milley all took part in the call.
"More than six times, all three officials stated, 'We are engaging in an orderly and safe withdrawal' and we have 'planned for all contingencies.' Finally, they said 'the Taliban isn't in Kabul.' They cut off questions from members leaving us with few or no answers," U.S. Representative Kat Cammack, a Florida Republican, said in a statement on the call. "This morning, we woke to the news of a fallen Afghanistan, now in the hands of an American-armed Taliban with chaos at the Kabul airport, thousands rushing the tarmac to board aircraft out, and Americans frantically attempting to evacuate our embassy."
The White House didn't immediately respond to Newsweek's request for comment about the contents of the call or tone.
House Speaker Nancy Pelosi's office noted that the California Democrat was not the call's organizer.
U.S. Representative Elise Stefanik, a New York Republican, released a statement also claiming members were blocked from asking more questions during the bipartisan call about the situation as the United States attempted to withdraw from Afghanistan after nearly 20 years, putting an end to the longest-ever American war.
"I sit on the House Armed Services Committee, the House Permanent Select Committee on Intelligence, and represent the 10th Mountain Division at Fort Drum, the most deployed U.S. Army division since 9/11," Stefanik said. "I have led and participated in multiple bipartisan delegations to Afghanistan."
President Joe Biden cut his Camp David vacation short on Monday, opting to return to the White House to address the chaos in Afghanistan. He had been getting regular briefings at the presidential retreat in Maryland, where presidents can operate through secure phone lines and video conferencing.
The Taliban seized control of Kabul on Sunday, as Afghan President Ashraf Ghani fled the country. The insurgents already had toppled the government in several cities surrounding Kabul.
Biden announced in April that American troops would be out of Afghanistan by September 11—the 20th anniversary of the terrorist attacks that killed nearly 3,000 people. He later pushed up the date to August 31.
His administration has spent recent days defending that decision, even as the Taliban ramped up its hold of the country.
Cammack said she supports the removal of American troops from Afghanistan.
"I, along with most Americans, believe that our time in Afghanistan should have ended long ago," she said. "I have long supported a smart, strategic, and well-thought-out withdrawal, but what we are witnessing is anything but."
U.S. Embassy officials in Afghanistan, American citizens and Afghan people who have aided the United States over the past two decades have had to be evacuated from the country in recent days.
But Biden has defended his decision to pull troops out of Afghanistan, noting that former President Donald Trump had entered a deal to end the war this year.
"When I became President, I faced a choice—follow through on the [Trump] deal, with a brief extension to get our forces and our allies' forces out safely, or ramp up our presence and send more American troops to fight once again in another country's civil conflict," Biden said in a statement Sunday. "I was the fourth president to preside over an American troop presence in Afghanistan—two Republicans, two Democrats. I would not, and will not, pass this war onto a fifth."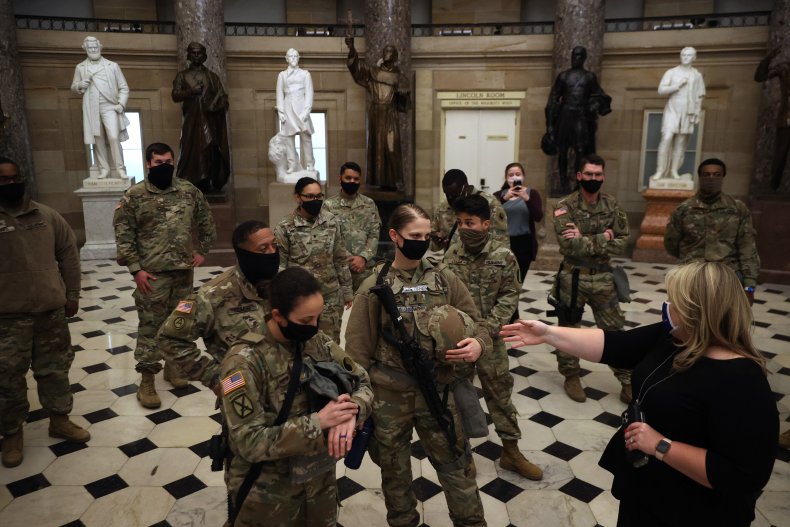 Updated 08/16/2021, 1:30 p.m. ET: This story has been updated with a statement from Speaker of the House Nancy Pelosi's office.