How Many Missing After Camp Fire? The Lost and Found Souls of Paradise, California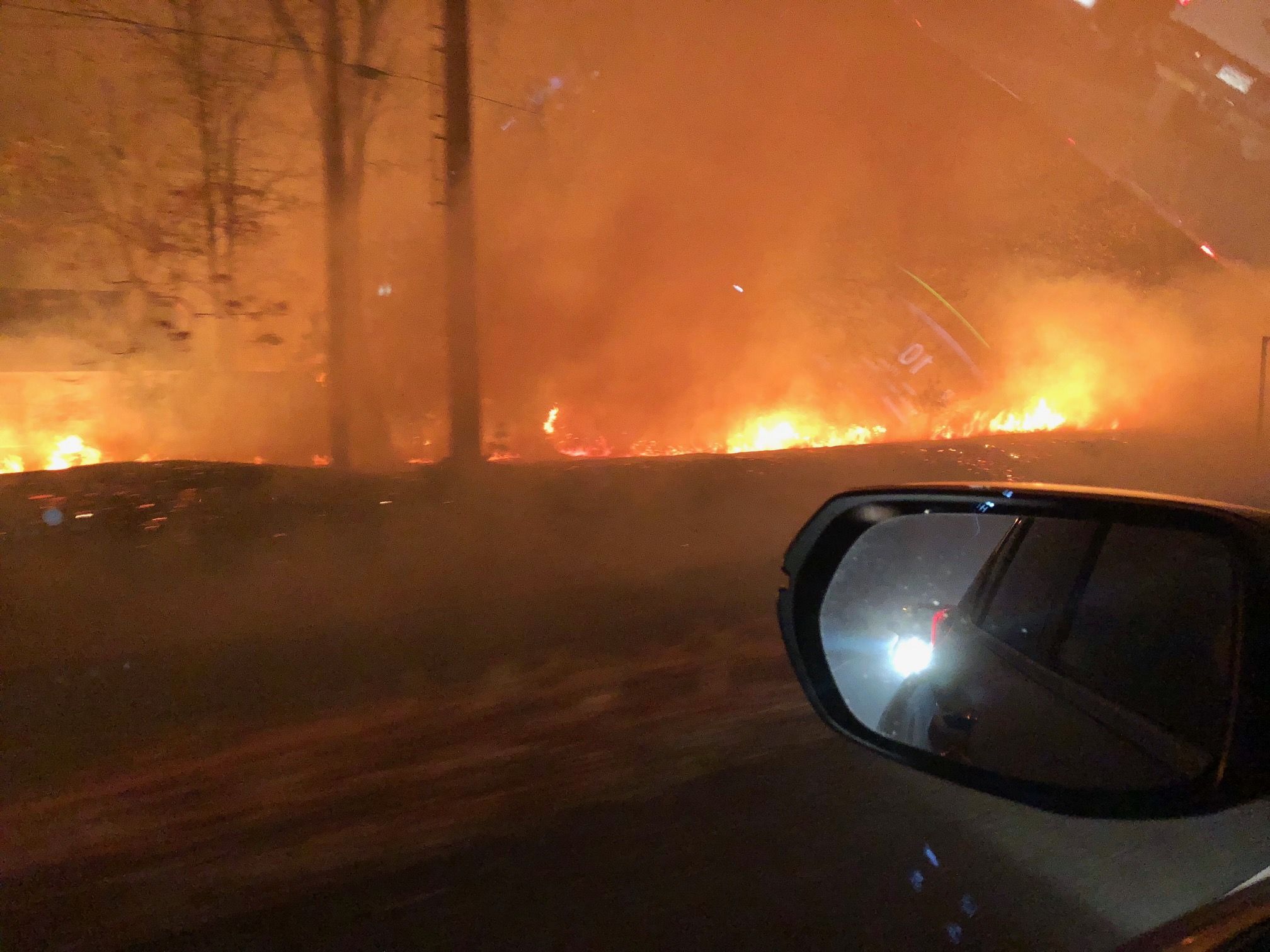 It took Sue Petersen three days before she could even look at the list.
That would be the "Unaccounted For Persons" list that has become a kind of constant reminder of the totality of the doomsday firestorm that lasered its sights and pulverized Paradise, California, subtracting an estimated two football fields each minute.
"It honestly leaves me numb," the Paradise resident and former high school administrator told Newsweek. She spoke days after her home, like hundreds of others, was reduced to rubble.
"It's too overwhelming to take in the immensity of it yet."
The mere fact she's alive is still sinking in.
"I drove literally over burning trees with flames over me," Petersen said. "I honestly thought I was going to die."
With her home "blasted away" and now her car engine cracking from the melting mercury levels, and only inching through a tunnel of fire -- Petersen thought her time had come.
"I sent texts to my kids telling them, 'I love you and I don't think I am going to make it,'" she said.
Alive and homeless, Petersen found the courage after Butte County Sheriff Kory Honea's public request to look over the list.
And after 40 years of seeing so many of the local kids grow up at Paradise High School, Petersen acknowledged that too many names were all too familiar.
"I know a lot names," she said through sobs.
The town with the dreamy namesake, which before being ravaged by fire boasted a population a nose over 26,000, according to the U.S. Census, has metamorphosed into a Hades on earth.
The culprit was the Camp Fire, now officially California's deadliest fire, which has torched more than 150,000 of acres.
Newsweek spoke to residents comparing Paradise's fire as a direct hit. One lifelong Paradise local called it "our own Pompeii" after the deadly eruption of Mount Vesuvius back in 79 A.D.
Petersen has only been able to stew on images her son snapped.
"It looks like houses have been blasted away," she said.
After a godsend downpour of rain and winds letting up some on Wednesday, the conditions to tackle the Camp Fire have improved. That has garnered a 95 percent containment, meaning crews have control lines surrounding the fire, and the body count has so far held at 84.
Search and Rescue teams composed of engine companies from faraway places like Missoula, Montana, are aiding the Butte County Sheriff's Office to push through the holiday and pinpoint the missing or confirm fatalities.
That mission remains a moving target.
What began with almost 1,000 names on the living breathing document has witnessed some names be added and subtracted since the Camp Fire kindled on Nov. 8.
The number stands at 605 as of Friday afternoon.
An off-duty firefighter, who spoke to Newsweek under the condition of anonymity as he was not permitted to speak publicly, confirmed that list is imperfect.
"It's very complicated to have an accurate number," the firefighter said.
So many in the town couldn't evacuate fast enough.
"It's pretty sad to know a lot of people didn't have the opportunity to get out," the firefighter said. "Efforts were made as best as possible at the point that fire entered Paradise."
But who could have foreseen the kind of speed and fury that the fire wrought?
"It happened so quick," said one resident, a real estate agent, who lived on the far west of Paradise since 1970 and escaped to nearby Chico, California.
"It was two hours and it hit the whole town," said the resident, who wished to remain anonymous. "They got the people out as quickly as they could … Life is more important that the town and there's no way you could have fought that."
The resident, who's sold homes to hundreds of people and was refunding deposit checks to would-be buyers over Thanksgiving, admitted the event was almost biblical.
"It's our own Pompeii."
Two names since subtracted from the list after some tenacious legwork were former Paradise Unified School District board member Tom and his longtime teacher wife Tamara Conry.
"So many are or were missing, but not us," Tamara informed Newsweek.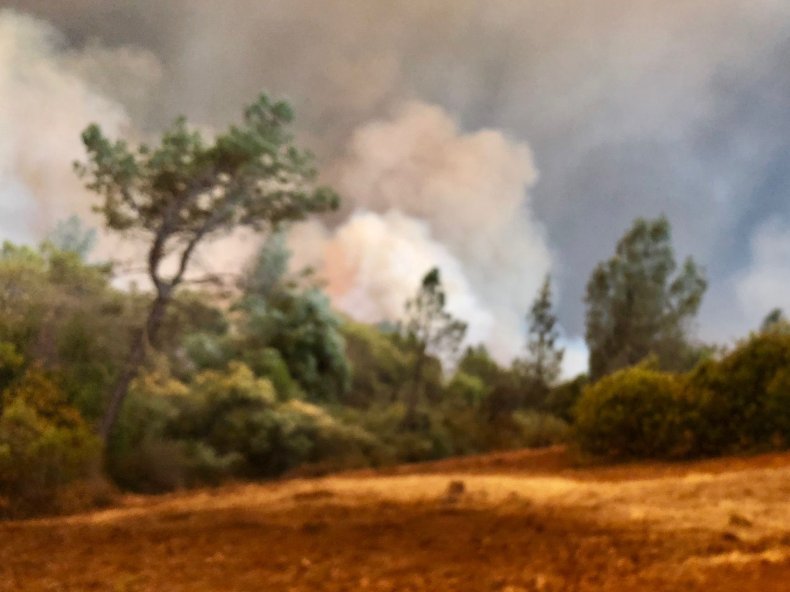 She remains stumped as to why she and her husband were on the list in the first place; and a clear miss in the couples' ages (listed as 72 and 75 -- when Tamara is 55 and her husband 68) when she saw her name in the Paradise Post.
That fact has Tamara finding a little much-needed amusement in unraveling the mystery.
"We have no idea who put us on the list," she said. "Clearly they didn't know us very well!"
She spent days to fix the oversight.
"We immediately called the Butte County Sheriff's Office and left a voicemail," she said. "
Tamara texted kin and friends and made calls and responded to folks on Facebook to ensure that they were OK.
She finally reached someone at the sheriff's office and was assured that their names would come off the list. And there have been other stories like hers proving the list may have originally been inflated from the start.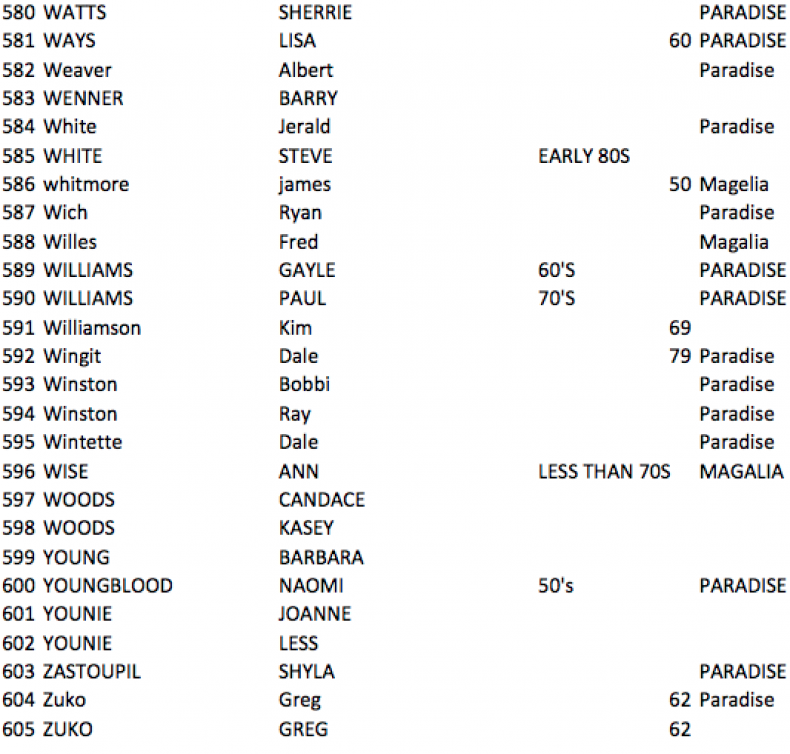 Still, the woman that she spoke with "couldn't tell us who put us there so we could contact them."
The Conry's home somehow appeared in photos to be doomed.
A series of images Tamara snapped show the plumes nearing the ranch-style home all the way until they fled for their lives.
Reflecting on one of the images where flames appear almost all over the frame, Tamara said that they are "on our property with all the trees between it and us."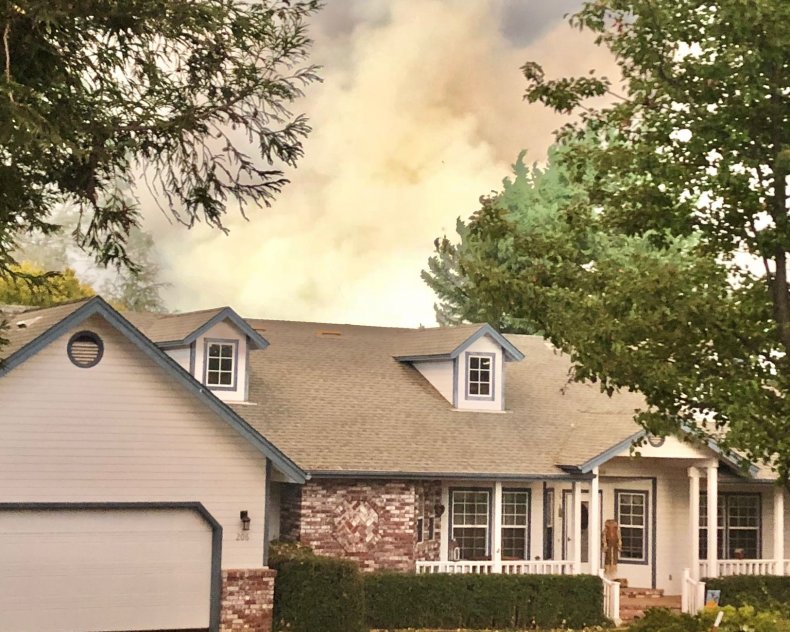 The structure managed to avoid being wiped from the map like countless others, as they they only lost their lower deck and some furniture.
"The house stood with fire lines right up to it," she said. "We were so sure our home was destroyed since we saw the flames on our back property as we fled our home."
Three days later, she and her husband learned their home remained intact.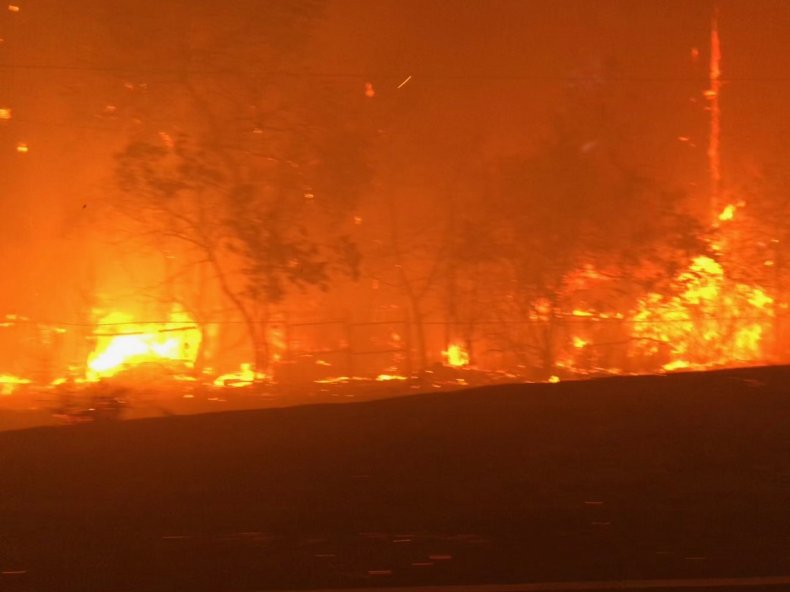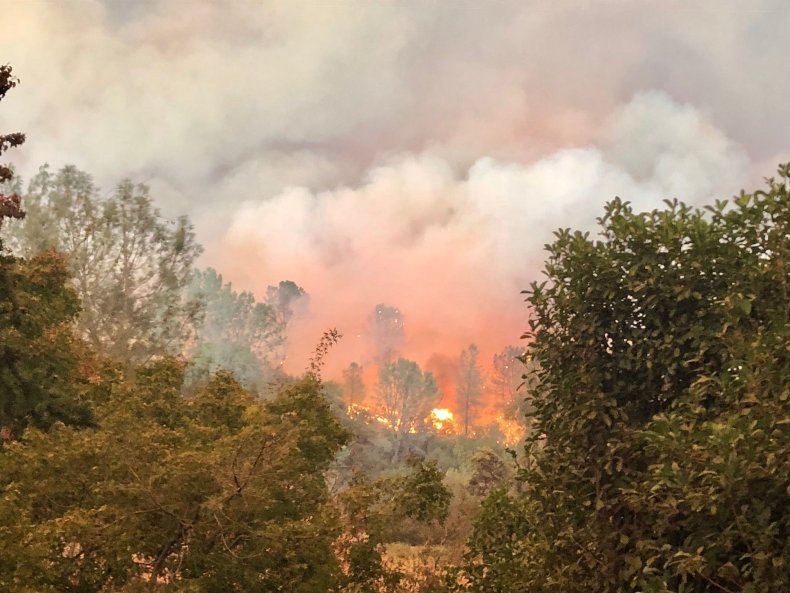 Not far from the Conrys lived a 76-year-old painter named Terry Baker.
But like some of the sunsetting residents in Paradise, Baker was elderly and a known recluse.
And since the list was created, Baker's pal Aaron Hawkins has been overwhelmed with fear that the widower may have perished or has nobody to call to report him missing.
Hawkins' childhood home is destroyed, his grandmother's house and his wife's home -- all "gone."
The 37-year-old who moved to nearby Magalia, said that Baker lost his art gallery that burned down while living in Southern California and after his wife, Mona, passed away "he lost his passion for painting."
Days passed and despite trying Baker's few family members -- Hawkins said he's come up short and planned to add his name to the missing.
"We are going to call and add him to the list," he said.
Baker's unknown status isn't alien to many in mass evacuations like the one that hit Paradise. If they don't have family or any ties to neighbors or friends they could go unreported.
On the day when the street evacuated, the anonymous neighbor said he did attempt to call Baker, whom he knew as "a loner" and noted "there was no answer."
It's possible, the neighbor stated, that "he may have gotten in his car and left."
Attempts made by Newsweek to track down Baker or his relatives were unsuccessful.
The off-duty firefighter confirmed that Baker's home received an official visit, which once rested on a squiggly road nudged next to a canyon above Little Butte Creek called Valley Ridge Drive (where only two houses are still standing).
"I don't know if he got out," the firefighter said. "I do know that address was checked and I don't think there was anything conclusive."
On Thursday, Hawkins informed Newsweek that he spotted Baker's name on the list.
"I also noticed Terry was added to the missing person's list," he explained.
Meantime, as he waits for news on Baker, his family are returning to Arden Way on the outskirts of town limits to "sift through the rubble and see if they can salvage any keepsakes."
For the veteran who has seen many wildfire blazes, the Camp Fire was a feral beast.
"I've seen a lot of things but nothing that measures to this," the firefighter confessed. "It was the magnitude of the damage, the death toll and that list."
On Wednesday, the school administrator Petersen said she was mourning the loss of the her second home, the high school.
"The churches, the restaurants -- and the schools, the schools, the schools," she said. "The children are just lost.
"I ran the office for the [high] school and I know every kid that graduated in town."
Despite what she called "a huge tragedy" she has found pockets of joy.
In fact, when Petersen stood in a snaking cue along with fellow Paradise residents to recover mail -- a "gamut of emotions" swept over her in what became a spontaneous reunion of sorts.
"To stand in line for an hour was wonderful," she said, feeling euphoric just to be alive. "It was so heartening to hug someone that you didn't know you would see again."