The Camp Fire's death toll rose to 88, and 203 people were still missing, the Butte County sheriff said on Monday, a day after the deadliest and most destructive blaze in California's history had been fully contained.
The fire burned for 17 days, charring more than 153,300 acres, according to a Sunday update from state agencies.
The death toll rose after a forensic lab found that remains presumed to be from two people actually belonged to three separate individuals. Only 16 people killed in the blaze had been identified, NPR reported. Another 54 had been tentatively identified.
The youngest identified victim was 58-year-old Richard Jay Garrett, and the oldest was 95-year-old Vernice Regan, according to The Sacramento Bee. While more than 200 people were still unaccounted for, 2,689 people previously listed as missing had been located.
The Camp Fire destroyed nearly 14,000 residences, as well as 528 commercial buildings and almost 4,300 other structures.
Authorities said those searching for remains encountered ravaged scenes and a desolate landscape charred by the blaze. Butte County Sheriff Kory Honea said he could not say when investigators would complete their search for victims, but that "high-probability areas" had already been scoured more than once, The San Francisco Chronicle reported.
"Unfortunately, many of the remains we've located have been nearly completely consumed by the fire," Honea said. "What they're recovering is bones and bone fragments."
Some areas, including Paradise and Magalia, remained under evacuation orders, NPR reported on Monday.
"A lot of people are anxious to get back into their properties and communities," Honea said. "We are very anxious to get people back into their properties. But the thing that we have to do before we can allow that is ensure that the area is safe for the public to return."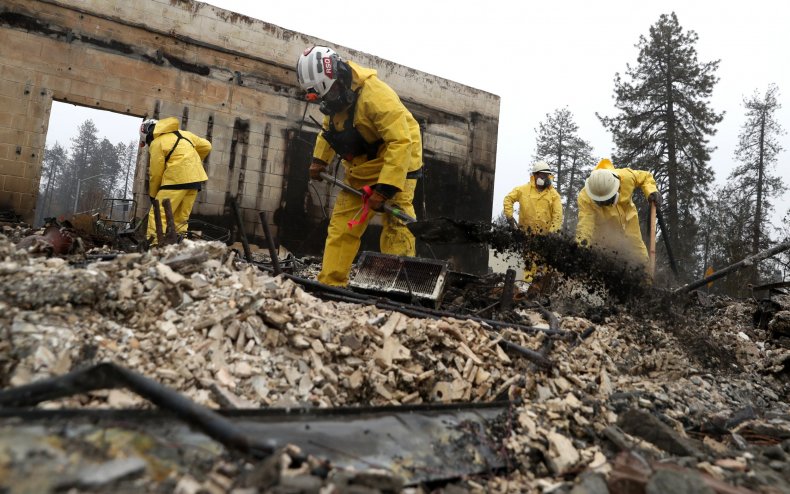 Interior Secretary Ryan Zinke said on Monday that the costs of the fire would likely reach billions of dollars, NBC News reported. "There's a lot of things I'd rather spend this federal money on rather than repairing damage of things that have been destroyed," he said.
This summer, Zinke blamed "environmental terrorist groups" for wildfires and denied that climate change had a role in the dangerous blazes.
"I've heard the climate change argument back and forth," he said. "This has nothing to do with climate change. This has to do with active forest management."
In other statements, he acknowledged that climate change had played a role in the ravaging wildfires.
The president has promoted similar sentiments and blamed the wildfires on factors other than climate change, drawing backlash from scientists. Experts have said that rising temperatures linked to global warming had dried out vegetation, creating tinder for flames. Winds had also held a role in exacerbating burns.
PolitiFact said that Trump's November 10 statement that "there is no reason for these massive, deadly and costly forest fires in California except that forest management is so poor" was "overly simplistic and false."