Camp Fire Viral Video Shows California Dad Singing to Toddler to Keep Her Calm During Evacuation
A terrifying video has emerged online of a father driving his young daughter to safety as they escape from a wildfire in Northern California that has claimed the lives of at least 29 people.
Thousands of Butte County residents fled their homes after the devastating Camp Fire took hold on Thursday.
The footage shows an almost apocalyptic scene, with the inferno raging on both sides of the road—which is covered in burning debris. The sky appears to glow orange and the air is filled with thick smoke.
Joe Allen was escaping from the town of Paradise with his daughter Olivia—who recently turned three—while his wife Whitney drove their eight-month-old daughter in another vehicle.
Whitney Allen told KTVU that her husband was good at staying calm under pressure, a skill she puts down to his military background.
"He was of course worried," she said. "At one point we both thought we weren't going to make it out."
In the video, Joe answers his daughter's worried questions about the blaze, saying: "Hey guess what, we're not going to catch on fire OK. We're going to stay away from it and we'll be just fine OK. We're doing alright." He then starts singing to reassure her.
Subsequently, Olivia remarks, "I can't see my mom," and says that she wants to turn around and go home.
Joe responds, "we're going to get out of here. We'll come back when it's more Princess Poppy."
At one point the father swears as traffic can be seen coming to a standstill and emergency vehicles drive past with their sirens blaring. But shortly after that, the car finally reaches what appears to be the edges of the fire.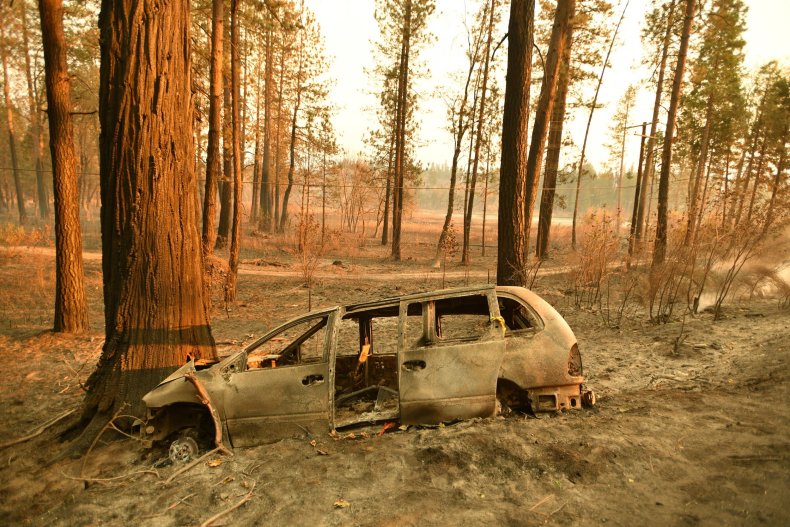 Olivia says: "You did it, you did it!" to which Joe responds: "We did it together."
The Camp Fire—which is now the joint deadliest in California history—devastated the town of Paradise where the Allens live. The family do not think that their home will be left standing.
"As our lives drastically changed today, we are reminded what is most important," Whitney said. "Tonight, we celebrated Olivia's birthday because even though we lost everything today and so did my family, we didn't lose each other and that is truly what matters."