Camp Fire Recovery Effort Workers Fired for Mocking Victims in Wreckage Photos
The saying goes that a picture is worth a thousand words, and while many photos of the Camp Fire in California showed compassion and bravery amid the devastation, images of three workers mocking victims of the flames cost them their jobs.
On Saturday, the town of Paradise, California, shared photos on its Facebook page showing three employees of Bigge Crane and Rigging standing among the ashes of destroyed homes. The photos were originally shared on the social media site by Rob Freestone, identified as a crane operator.
One photo showed a burned, dead animal laying on the ground with a beer bottle placed against its lips with the caption, "Dude…I was just chilling with my homies, having a couple of cold ones, and BAM…damn fire breaks out."
In another photo, posted December 9, about a week after the fire was fully contained, Freestone was sitting on what appeared to be a mailbox shaped like a fire truck with the caption, "I got to ride on a fire truck today."
Another photo showed a man jumping in the middle of the steel frame of a trampoline accompanied by the words, "Trampolines are stupid. [By the way], it used to be called a jumpoline until your mom got on it."
Another photo, in which two unidentified men were sitting in a decimated vehicle, was captioned, "They're off on a fun filled vacation to unknown destinations in their new RV."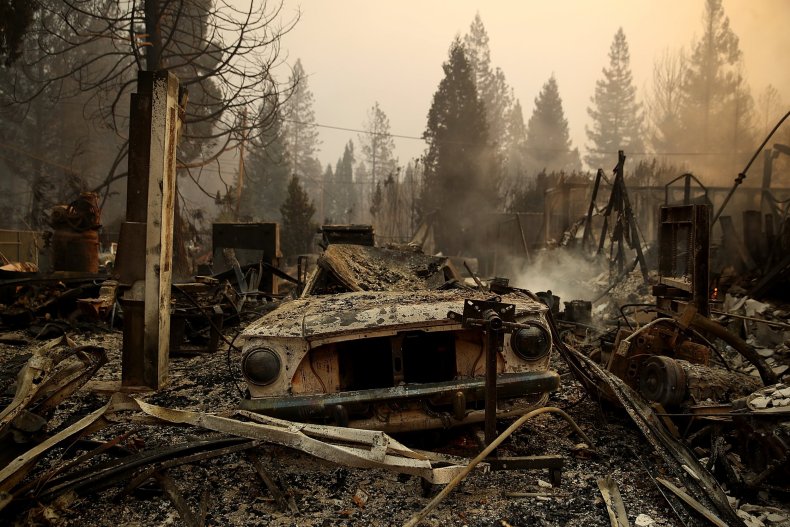 After the photos were brought to its attention, the town of Paradise called it "unacceptable and reprehensible behavior." Along with the town contacting Freestone's employer to ensure he never worked in the California town again, Paradise said the police were looking into criminal charges.
About two hours after Paradise posted about the employees, Bigge Crane and Rigging addressed the issue, posting on Facebook that the company regretted Freestone's "insensitive and reprehensible actions." The company added that it would continue to fully support Paradise and Butte County, California, in their recovery efforts.
Along with being removed from the Camp Fire recovery efforts, Freestone and the two other men in the photos were terminated from their jobs. Employees and contractors are expected to act with integrity and professionalism, and Bigge said the three men violated the company's values and ethical code.
"Bigge regrets that the residents of Paradise and Butte County have suffered an egregious insult during an already [devastating] time at the hands of these three individuals," the company wrote on Facebook.
The Camp Fire broke out on November 8 in Butte County before spreading rapidly. A total of 153,336 acres were burned, 13,696 single residences were destroyed and 85 people were killed before the fire was fully contained on November 25.