Activists Want to Use the British Courts to End Saudi Arabia's War in Yemen
On May 4, as civilian casualties in Yemen's three-year war reached 6,000, a campaign group received news from a London court it believes could help end a conflict described as one of the worst humanitarian disasters on the planet.
The U.K.-based Campaign Against Arms Trade was granted permission to appeal against a 2016 court decision that allowed Britain to continue the sale of arms to Saudi Arabia, which has led a military coalition against Yemen's Houthi rebels since 2015.
In that time, CAAT claims the U.K. has licensed more than £4.6 billion ($6.2 billion) worth of weapons to Saudi Arabia, including helicopters, grenades, bombs and other missiles. Along with other international agencies, charities and aid organizations, CAAT alleges that weapons sold to Saudi Arabia are being used to target civilians in schools, mosques and markets in Yemen.
According to the U.N., there have been at least 5,295 civilians killed during the conflict as of November 2017, although the true civilian death toll is likely to be much higher. In April, at least 20 people were killed, including the bride-to-be, after an airstrike hit a wedding in the Bani Qayis district
CAAT claims civilians have been deliberately targeted by Saudi Arabia and its allies, and that the U.K. should be forced to stop selling the country weapons. Under EU law, which the U.K. still observes, a country must deny an arms export license if there is a clear risk military equipment will be used to commit serious violations of international law—such as killing civilians.
"Saudi forces have been accused of the most serious breaches of humanitarian law, consistently and by very authoritative forces," Andrew Smith, from CAAT, told Newsweek.
"U.K. arms export criteria by any common sense understanding would surely prohibit any sales to Saudi Arabia. If it doesn't, then that's a sign that the laws need to be strengthened."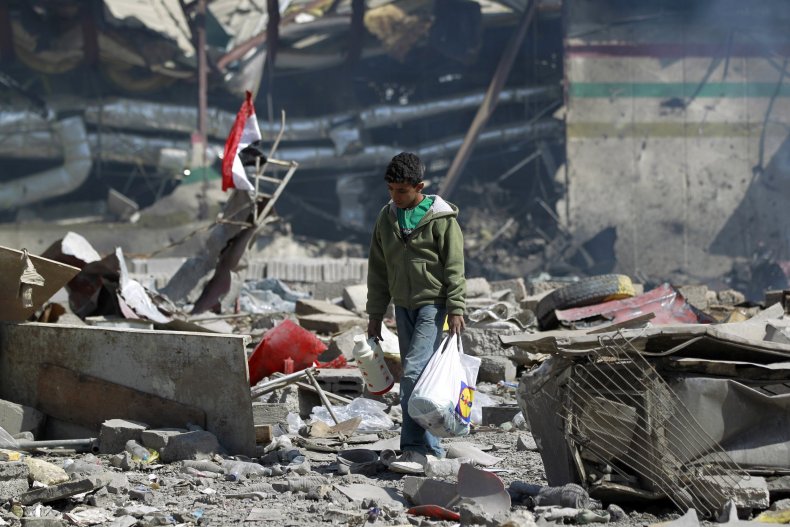 Other countries, including Germany, Finland and Norway, have already started withdrawing arms sales to Saudi Arabia and the United Arab Emirates, another member of the coalition taking part in the airstrikes, over concerns they will be used in the war in Yemen.
If CAAT's legal battle against the U.K. government is successful, it could be the first time a country has ever officially been found guilty of breaching its own arms export laws after years of "effectively ignoring" obligations by continuing to supply arms to Saudi Arabia, despite the risk they are being used to commit human rights violations.
The ruling could also add further pressures on other countries who have sold weapons to Saudi Arabia during the conflict.
"There's been a lot more scrutiny in recent months of arms exports to Saudi Arabia," Smith said.
"It's going to be a vitally important case and it [could] set an incredibly important precedent, not just here in the U.K., but also internationally."
Smith said the group's "really long, drawn out legal process" began toward the end of 2015, when the war in Yemen was already well underway.
In June 2016, the historic legal challenge by CAAT against the British government was granted, meaning they could take their argument to the High Court—the most senior court in England and Wales' judicial system.
Among the evidence provided to the court was a U.N. report investigating the Saudi-led bombing campaign, which uncovered a "pattern of human rights violations that constitutes widespread or systematic attacks against the civilian population."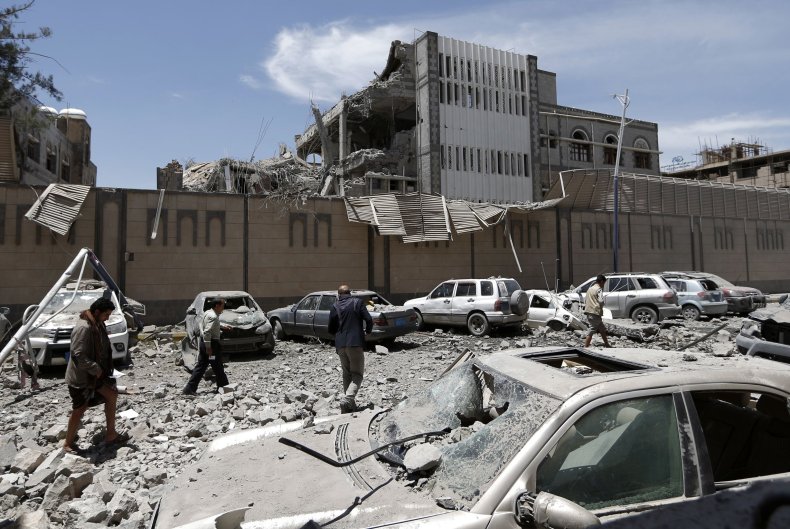 However, in July 2017, the High Court ruled that the government did not act unlawfully by continuing to sell arms to Saudi Arabia during the conflict in Yemen.
"Given the test on whether [the U.K. Government] continues to grant licenses or not is whether there might be serious violations, from our view it is clear that this test had been reached," Rosa Curling of law firm Leigh Day, who are assisting CAAT with their appeal, told Newsweek. "It was an incredibly disappointing decision."
The decision was also described as a "deadly blow for Yemenis" by Amnesty International, as setting arms control "back 25 years" by Oxfam and one that "effectively sanctions the slaughter of civilians" by campaign group Control Arms.
Undeterred, the CAAT immediately decided to challenge the decision in the British Court of Appeal. This appeal was granted in May on the basis that the key issue—whether international humanitarian law is being violated in Yemen using British weapons—still needs to be addressed.
Two judges at the Court of Appeal said the British government should not be allowed to "balance the risk of serious violation of international humanitarian law against any other, extraneous considerations, including whether the end of British arms sales to Saudi Arabia would make matters better or worse in the Yemen."
Despite the successful appeal, the group described its frustrations that civilians are still being killed in Yemen during their entire legal process. Deaths took place as recently as April when at least 12 people from the same family, including seven children, were killed after an airstrike destroyed a house in the southwest coastal city of Al Hudaydah.
"There isn't any ambiguity about whether or not U.K. arms are being used, they're most definitely are, there's no ambiguity if the Saudi regime has violated international humanitarian law, because it consistently has," Smith added.
"Now that we're in the fourth year of the war and the humanitarian crisis is so abhorrent, it has to raise that serious question of how many more people need to die before they take action and finally stop the arms sales?"
While hopeful that the upcoming decision will go in CAAT's favor, Smith is also aware that the relationship between the U.K. and Saudi Arabia could influence the outcome. "We saw that recently when the Saudi Crown Prince came to London and got the reddest of red carpet treatments," Smith said.
Mohammed bin Salman arrived in the U.K. for a three-day visit in March despite several campaign groups, including CAAT, urging British Prime Minister Theresa May to cancel the visit as the regime has "one of the worst human rights records in the world."
During his visit, despite protests, the Crown Prince met with Queen Elizabeth for lunch and was invited into 10 Downing Street by May.
Smith said the high-profile and expensive three-day visit proved that the relationship between the U.K. and Saudi Arabia "isn't just a military one, but a highly political one as well."
In their ruling, the judges at the Court of Appeal even said it is "obvious" that withholding or renewing any arms license to Saudi Arabia is "likely to have significant implications for the international relations of the U.K."
Smith added: "The arms export law may be very clear on paper, but certainly the way it's been interpreted in government has led to continued arms sales and continued uncritical support of the regime."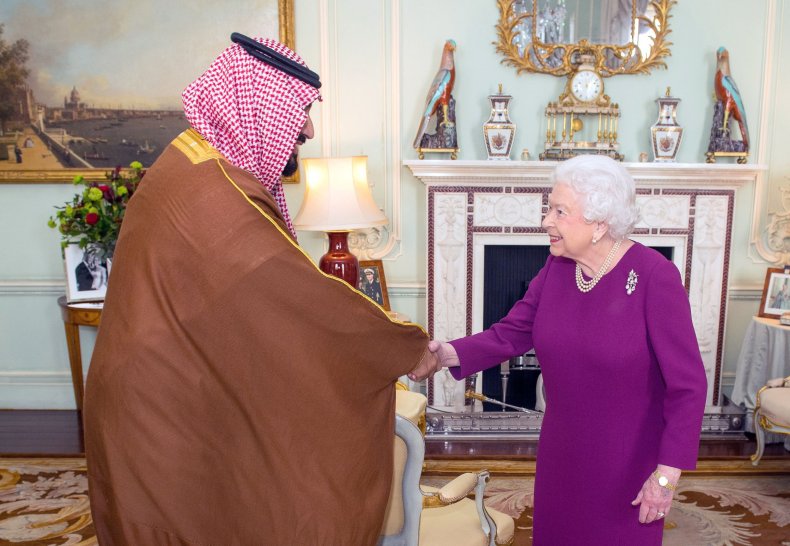 In March, the Stockholm International Peace Research Institute (SIPRI) released data showing Saudi Arabia was the world's second largest arms importer between 2013 and 2017, increasing 225 percent compared to 2008 to 2012.
According to Amnesty International's analysis of data, other significant suppliers of weapons to Saudi Arabia since the start of Yemen war include France ($218 million); Spain ($196 million), Switzerland ($186 million) and Canada ($115 million).
A separate report in March from the Security Assistance Monitor also revealed that the Trump administration has sold around $659m worth of weapons to Saudi Arabia and UAE, which were "likely" to have been used in Yemen.
"Widespread violent conflict in the Middle East and concerns about human rights have led to political debate in Western Europe and North America about restricting arms sales," said Pieter Wezeman, senior researcher with the SIPRI Arms and Military Expenditure Programme. "Yet the U.S. and European states remain the main arms exporters to the region and supplied over 98 percent of weapons imported by Saudi Arabia."
Despite the huge scale and potential far-reaching consequences, those behind the appeal believe their argument is black-and-white.
"There is very clear evidence that there is a risk of a serious violation and in those circumstances a license should cease," Curling said.
"All we're asking the government to do is abide by its own law and to follow its own rules."
Responding to the news CAAT's appeal had been successful, a British government spokesperson said at the time they "remain confident" that the U.K. operates "one of the most robust export control regimes in the world" and will to defend any challenge against them.
"We keep our defense exports under careful review to ensure they meet the rigorous standards of the Consolidated EU and National Arms Export Licensing Criteria," the spokesperson added.
A spokesperson for the Saudi Center for International Communication did not return a request for comment.