Campaign Launched to Save Saudi Woman Dina Ali Lasloom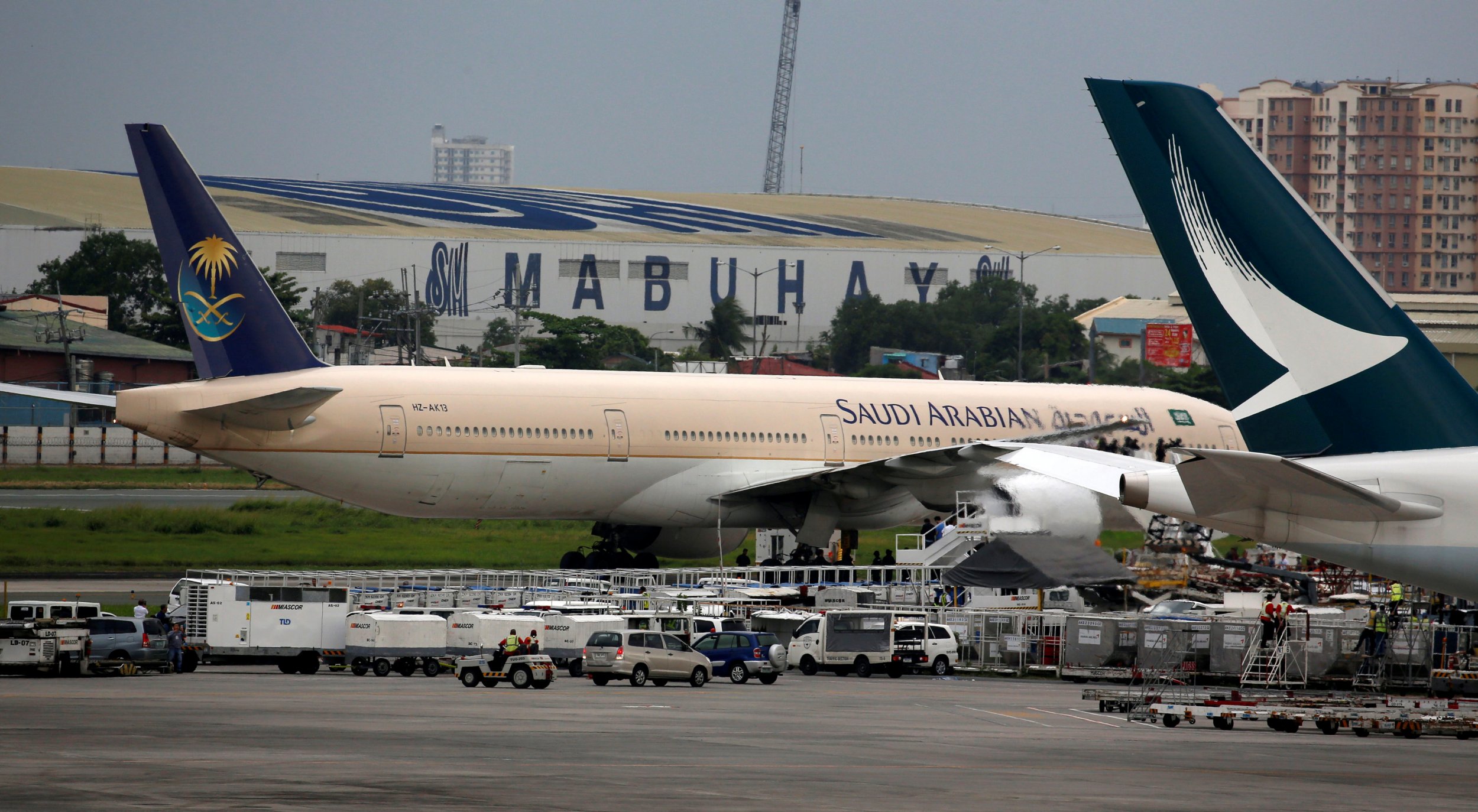 Two days after a bloodied Tennessee doctor was filmed being dragged off a United Airlines flight to secure a seat for an employee, another airline earlier this month loaded a duct-taped, apparently kidnapped woman onto one of its flights in the Philippines—with far less public outcry, and still no apologies from anyone involved.
The woman, Dina Ali Lasloom, a 24-year-old who had said she feared for her life if returned to Saudi Arabia, hasn't been seen in public since.
Related: Widespread criticism follows Saudi Arabia joining U.N. women's rights group
The details of the story are chilling. A Saudi citizen, Lasloom had fled Kuwait, where she was living, and was aiming for asylum in Australia when she recorded a video on a phone she borrowed from a Canadian woman, Meagan Khan, whom she approached at Ninoy Aquino International Airport in Manila. She said she was fleeing a forced marriage and that Saudi authorities had instructed Filipino officials to take her passport and bar her from flying to Australia.
Speaking into the phone cam but not showing her face, Lasloom said she feared for her physical safety and life if she were returned to Saudi Arabia. In one video, she pleads: "They took my passport and locked me up for 13 hours.… If my family comes, they will kill me. If I go back to Saudi Arabia, I will be dead. Please help me." Several hours later, Khan said, two men Lasloom identified as her uncles arrived at the airport. Khan said she stayed with Lasloom for eight hours before leaving for her connecting flight. Khan posted a full account of the incident on her Facebook page.
A Filipino airport security official witnessed the chilling scene later and described it to Human Rights Watch, while asking to remain anonymous. At about 5:15 p.m. that same day, two Saudi airline security officials and three "apparently Middle Eastern men," according to the official, entered the small airport hotel in Manila and abducted a woman, duct-taping her hands, feet and mouth, and delivered her in a wheelchair, still struggling, onto a Saudia Airlines flight to Riyadh. Fellow passengers later told Reuters they heard her screams for help from the front of the plane.
The organization Human Rights Watch said it obtained flight information showing Lasloom and her two uncles were passengers on Saudia Airlines flight SV871, which departed Manila at 7:01 p.m. on April 11 and arrived in Riyadh at midnight local time. A small group of activists and journalists, alerted by Twitter posts about the incident, gathered in Riyadh but said they did not observe her emerging from the plane. One of those female activists, Alaa Anazi, was arrested and has since been detained at a women's prison.
Saudia did not respond to a request for comment on its employees' possible involvement in the incident.
A Philippines news website reported that Saudi Embassy officials had asked officials in Manila to stop Lasloom from getting to Australia, and the Saudi Embassy in the Philippines has tweeted that the apparent kidnapping was "a family matter in which a girl was returned with her family to the homeland."
The incident took place just a week before the United Nations voted to appoint Saudi Arabia to a four-year term on its Commission on the Status of Women—a decision that caused widespread outrage.
The kidnapping and detention of Saudi women is not unusual: The kingdom's theocracy dictates that women spend their entire lives under male guardianship and are forbidden from driving cars, and those who resist forced marriage or other male restrictions are dealt with harshly. For the past 15 years, four of the late King Abdullah's daughters—princesses Jawaher, Sahar, Hala and Maha, all now in their 40s—have allegedly been held in a royal compound in Saudi Arabia. Two of the princesses have released videos in recent years pleading for help, and their mother, who lives in the U.K., periodically publicizes their plight in the press.
The theocratic rationale for restricting women's movement relates to a verse in the Koran that says men are the protectors and maintainers of women. Saudi Arabia's Wahhabi-Salafi cult religion interprets that to mean women are literally captives of their men, and thus the country's laws allow for forced marriages and even child marriages to older men. According to an explainer on the English-language Arab website AI Monitor, the religious cult's 18th-century founder, Sheik Mohammed bin Abdul Wahhab (1703–1791), has been interpreted on the topic as literally denying women their personhood: "Some use the term sayyida [feminine of sayyid, which means mister] when referring to a woman. For example, they say that some things are specific to men and other things to sayyidas. But this is a distortion of reality because only a man is deemed a sayyid. The Prophet said, 'The women are your helpers,' which means that they are captives, and he said that a man is the 'shepherd of his family and responsible for his flock.' So the singular form should be imra'a [woman] and the plural form should be nisa' because only a man is a sayyid and women are men's captives. So calling a woman sayyida is a distortion of reality."
"Most women forced into marriage or other degrading treatment succumb to the gargantuan pressures from family and the authorities," says author and activist Ayaan Hirsi Ali, who fled Somalia and an arranged marriage herself. "There are very few women who attempt escape and even fewer who make it outside Saudi Arabia like Dina here. The authorities regard these issues as a 'family affair'. That is really a euphemism for endorsing honor violence and killings. What it means is that the family of the offending woman may decide how to punish her. If they decide to kill her, no charges will be brought against them. That is Shariah."
Hirsi Ali said, if Dina is still alive, "it is a miracle" and that more publicity might save her life. "The American media can and must highlight this story and ask Trump and his administration what they are doing to help save this woman's life. Such publicity has worked in the past."
Modern-day Salafist clerics have issued wildly misogynistic fatwas justifying rapes in Egypt's Tahrir Square during the country's revolution as punishment for women appearing in public unveiled. Some Salafists have even compared women's faces to their genitals, and all regard women as a threat to the social order.
This week, Human Rights Watch launched a public campaign, #SaveDinaAli, calling on the Saudi government to explain where she is and to release her.
It's unlikely the Trump administration will wrist-slap Saudi Arabia for its deplorable treatment of Dina Ali—or any other woman—as American leadership is too busy strengthening ties with the oil potentate, a major financier of Islamist theocracy worldwide. As Hussein Ibish reported recently on the United Arab Emirates–based English-language news site The National, Saudi-U.S. ties are growing closer by the minute under President Donald Trump. Defense Secretary James Mattis stopped first in Riyadh during his recent five-nation Middle East tour, and Secretary of State Rex Tillerson, at a recent summit of American and Saudi business leaders in Washington, hailed U.S.-Saudi commercial ties. Mattis, in his remarks in Riyadh, also suggested Trump might visit the kingdom soon.