The NFL proposed joining with players in a bid to spur social justice change, but not everyone is on board.
The league submitted the final draft of the proposal to players on Monday that would contribute nearly $100 million to causes considered important to African-American communities.
The NFL is seeking an agreement that players will stand for the anthem in return and put an end to the controversial movement that former San Francisco 49ers quarterback Colin Kaepernick began last season.
Players are expected to discuss the proposal during a scheduled conference call Wednesday night. If they accept the league's proposal, then the owners would vote to complete the deal at the annual league meetings in March, according to ESPN.
National funding as part of the league's current plan would offer 25 percent to the United Negro College Fund and another 25 percent to Dream Corps. The Players Coalition, which has filed for paperwork for nonprofit status, would get the remaining 50 percent.
Two players already have expressed concerns about the proposal and plan to part from the Players Coalition, a group of approximately 40 players. Philadelphia Eagles safety Malcolm Jenkins and former NFL wide receiver Anquan Boldin are viewed as the leaders of the Players Coalition.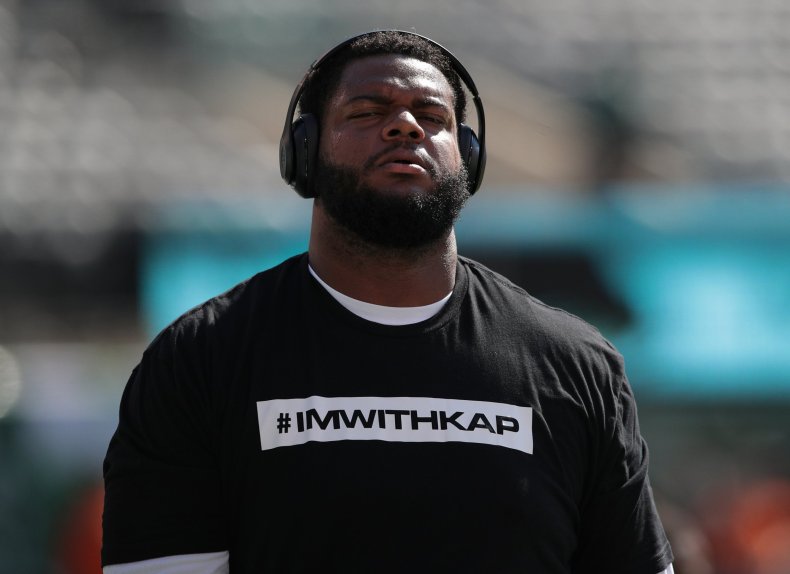 San Francisco safety Eric Reid and Miami Dolphins safety Michael Thomas said they are withdrawing by releasing the same statement on Wednesday.
"With much thought and consideration, I've decided to officially withdraw my involvement in The Players Coalition founded by Malcolm Jenkins and Anquan Boldin," the statement read.
"The Players Coalition was supposed to be formed as a group that represents NFL athletes who have been silently protesting social injustices and racism. However, Malcolm and Anquan can no longer speak on our behalf as we don't believe the coalition's beliefs are in our best interests as a whole.
"We will continue to have dialogue with the league to find equitable solutions but without Malcolm and Anquan as our representative."
Reid was the first player to kneel beside Kaepernick last season during the latter's demonstration to shine a light on police brutality and social injustice.
Kaepernick opted out of his deal with the 49ers in the spring and has remained unsigned with some believing he is being blackballed from the league. Kaepernick filed a grievance against the NFL in October accusing teams of collusion.