Aaron Rodgers believes the Green Bay Packers can still make the playoffs this season but acknowledged their destiny was out of their hands.
The Packers lost their second consecutive game and their sixth straight on the road as they fell to a 24-17 defeat against the Minnesota Vikings in Minneapolis on Sunday night. The result leaves Green Bay third in the NFC North with a 4-6-1 record, trailing the Chicago Bears and the Vikings, who are 8-3 and 6-4-1 respectively.
"You can crunch the numbers there," Rodgers was quoted as saying by ESPN. "I can tell you 8-7-1 won't get in though. I don't think.
"We are where we're at right now record-wise. We're going to need some help from some teams and then we've got to take care of our own business, you know?"
Read more: Which NFL Records Could Be Broken Before the Super Bowl?
Of the remaining five games, the Packers play three of them at home and of their two road games, at least one of them—against the Jets in New Jersey on December 23—is eminently winnable. The margin for error, however, is almost non-existent and Rodgers admitted the Packers must find a way to end their woes away from Lambeau Field.
Green Bay has not gone winless on the road since 1958.
"We're going to have to find a way to win a game on the road," he added.
"We're 0-6 on the road. So we just got to go back home, get some rest, beat Arizona [...] and then come back and beat Atlanta [...] then go to Chicago, a place we've won a number of times, beat them [...] go to New York around Christmas, beat them [...] and then come home against Detroit, beat them. Get a little help."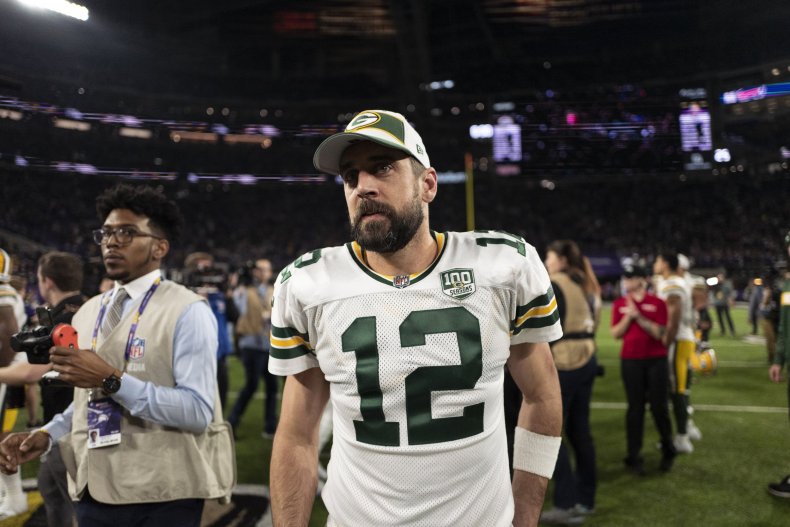 Rodgers completed 17 of 28 passes, throwing for 198 yards and one touchdowns on Sunday but the Packers were again their own worst enemy. With the score tied at 14-14 in the third quarter, Packers' head coach Mike McCarthy opted to go for it on a fourth-and-1 from his team's 44-yard line.
However, the Packers succeeded only in relinquishing possession to the Vikings, who then went ahead through a field goal and added a touchdown shortly afterward to take a 10-point lead into the final quarter.
McCarthy's decision was even more puzzling considering he had adopted a completely different approach 10 days ago, when the Packers lost to Seattle. On that occasion, McCarthy had opted to punt the ball on a fourth-and-2 from the Packers' 33-yard line, despite the fact his team was trailing by three points with just over four minutes left in the game.
In Seattle, the Packers never got the ball back and lost. In Minneapolis, they could not claw back a 10-point deficit.
The Vikings now hold one of the two NFC wild-card spots, while ESPN's Football Power Index gives the Packers a 15 percent chance of reaching the playoffs. Two years ago, Green Bay was 4-6 before winning all their remaining six games to top the NFC North but history looks unlikely to repeat itself.
Uncommon Knowledge
Newsweek is committed to challenging conventional wisdom and finding connections in the search for common ground.
Newsweek is committed to challenging conventional wisdom and finding connections in the search for common ground.
About the writer
Dan Cancian is currently a reporter for Newsweek based in London, England. Prior to joining Newsweek in January 2018, he was a news and business reporter at International Business Times UK. Dan has also written for The Guardian and The Observer.