Can America Stop Putin Standing on Europe's Gas Pipe?
This article first appeared on the Council on Foreign Relations site.
On September 14, Ukraine initiated arbitration against the Russian Federation for violations of the U.N. Convention on the Law of the Sea, with specific reference to access of energy resources off the coast of Ukraine and Russian-annexed Crimea.
This development follows the Russian seizure of Crimean oil rigs in the Black Sea in late 2015, and the installation of rigs bearing Russian flags in the area more recently.
Regardless of the outcome of the litigation, the escalation of Russian-Ukrainian tensions has serious consequences for European energy security. Ukraine lies at a critical juncture between Europe and Russia, and therefore its ability to resist Russian energy securitization has widespread implications for the European Union (EU) as well as for U.S. strategic options in the region.
In September 2016, the EU imported 53 percent of its total energy, with natural gas imports from Gazprom (the energy titan whose majority ownership is the Russian government) increasing by 20 billion cubic meters from 2010 to 2015. In sum, over a third of the EU's oil and gas are imported from Russia.
Forty percent of this passes through Ukraine, leading to the precarious vulnerability that the EU is now struggling to surmount. Using energy as a political weapon, Russia has cut off gas to Ukraine multiple times in so-called "gas wars" in 2006 and 2009.
The resulting disruptions resulted in severe fallout for the EU overall—the 2009 shutdown, for example, resulted in a complete cutoff of all Russian gas to Europe for two weeks in the middle of January. European governments were forced to scramble for alternative fuels, close factories and declare national states of emergency.
In the city of Sarajevo, Bosnia and Herzegovina, alone, seventy thousand apartments were completely without heat in below freezing temperatures.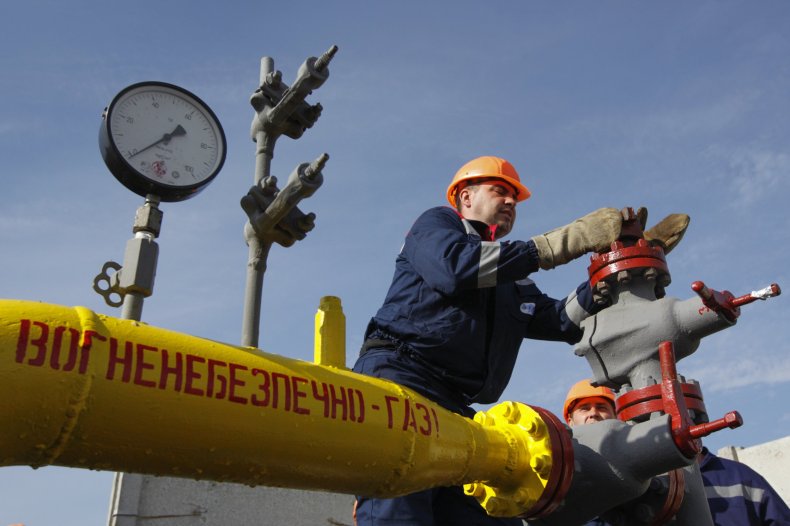 The role of Russian energy manipulation vis-à-vis Ukraine increased significantly after the annexation of Crimea. Following the invasion, Russia seized a natural gas terminal in the Ukrainian town of Strelkovoye (less than five miles from the Crimean border), later manipulating its gas outflows.
The 2015 "Black Energy" cyberattacks on Ukrainian power distribution centers in the western region of Ivano-Frankivsk left over 230,000 without power. With sufficient reason to blame Russia, as well as strong findings from Ukrainian intelligence services indicating Russian responsibility, the attacks demonstrate the continued efforts by Russia to convey and maintain control of energy supplies.
More overtly, Gazprom's current Nord Stream II proposal constitutes a Russian attempt to diversify its control and ability to manipulate energy. The pipeline would go directly from Russia to Germany, notably bypassing Ukraine amidst the country's efforts to increase domestic production and sourcing from Europe.
However, the existing Nord Stream I pipeline is only operating at 50 percent capacity, rendering the actual transportation value of Nord Stream II useless, and revealing its underlying political drivers.
To combat its energy insecurity the EU has taken steps towards reducing the region's vulnerability to Russian energy control and manipulation. Of particular note is the 2014 Energy Union, intended to synchronize EU distribution networks and diversify energy sources as well as the October 2014 stress tests to check the EU's ability to handle a cutoff of Russian gas transported through Ukraine.
However, these efforts are not sufficient. Earlier this year, the EU commissioner for climate action and energy, Miguel Arias Cañete, highlighted how much is left to be done. He claimed: "We are still far too vulnerable [to disruption of gas supplies]. With political tensions on our borders still on a knife edge, this is a sharp reminder that this problem is not just going to go away."
EU coordination ills and differing priorities on Energy Union goals plague the EU's ability to truly ensure its energy security in the face of Russian incursions.
Furthermore, the regulatory body in charge of enforcing Energy Union policy, the Agency for the Cooperation of Energy Regulators, was originally only able to offer "opinions" and "recommendations" with no coercive power. Though it has since adopted such power, it has only issued three binding decisions.
Since the 2009 formation of the joint U.S.-EU Energy Council, transatlantic energy security has been a stated objective of the United States. The most recent statement from the body, released in May, highlights the importance of Ukraine as a transit hub and calls for improvement of EU energy security.
As the United States increases its exports of natural gas (estimates indicate the United States could match Russian exports to Europe within 10 years) as well as oil, thanks to the lifting of a 40-year ban, the stage is set for the United States to change the balance of EU-Russian energy transactions.
However, this all comes in the face of the United States' own concerns over its energy dependency on the Middle East. Additionally, as tensions with Russia escalate over collapsed negotiations on Syria, the United States will have to clarify just how far it is willing to go in reference to Special Envoy for International Energy Affairs Amos Hochstein's statement that "energy security and economic security in Europe is directly linked to our concern for [U.S.] national security, and we are committed to that."
Niall Henderson is an interdepartmental program assistant at the Council on Foreign Relations.