Can Americans Travel to Cuba? Trump Administration Prohibits Cruise Ship Visits Among New Restrictions
The Trump administration announced new restrictions on Americans traveling to Cuba on Tuesday, including bans on organized tour groups and cruise ship stops.
The U.S. Treasury Department said in a press release that the new restrictions are meant to push economic activity away from the Cuban government, which the agency called a "communist foothold in the region" that suppresses "democratic processes."
"This Administration has made a strategic decision to reverse the loosening of sanctions and other restrictions on the Cuban regime," Treasury Secretary Steven Munchin said in the press release. "These actions will help to keep U.S. dollars out of the hands of Cuban military, intelligence, and security services."
The U.S. State Department added that tourism has "served to line the pockets of the Cuban military, the very same people supporting Nicolas Maduro in Venezuela and representing the Cuban people on the island."
"These actions are directly linked to the tourism industry, which has strong economic ties to the Cuban security, military, and intelligence sectors in Cuba," its statement continued.
The new travel restrictions prohibit some of the most popular ways to travel to the island, including group "people-to-people" tours and cruise ship stops.
According to the Treasury Department, there is a "grandfathering provision" for Americans who have already booked a trip to Cuba before June 5, 2019. But the provision only applies to people who "completed at least one travel-related transaction" like purchasing a flight or reserving a hotel or other accommodation.
It is not yet clear how exactly the restrictions will affect air travel to Cuba. Travel for college groups, academic research, journalism and business meetings remains unaffected under the new rule changes.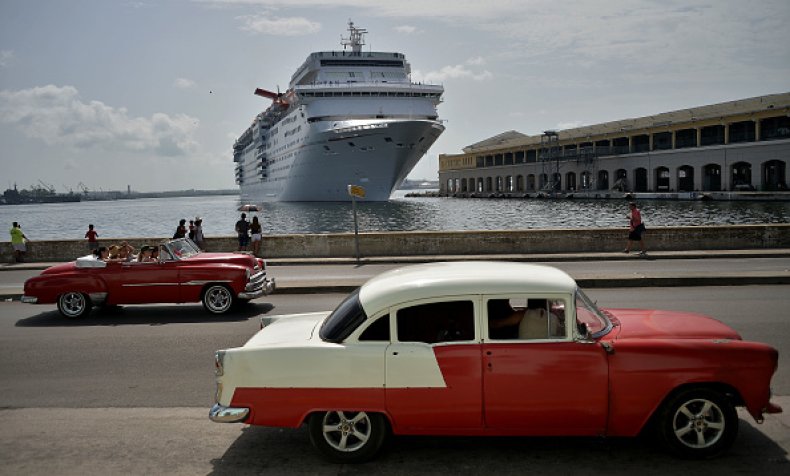 According to Cuban government figures, over 257,000 Americans visited the island in the first four months of 2019. That is a 93 percent increase from the same time period in 2018. About 142,000 Americans visited Cuba through a cruise ship.
Cuban diplomat Bruno Rodríguez Parrilla reacted to the new travel restrictions on Twitter, writing that they are "aimed at suffocating the economy & harming the living standards of Cubans in order to forcefully obtain political concessions. Once again they will fail." Parrilla has served as Cuba's Minister of Foreign Affairs since 2009.
White House national security adviser John Bolton hinted at these new restrictions back in April during a speech in Miami. In his remarks Bolton slammed former President Barack Obama for loosening travel restrictions to Cuba, which he said enabled the Cuban colonization of Venezuela.
Bolton tweeted on Tuesday that "Cuba has continued to prop up the illegitimate Maduro regime in Venezuela and will be held responsible for this ongoing man-made crisis. President Trump has made it clear that we stand with the Cuban and Venezuelan people as they fight for freedom."