Can Banks Use Your Stimulus Check to Pay Off Debt You Owe Them?
The Coronavirus Aid, Relief and Economic Security (CARES) Act does not expressly prevent private debt collectors, like commercial banks, from using stimulus payments to settle outstanding balances among existing clients. However, several of the United States' largest banking systems have said they do not plan to capitalize on the technicality.
The CARES Act—a $2.2 trillion federal stimulus package signed into law on March 27 to mediate economic consequences of the coronavirus pandemic—offers relief payments ranging from $1,200 to $2,400 to qualifying recipients, as well as additional sums to parents and others who provide for dependents. The Treasury Department and the Internal Revenue Service released a statement a few days after the bill was approved outlining the processes through which eligible individuals could receive checks.
The guidelines noted that most would be distributed via direct deposit using banking information included in an individual or a household's most recent tax filings.
Payment distribution recently began, but a Tuesday report from The American Prospect questioned whether bank account holders with negative balances would actually receive the stimulus money. The magazine published audio it acquired from a webinar wherein Ronda Kent, chief disbursing officer for the Treasury Department's Bureau of the Fiscal Service, replied to an inquiry from banking officials asking if stimulus sums "could be subject to collection from the bank to which the money is deposited, if the payee owes an outstanding loan or other payments." In response, Kent noted that there is "nothing in the law" that prohibits it, and banks would be tasks with determining their own individual policies.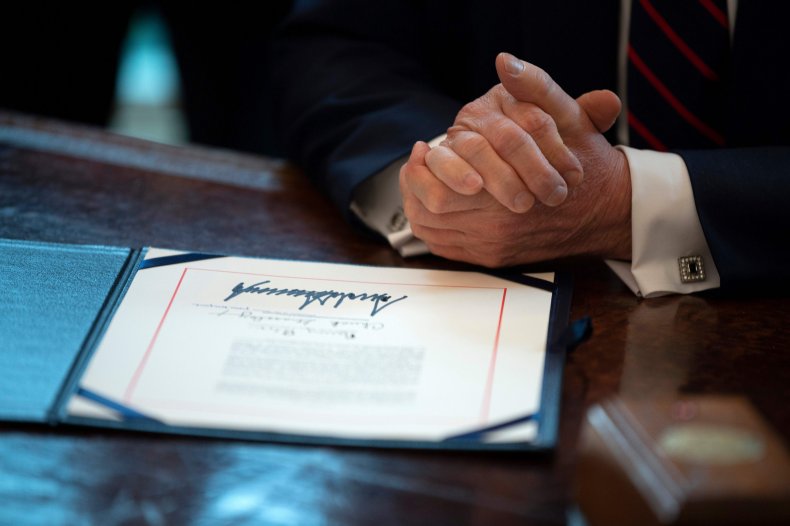 A spokesperson from JP Morgan Chase—the largest U.S. bank, in terms of assets—told The American Prospect it would not use stimulus funds issued to accounts with outstanding balances to offsetting those debts. Instead, it planned to return the money to the Treasury, which "can then determine the address to mail the full stimulus amount and ensure the former customer gets the full benefit."
Other major banking networks are taking a different approach. Wells Fargo, Citibank and Bank of America confirmed to Newsweek that their clients will receive stimulus rebates in full, regardless of previous unpaid sums, either by deferring collection or offering provisional credits temporarily applied to negative balances.
"Many customers will automatically receive stimulus payments in their accounts," a Wells Fargo communications representative told Newsweek, explaining that the company will pause collection for 30 days from the time the stimulus checks are deposited.
"We encourage customers who receive a stimulus payment check to use mobile deposits or ATMs to deposit the checks if possible. We will also cash stimulus payment checks for non-customers in our branches, with no fees charged," the representative added.
U.S. Bank, fifth among the top five largest U.S. commercial banking corporations, has not disclosed its plans for stimulus payments issued to accounts with negative balances. Newsweek reached out to the bank to inquire about its position but did not receive a response by the time of publication.
Millions of U.S. residents hold bank accounts with one of those five institutions, whose cumulative assets constitute almost half of the nation's total. But more than 5,000 additional banks serve customers nationwide, and many have yet to issue announcements regarding their stance on stimulus payments and collection.
"We're very concerned about that," said David Newville, Vice President of policy and research at Prosperity Now, a non-profit organization that focuses on issues related to financial insecurity and wealth inequality. Speaking to Newsweek, Newville noted that without intervention from the Treasury, "We're just left to the whims or the luck of, 'Are you lucky enough to have a bank that won't do this if you do have a debt?'"
For those whose banks have not clarified their approaches to stimulus fund collection, Newville recommended reaching out to individual branches and inquiring directly.
"It's tough right now because the payments are going out the door as we speak, but I really do think the only option that a lot of folks have is reach out to their banks, or watch very closely to see if there's an announcement from their banks about what's going to happen," he continued. "The problem is, I think the banks are probably pretty overwhelmed right now with people calling about this, so it might be really hard for them to get through. They can try calking their local branches instead of the 1-800 number to try to get more information."
Data collected by the Urban Institute indicated roughly one-third of the U.S. population had some form of debt subject to collection at the end of 2019, with a median sum of more than $1,600. Referencing those figures, Newville emphasized that individuals who need stimulus payments most would also be most vulnerable without restrictions against private collection.
"It seems like this is a technical issue," he said, "but I think it has huge ramifications for people right now."
04/16/20, 12:43 p.m.: This story has been updated to include comments from David Newville.