Can Beto O'Rourke Lead the Beleaguered Gun Reform Fight in Texas?
A familiar discourse is emerging in the wake of the horrific mass shooting at Robb Elementary School in Uvalde, Texas, on May 24 that left 19 children and two teachers dead, one that has been repeated for decades after similar mass shootings in the U.S.
Democrats talk about gun control measures, while Republicans note the role that contributing factors such as mental health play in these mass killings, but avoid consideration of reducing the availability of firearms.
But just as with the Sandy Hook school shooting 10 years ago this December, the reality of children being torn apart by an AR-15 and survivors being traumatized in schools that should be safe has once again elevated the urgency of the conversation in the eyes of American parents.
However, the push to reduce gun violence looks different in Texas.
The Texas Tribune reported on May 31 that the state has experienced eight mass shootings over the last 13 years. But it also boasts a proud and broad gun culture, along with a Republican governor and state legislature that loosened gun laws in 2021 — not tightened them.
Now as Democrats and activists mull the shape of their renewed gun policy push, new and old leaders have stepped forward.
State Senator Roland Gutierrez, who represents Uvalde, has become a common presence at events and in the media, along with Representative Joaquin Castro and his brother Julian Castro, who took part in a "Stand With Uvalde" rally with Voto Latino's Maria Teresa Kumar and San Antonio Spurs coach Greg Popovich.
Even Matthew McConaughey, the actor who was born in Uvalde, has mobilized, taking to the White House podium Tuesday for an emotional breakdown of his conversations with grieving parents and to share the stories of the dreams of the children who were lost forever.
But it is Beto O'Rourke who has repeatedly shown he can draw national attention — good and bad — and who many in Texas believe could help lead the fight for gun reforms because of the platform he has as Governor Greg Abbott's opponent, and the possibility he could become the next governor.
A day after the children were killed, O'Rourke confronted Abbott during his press conference at Uvalde High School auditorium with a searing message: "This is on you."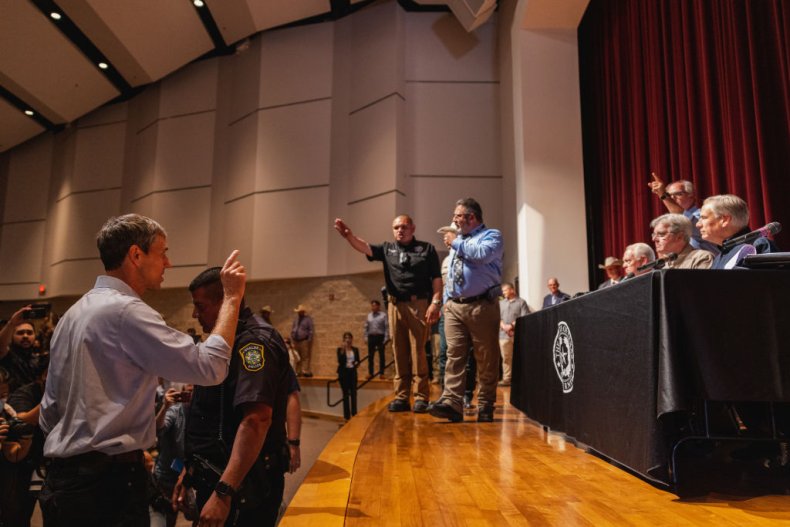 "You are doing nothing," O'Rourke said. "You are offering up nothing. You said this was not predictable. This was totally predictable when you choose not to do anything."
O'Rourke's campaign told Newsweek that when Abbott "gave the same answer he provided after the five previous mass shootings that have occurred during his time in office," Beto felt that the need to speak.
While Abbott stayed quiet, Uvalde Mayor Don McLaughlin called O'Rourke "a sick son of a bitch that would come to a deal like this to make a political issue."
Texas Democrats and others said they saw his interruption differently, including Texas Democratic Party Chair Gilberto Hinojosa, who told Newsweek that not a day has gone by that he didn't shed tears over what the children in Robb Elementary School went through.
"Beto did something that no one had ever done, that absolutely needed to be done," he said. "I don't think we would be here right now with this level of intensity on this issue had Beto not stood up right when the wound was open and affecting people's psyches."
Those involved in the fight for gun reforms also note that as a white man, O'Rourke can do some things they couldn't.
A longtime Texas activist against gun violence told Newsweek she doesn't agree with all of O'Rourke's policies with respect to guns, but said that he reflected the bottled-up anger she and her community were feeling.
"When I saw the video on Twitter I was like, 'Hell yeah, why not do that?'" she said. "I'm a Black woman living in Texas, I can't confront Abbott, I would be scared to be shot. I can't move the same way white men are able to in this state."
O'Rourke's efforts to amplify the shooting go hand in hand with legislative efforts that have been stalled in Congress and in the Texas state legislature. Democrats and activists are trying to find their way forward as Republicans are pushing different ways of responding to school shootings, like arming teachers and increasing law enforcement presence at schools, which concerns advocates worried about the effect on children of color if there is over-policing of schools.
Abbott is also the only one who can call a special session of the legislature, which is the only way to change laws. O'Rourke has blasted Abbott for calling for "a committee where people can talk about it and discuss it, but cannot act."
"It's worth noting that last year, he called special sessions to pursue transgender kids, and to talk about critical race theory," O'Rourke told Katie Couric on Monday. "He called special sessions to make it harder to vote in our elections, but he will not call a special session right now to save the lives of our kids."
The Community Justice Action Fund is a Black-led and gun violence survivor-led national advocacy and policy organization that has been a leader on fighting gun violence in Black and Latino communities. While their work is always going on behind the scenes, it is thrust into the spotlight whenever there is another mass shooting in Texas.
The group has been focused on rapid response since the Buffalo shooting that targeted Black people, killing 10 African-Americans as well as three others, and again when the Uvalde shooting traumatized their community.
Helping to organize the Stand With Uvalde rally, the organization and its partners have scheduled six more events from Washington D.C. to Austin, Texas in June, including a Travis County Gun Violence Summit Wednesday that will allow policy makers to hear from gun violence survivors.
In the wake of the Uvalde shooting, activists and Texans say the Latino community, which endured deaths in the El Paso hate crime shooting, is particularly grieving, as the majority of the 19 children and their two teachers who were killed were Hispanic.
The Latino community in Uvalde needs time to heal, they say, but it also needs the stories of its lost children told, to know that they did not die in vain, and that their passing may lead to change in this country.
O'Rourke's campaign told Newsweek that while meeting with families in Uvalde, he spent time with the parents of Alithia, a little girl who was killed days after her 10th birthday.
"The balloons from her celebration were still hanging in her family's kitchen next to her artwork," a campaign spokesperson said.
Alithia's parents asked him to do two things: Make sure she was remembered and make sure this never happens to another child.
Regarding another shooting that killed mostly Hispanics, O'Rourke's campaign cited the El Paso shooting where he lost neighbors.
"The deadliest attack on Latinos in our country's history happened right here in Texas and it followed earlier mass shootings in which Governor Abbott refused to act," the spokesperson said. "Beto believes more has to be done to ensure Latino Texans can not only survive but thrive."
Since confronting Abbott, O'Rourke has distilled his message on gun violence to, "Right now is the time to prevent the next shooting."
O'Rourke has been talking about red flag laws, which allow police, family members, coworkers and others to petition a state court to temporarily remove guns from someone who is viewed as a danger to themselves or others. He also has been advocating safe storage laws for guns. He told Couric that well-intentioned people have told him not to mention his support for taking away AR-15's, but that hundreds of thousands of those weapons remain in Texas communities.
"They keep showing up in our churches, in our schools, in our supermarkets, and taking the lives of people," he said.
While O'Rourke supports getting rid of these guns, he says he has come across Republicans and responsible gun owners in recent weeks who agree that things like instituting background checks should get done.
"We can find common ground on common-sense things, like limiting magazine capacity, universal background checks, red flag laws, and safe storage laws," he said. "Most of us can get behind that here in Texas."
Artemio Muñiz, the chairman for Tejanos for George P. Bush, said that the shooting happened in a community mostly of "Mexican heritage," and acknowledged that new laws around guns and mental illness as well as background checks can probably pass.
But he called O'Rourke an imperfect messenger because of his previously stated wish to take AR-15's from Texans, saying it's too easy for him to be seen as an "opportunist" now.
"Beto going to the conference and grandstanding, I think his agenda is already known," Muñiz told Newsweek. "If he was a messenger who had clean hands, then maybe more Texans would listen to him."
But Hinojosa, the state Democratic Party chair, said the painful shooting has not only left a scar on the psyche of Texans, but has also put O'Rourke in position to win against Abbott.
"The extreme sorrow and sadness of the people of this state who saw 19 beautiful children massacred has changed the dynamics of this gubernatorial election," he said.