Can Pete Buttigieg and Amy Klobuchar Keep Up Their Primary Success in South Carolina, Nevada?
Pete Buttigieg and Amy Klobuchar, once considered outlier candidates in the Democratic presidential contest, are surging after successful showings in New Hampshire and Iowa. But can they carry that same momentum in more diverse states?
Their records so far with African American and Hispanic voters suggest not, which will be a major problem for the two campaigns as the race shifts its focus to Nevada and South Carolina.
"Candidates who do well in Iowa do a little worse in South Carolina due to the fact that they have very different electorates," according to Jordan Ragusa, an associate professor of political science at the College of Charleston and co-author of First in the South: Why South Carolina's Presidential Primary Matters.
"It's hard to win here if you don't have sizable support within the African American community. That's a struggle for them," Ragusa told Newsweek.
CNN exit polls from New Hampshire show that just 18 percent of nonwhite voters backed Buttigieg in the first-in-the-nation primary and 11 percent backed Klobuchar. Among Hispanic voters, Buttigieg and Klobuchar were tied at 16 percent support.
Nationally, the two aren't doing much better. In a Quinnipiac University poll released earlier this week, just 4 percent of black voters backed Buttigieg while 0 percent supported Klobuchar. The candidate with the most support from black voters was former Vice President Joe Biden, with 27 percent.
Antjuan Seawright, a South Carolina–based Democratic strategist, told Newsweek that in order to fare well in the state (where two-thirds of the Democratic electorate is African American), both candidates have to "speak directly to the neighborhoods and communities where they have challenges, instead of running away from them."
He went on: "I don't think you can ever give the most loyal constituency in this party enough attention, and I don't think you can ever give the most consequential state in this nominating process enough attention. With that being said, I don't know if the two campaigns have done either one of those things."
In Nevada, which will be the next state to vote, Democratic candidates will be tested on their ability to appeal to both African American and Hispanic voters. The Latino community makes up nearly 30 percent of the swing state.
"It's a prove-it state for probably everybody," Billy Vassiliadis, a Nevada-based Democratic strategist, said. "Nevada is probably the best reflection of the country in many ways because you have a demographic mix. You have a strong Latino workforce. You've got a strong African American community and a large service industry workbase."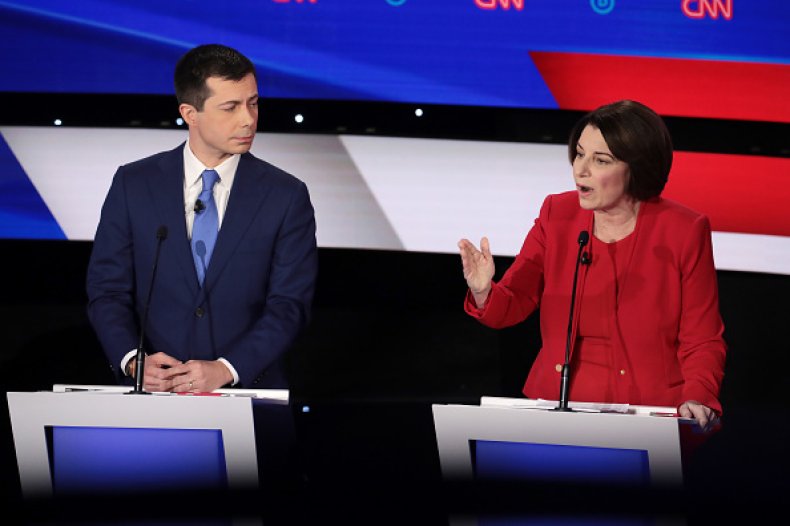 Neither campaign immediately responded to Newsweek's request for comment. But both have recently addressed their lack of support from minority voters. Buttigieg told CNN on Tuesday that he "absolutely" has more work to do to earn black voters' trust. During a recent appearance on The View, Klobuchar cited her congressional victories in Minnesota as evidence that black voters can support her and claimed her biggest challenge is "to get people to know me."
Where Buttigieg and Klobuchar do have an advantage over their rivals is the momentum and media narrative from their strong performances in the first two nominating contests of the 2020 primary. Buttigieg won Iowa's delegate count and came in as a close second to Bernie Sanders in New Hampshire. Klobuchar placed fifth in Iowa but surged in New Hampshire to a top three finish.
Another potential saving grace for the candidates heading into Nevada, South Carolina and Super Tuesday will be their more moderate stances. Iowa and New Hampshire voters tend to be more liberal than those in the other early-voting states. That's good news for Buttigieg and Klobuchar, who performed the best with moderate and conservative voters in New Hampshire.
"African Americans have always been bold, but we've never been overly progressive. We tend to be—especially in the South—more pragmatic, centrist types," Seawright said. "This idea of bringing people together to fix our problems so that we are well positioned to beat Donald Trump is not only a political reality but it is, in some cases for communities that look like mine, life or death."