Can Celine Dion Save Las Vegas?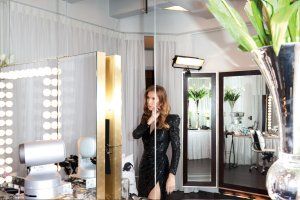 As another desert afternoon fades to night, an unusual throng is building at Las Vegas's Caesars Palace, vibrating the plaster columns of the porte-cochère. There are white-haired executives flanked by publicity personnel; camera-toting tourists jostling with hundreds of off-duty hotel employees; and, naturally, a man dressed as Caesar himself, complete with a phalanx of rent-a-centurions decked in bronze and red feathers. At last, a black Escalade draws up, and Celine Dion, the shimmering French-Canadian headliner, steps onto a rose-strewn red carpet. "Welcome home, Celine!" the hoi polloi yell, as the overture from Ben-Hur erupts from hidden speakers.
"It doesn't feel like I've left," Celine says, recalling her recent neon-lit Vegas homecoming.
But the view from the red carpet can be deceptive. For in the three years since she departed Caesars Palace, Vegas collapsed. Sky-high foreclosures and epic layoffs torched the working-class dreams of the men and women who create the illusion that is Celine's Las Vegas: the cocktail waitresses in their Romanesque miniskirts, the towel boys who work the Bacchus pools, the cooks at Neros Steakhouse. The megaresorts along the Strip recently posted an unprecedented two-year loss—with a total bleed north of $6 billion—and the usual gap between the city's glamour and grit is now wider than at any point in Las Vegas history. Official unemployment is near 14 percent, the nation's worst rate among big cities, and when you factor in those who have lost hours or dropped out of the labor force altogether, actual joblessness is a Libya-like 26 percent, according to Stephen Brown, the director of the Center for Business and Economic Research at University of Nevada, Las Vegas. "Could things actually look worse?" Brown asked during a speech to business leaders this winter. "The answer is no."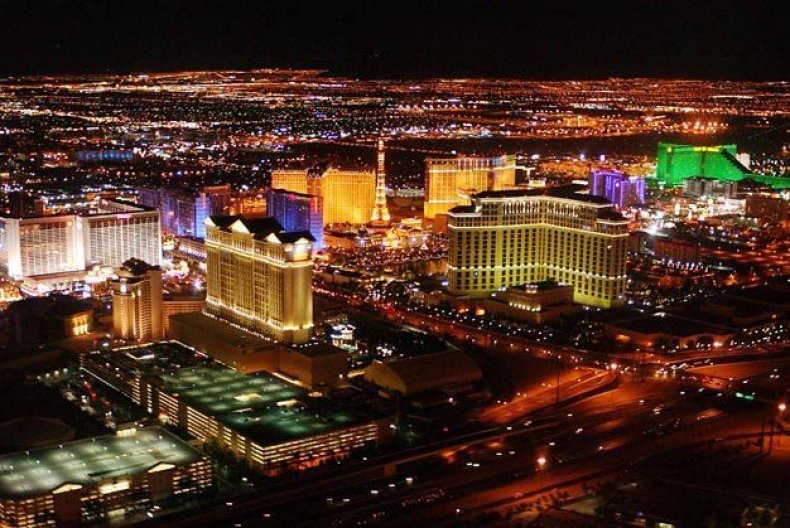 All of which helps explain why Celine has been cast as a savior as much as a star. "Prepare for the Second Coming" implored a column in the Las Vegas Sun, dividing the city's recent history into B.C. and A.C. (for exactly the reason you think). It's the "Dawn of a New Day," promised a more sober piece in the Las Vegas Review-Journal, riffing on the title of Dion's last Vegas show, A New Day. "Can a Singular 'Celine' Revive Las Vegas?" queried USA Today, before engaging the president of Caesars Palace on why, exactly, the answer is yes.
Certainly Celine has been good for Caesars, and Caesars has been good for Celine—paying her a reported $100 million for 210 shows over the next three years. During her prior run, from 2003 to 2007, Dion sold out more than 700 consecutive performances, smashing local records for total audience (nearly 3 million), and bringing in more than $400 million at the box office, more greenbacks than the Rat Pack, Liberace, and Elvis combined. This time around, she's being touted as a one-woman stimulus bill—worth at least $114 million a year and thousands of jobs, according to UNLV. But in an $18 billion–dollar economy—one so sluggish it was recently ranked among the five worst in the world—can Celine's return really have an impact? "We are not adjusting our forecast," says Michael Lawton, a senior analyst for Nevada's Gaming Control Board, who notes that the Celine effect is basically just replacing the Cher effect from a season ago.
Of course, to presume that a single performer—even one of Dion's stature—could help Vegas get rich quick is a sucker's bet. But then, that's what Vegas has always been about.
A crowd of 4,200 fans has packed into the Colosseum at Caesars Palace to get a first look at Celine's new show. As she takes the stage in her sparkling ivory Armani Privé gown, the audience leaps to its feet. Several fans sob uncontrollably, and the singer fights tears of her own. "I'm so excited to be back in this beautiful theater," she exclaims as she scans the biggest showroom in Vegas, which was built for her in 2003. "I got to tell you, this is a dream come true for a singer."
Backed by a 31-piece orchestra that brings to mind Vegas's Rat Pack glory days, Dion launches into a taut 90-minute cycle of her hits ("My Heart Will Go On," "Beauty and the Beast") and borrowed classics (from Michael Jackson's "Man in the Mirror" to the Bond theme song "Goldfinger"). For Dion fans, it's an almost-religious experience, leavened with personal anecdotes and at-home photos with the diva, who gave birth to twins four months ago. "I gained more than 60 pounds," Dion later says backstage, lounging on a couch in her dressing room and sipping a cup of tea. "When you work hard and breast-feed, it gives you your shape back."
Dion has an endearing way of making her fairy-tale life in Vegas seem ordinary, which is part of the draw. "I know it sounds strange," she says. "We have an extravagant life, but we're normal people." The family's house, on a golf course 30 miles from the Strip, is a relatively modest four-bedroom affair (although it's worth noting that they have two other homes, including a $20 million spread in Florida with its own water park, and Dion will be spending only part of her time in Vegas). All the same, Dion says she came here in the first place because she wanted to put down roots, back when her son Rene-Charles—known as "R.C." and now 10—was an infant. "I don't want my kids to live in my dressing room," she says. "I want [R.C.] to go outside. I want him to play baseball." R.C. has joined the Little League team and bowls near the casino. And Dion turned to the local church when it was time to baptize Eddy (named for the French songwriter who penned her first five albums) and Nelson (as in Mandela).
One thing Celine doesn't do like a local is gamble—although her husband Rene Angelil moonlights as a professional poker player and has already taught RC how to play. ("I'm ashamed to say that," Angelil says.) He won $1.6 million at a tournament just before the couple left Sin City in 2007. "I wasn't the one who brought my husband here," Dion quips backstage. "He's been coming since before I was born. I decide everything in our private life, but in show business, he's the boss." After discovering Celine in 1981, Angelil mortgaged his home to produce her first record. "Sometimes when you gamble, you get up from the table with a fortune," he explains. "That's what happened with Celine in my life."
What does Dion make of all the talk that she will bring fortune back to Las Vegas? "It's very touching for me to hear this," she says. "I think it's just a coincidence. When we ended the show, the economy just went," she gestures to the floor and makes the sound of a plane nose-diving.
Few people have witnessed the human toll more closely than Sgt. Patrick Geary and his colleague, Dep. Kristy Henderson in the Las Vegas Constable's Office. They are responsible for delivering the paperwork of this apocalypse: wage garnishments, foreclosure and eviction notices, and, ultimately, court-ordered lockouts. Paid by debt collectors on a per-action basis—$42 for an eviction, for example—Geary, who began plying his trade in 2007, has been raking in around $80,000 a year. Henderson is a charmer, with blonde hair, pink painted nails and gold-rimmed aviator sunglasses, but she is a messenger of doom for many employees of the Strip's biggest properties: the MGM resorts, Caesars, the Venetian. These days, the companies often tell Henderson that the person she's looking for no longer works for them. It's no surprise. Three major casinos have gone bankrupt, and at least six multibillion-dollar resort and condo projects stand idle, monuments to the wild optimism of just a couple years past.
At the south end of the Strip, near the iconic "Welcome to Fabulous Las Vegas" sign, a hidden concrete path leads into a 500-mile warren of wet, trash-strewn drainage pipes that function as an underground shelter for hundreds of the city's most downtrodden. Several have been laid off from the same well-paid, benefits-packed service jobs that give Vegas its rep as a working-class paradise. The pipes are one of the few places police and hotel security don't bother to tread, and since the recession, they've become increasingly populated, according to Matthew O'Brien, author of a 2007 book about the tunnels, Beneath the Neon.
Life here is spare and dangerous. Aside from floods that can fill the space in minutes, there is ever-present crime. Jody Alger, 48, an unemployed casino waitress, guards her tunnel with a BB gun. Another camp has two makeshift barricades at its entrance; inside, its 32-year-old inhabitant huddles on an old bed with a flashlight strapped to his head. In a nearby tunnel, John Tondee sleeps on a sagging leather couch that he found in a Dumpster. His clothes are in a messy pile, and his entertainment is a guitar with a broken string, which he uses for playing country gospel. "I'm at the point of coming out of here," he says. "I've had enough." Tondee says he's a former maintenance worker who lost his job a year ago and couldn't afford to pay the $675 in rent. "I'll do whatever it takes to survive," he says. "I'll go around and wash windows." At night, he used to dress in drag and walk down the Strip. But someone came into the tunnel and stole his 16 wigs. Now he has only one head of fake black curls left.
Mayor Oscar Goodman doesn't seem unduly worried about the underlying desperation in Las Vegas. The politician, a self-described former mob lawyer who now bills himself as "The Happiest Mayor of the Greatest City in the World," brims with optimism about the town's prospects. As he explained recently in his office, which is stuffed with celebrity photo ops and knickknacks from nearly 12 years in the bully pulpit, "I think we're in good shape…I have no concerns." He slaps smiley faces over every dire statistic associated with his town, from the loss of 140,000 jobs ("I have no doubt they'll be back") to the 2 million–person decline in annual visitors ("Give them time to buy a ticket!").
Even so, the mayor is as happy as anyone to see Celine return—maybe even happier. As he later confides: "I was just praying that she would come back. Thank God she did."
In the minutes after Dion's first preview performance, the cash registers at the Colosseum gift shop are mobbed. Fans scoop up $65 sparkling Celine flip-flops, $495 champagne glasses, a $3,000 crystal purse designed by Judith Leiber. "The most popular shirt we have is 'I Love Celine Dion, and Celine Dion Loves Me,' " says Maryann Louder, Caesars' supervisor for entertainment retail, who sings along to Dion's tunes in the store. "We also have it in French." It's not only about pajamas and mugs—Celine's branding power reaches to the sky. Last month, Air Canada announced expanded service along its Quebec to Las Vegas route to accommodate Dion's rabid hometown fans, a quarter million of whom turned out for one of her first post-Vegas concerts in 2008.
Dion has been a star in Canada since she was 13. She had four hit French-language albums by age 16, when she saw Michael Jackson on TV and decided to learn English to emulate her idol. Ballads like "The Power of Love" and "Because You Loved Me" propelled her career, and Dion has sold 215 million albums worldwide. She is especially popular overseas—a big selling point for Vegas executives looking to bring in high rollers from Asia and elsewhere. "Our very best customers are planning trips to see Celine," says Caesars president Gary Selesner. "You can go in any bar anywhere in the world—Tanzania, Shanghai—and that song ['My Heart Will Go On'] will be playing."
Before Dion's arrival in 2003, Sin City's musical identity was still tied to Liberace, Elvis impersonators, and, at best, a mustachioed Wayne Newton. But Dion has made Vegas safe again for big-name talent of a certain age. Cher and Bette Midler followed her at the Colosseum, and Shania Twain is in talks to begin her own engagement in the house that Celine built. Sitting backstage in an area designed for a Lion King–sized cast, Barry Manilow, a self-described "guy in front of a band," says Dion helped make the Strip palatable for a singer of his stature. "She changed the perception of performers here," says the 67-year-old crooner, who's about to release his first album of new songs in a decade, 15 Minutes. In 2009, he decamped from the frescoed, pink penthouse he occupied at the Las Vegas Hilton when he first started playing the city in 2005, to a more subdued condo near his new show at the Paris Las Vegas hotel-casino. (Unlike Celine, the star prefers not to live in a city where a volcano erupts every hour, so he commutes for his shows from that other Rat Pack oasis, Palm Springs.) Like Dion, Manilow has proven to be a kind of mini-stimulus program for Las Vegas, funneling an estimated $60 million a year into the economy. But he says his view from the stage hasn't changed during the city's doldrums. "We've been doing really good business," Manilow says. "It hasn't gone downhill for me."
For those celebrities who live here full time, the devastation is a bit more noticeable. Marie Osmond, who performs at the Flamingo with her brother Donny, describes what it was like trick-or-treating last Halloween. "All the homes were empty," says the Dancing With the Stars veteran, who lives in a posh gated suburb. "You go up to them and there's nobody there, there's a [foreclosure] sign in the window. Even in our neighborhood."
The illusionist Criss Angel says he knew the recession was bad when he saw hotel guests bringing their own six-packs from the gas station down the street. Late last year, Angel launched a powerfully rebuilt show at the pyramid-shaped Luxor (his prior act debuted to poisonous reviews in 2008) and is on track to pump an estimated $150 million a year into the local economy (thanks to four times as many shows as Celine and Barry). "I'm the face of the Luxor," says Angel, who spends a fair amount of his time between shows in the "Black Room"—his custom-built backstage lounge replete with leather-covered walls and a 26-head marble shower that could accommodate most of Cirque du Soleil. Angel helped bring his ex-girlfriend Holly Madison to Sin City, straight from Hugh Hefner's mansion. She now headlines in Peepshow, a recession-proof topless musical (don't even ask about the plot), and stars in an E! Network reality show from the Strip called Holly's World. When not shimmying at Planet Hollywood, Madison plays in her 5,000-square-foot faux Mediterranean villa, complete with its own backyard water slide. She got a great deal on the place, thanks to the real-estate crash. "I found one that was half price," she gushes. "I got lucky."
But no one is as lucky as the diva who will be raking in an estimated half million dollars a show beginning this Tuesday night. "If they ask me to come, it's because they make money," Dion says. "How do you think I feel about that? I feel like a winner." After so much loss, Las Vegas can only pray, "Luck, be a lady tonight."
With Steve Friess in Las Vegas