Can China-choice John Lee Reboot Hong Kong Business with Law and Order?
Sunday's vote for Hong Kong's chief executive was the first since its electoral system was changed to ensure that only "patriots," those loyal to China, are allowed to run for office.
John Lee, Hong Kong's former Secretary of Security who was sanctioned by the U.S. for imposing crackdowns on pro-democracy protesters in 2019, received 99.4% of the vote from members of a Beijing-approved committee.
Under China's new electoral rules, he was the only candidate.
American officials, companies and investors have expressed concern over the impact that Lee's leadership will have on the business environment in Hong Kong.
But Lee is determined to bring back international investment.
"Having restored order from chaos, it is high time that Hong Kong starts a new chapter of development," he told a crowd of voters on Sunday.
Tara Joseph, former president of the city's American Chamber of Commerce, said Lee would be the first leader of the city to have little experience in business or managing an economy.
"Hong Kong has a lot of working to do in regaining the respect and admiration of the international business community, and it desperately needs to revive its economy," she told the South China Morning Post, "so it will be interesting to see how a security-focused leader handles this."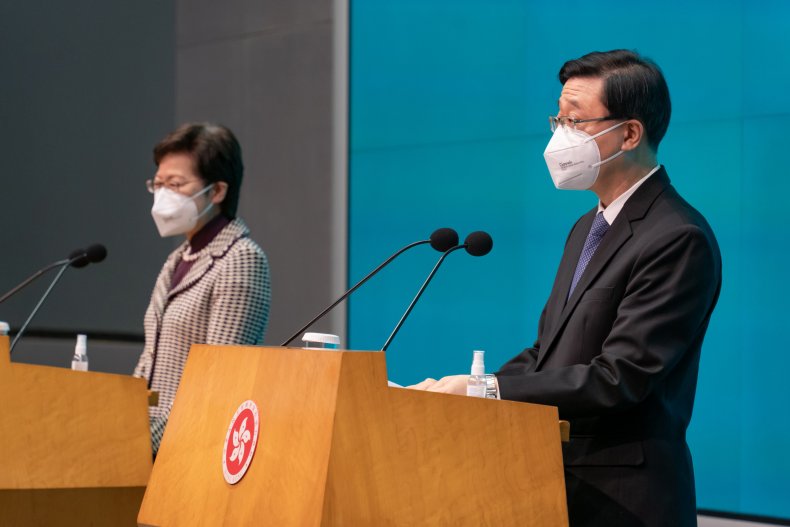 Before joining Hong Kong's government as Chief Secretary for Administration, the second-most powerful position in the government, Lee was the deputy head of the police department and a career officer, having joined law enforcement in 1977.
In 2019, he supported the national security law and an overhaul of Hong Kong's entire political system in response to civil unrest and mass pro-democracy protests.
Now 64, he is set to replace Carrie Lam, becoming the first chief executive from the police force in the 25 years since the Hong Kong handover.
He takes offices amid growing concern in the financial community that its historic role as an international hub of commerce could be at risk.
Strict COVID-19 policies, the erosion of autonomy, and deteriorating U.S.-China relations have contributed to a sharp decline in American business activity and international travel since 2018.
The number of American firms with regional bases in the city fell to just 254 last year —an 18-year low, according to Hong Kong's Census and Statistics Department.
Bloomberg reports that along with a loss of businesses, the influence of professionals from the U.S. and Europe has been declining for years. Official figures show that new visas for foreign financial-service workers fell 49% between 2018 and 2021, while visas issued to mainland China rose by 8% over the same period.
This shift in foreign activity has had a chilling effect on industries. GDP growth has steadily contracted, while the Hang Seng Index, the main indicator of overall market performance, has declined nearly 40% from the all-time highs achieved in 2018.
"We have fallen behind the last number of years," Allen Zeman, a Hong Kong business veteran and chairman of the Lan Kwai Fong Group, told China Global Television Network on Monday.
"Keeping Hong Kong competitive and keeping it as an international financial center is very important to most businesses and countries around the world who really want to do business with China," he added.
Attempting to respond to these concerns, Lee has highlighted economic development as a key priority for his administration.
He has urged foreign businesses to be patient with COVID-related travel restrictions, insisting that the pandemic will subside in a "matter of time," while promising that Hong Kong will "expand its international connectivity" and establish a more favorable business environment.
"Hong Kong must maintain its character of being an international metropolis," he said during a press briefing in April. "What is important is that Hong Kong remains the place of attraction, and a place with strong competitiveness."
While committing to international trade, Lee has also been clear about his goals to strengthen national security and accelerate integration with mainland China. He has emphasized the city's geographic advantage and stressed the importance of continued trade and "patriotism."
"We are the access to the mainland market," Lee told reporters at an event introducing his election manifesto. "These are the strengths that will not be replaced by any cities in China or any countries in the world."
Despite Lee's assurances, businesses worldwide remain uncertain whether Hong Kong can continue to attract commerce and travel, despite travel restrictions, anti-democratic policies, and the increasing influence of the Chinese Communist Party.
On Monday, the organization of the largest economies in the world, the Group of Seven, released a statement underscoring "grave concern" over the undemocratic process that got Lee elected.
"We are deeply concerned about this steady erosion of political and civil rights and Hong Kong's autonomy," the statement read.
"The current nomination process and resulting appointment are a stark departure from the aim of universal suffrage and further erode the ability of Hong Kongers to be legitimately represented," the statement added.
In response, the Chinese foreign ministry said on Tuesday that the G-7's announcement about the selection process was an interference in China's internal affairs.
"Certain Western countries and institutions have colluded to maliciously smear Hong Kong's election of its chief executive," Foreign Ministry spokesperson Zhao Lijian told a news conference. "Relevant countries and institutions should respect China's sovereignty."
Beijing's liaison office said Lee's win reflected the advantages of a new electoral system designed to guarantee that only those deemed "patriots" would be allowed to run the city.
Avoiding questions about past protests and the effects of harsh policies during his public appearances, Lee aims to shift the international conversation around Hong Kong to one about trade and economic development, said a source close to the situation.
Giving his take on the future of Hong Kong's economy, Lee recently assured a room full of supporters that international trade will continue.
"We have an advantage in language, we are an inclusive society and it is a lively city," he said through a blue surgical mask. "I think people will follow the trend of where they can make money, where they can develop and follow their dreams."