Can China's Economic Engine Jump-Start the West?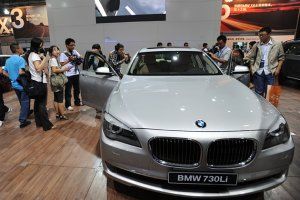 Two years ago, economists ridiculed the idea of "decoupling"—that the economies of China and other emerging powers could move independently of developments in the U.S. and other Western countries. The deep recession in the West, which was but a blip in most emerging markets' growth, refuted them. Now, it seems, markets are starting to recouple again—except the other way around: China has turned into a locomotive for growth in the West.
The clearest evidence for growing Western dependence on emerging markets is Germany. Europe's biggest economy is on a roll, with unemployment dropping for the past 13 months in a row and GDP expected to grow by 2 (some say up to 3) percent in 2010—far above the Europe-wide average of just 1 percent. Three quarters of that growth has been generated by Germany's powerful export industry; of those export gains, almost half are shipments to China, India, and other emerging markets.
In some key economic sectors such as cars and machinery, dependence on emerging-market growth is even higher. Automaker Audi, like much of its industry, was considered half dead just a year ago. But it will set a new annual sales record this year on the back of soaring deliveries in China, where it now sells more vehicles than in Germany itself. For machinery builders, which ship an average of 73 percent of their production abroad, China last year passed the U.S. as the biggest export market, with one 10th of production already heading there. Most German manufacturers have reoriented their expansion toward Asia, Russia, and South America, expecting the U.S. and other developed markets to stagnate in the wake of the crisis. By 2016, says Deutsche Bank Research economist Jochen Möbert, China will pass France to become Germany's single most important export market.
Germany is the first major economy to feel the locomotive effect because it is hitched, more than others, to the fate of emerging markets. Its export-heavy industry specializes in many of the products that developing countries need the most, including not just chemicals and building materials but the machinery that runs their factories, builds their highways, extracts their resources, and harvests their crops. While Japan has also seen a boost in exports to China, the Japanese economy is much less dependent on trade; Japanese exports are only 13 percent of GDP, while Germany's run at 35 percent. What's more, Japanese exports to China contain a lot of supplies to Japanese-owned factories whose products are then sold abroad. German exports, on the other hand, are almost purely a product of Chinese growth.
Indirectly, China's pull on the German economy has also helped growth in other European countries like Poland and Slovakia, where many German exporters have outsourced production. As economic power continues to shift to the emerging markets, the locomotive effect on countries like Germany will likely last. And with worries over bubbles in China or slowdowns in Brazil, it ushers in a whole new set of economic uncertainties.