Eighteen years after the opening stages of the Iraq War signaled the first—and last—conclusive U.S. military victory over a nation in decades, seemingly endless conflict there and elsewhere continues to consume sizable portions of U.S. military strategy and budget abroad.
Now veterans in Congress who agree the Iraq War was a mistake tell Newsweek they are pushing to repeal the still-active laws that authorized that operation. They are also looking at ways to better assert Congress' control over the country's warfighting powers, given what are viewed as emerging threats from great power rivals China and Russia.
But before the United States can look forward, these legislators argue they need to reckon with the past.
In this case, both the 2002 Authorization of the Use of Military Force (AUMF) that greenlit the 2003 invasion of Iraq and the earlier 2001 AUMF drawn up that launched the "War on Terror" after 9/11 are seen as an obstacles for reform and a potential pitfall for future deployments.
"My view is it should have been changed quite a while ago," Rep. Ted Lieu (D-Calif.), a colonel in the U.S. Air Force Reserve, told Newsweek.
Lawmakers in both the House of Representatives and Senate have appealed to U.S. President Joe Biden—who, like his opponent, former President Donald Trump, campaigned against "forever wars"— to support efforts to sunset the 2001 and 2002 AUMFs, as well as the 1991 AUMF used to support U.S. intervention against Iraq during the first Gulf War. Debates have emerged in the chambers, and Lieu said the movement to rein in the White House's war powers is growing.
"We're all very aware that Congress needs to reassert our war powers authority and stop ceding this authority to the executive branch," he said.
Lieu points to missions ongoing and present for evidence of the need to take action.
"If we're going to enter into a war, we better have a plan for what happens after the hostilities cease," he said. "In the Iraq War, there was not a very good plan. There has to be a very specific mission, which is to defeat the other side's military, right? It's not to build a nation or run a government."
A similar seemingly endless scenario has emerged In Afghanistan, which the U.S. first entered nearly two decades ago.
"One of the reasons that I believe we need to sunset the AUMF is so we don't have forever wars, and Afghanistan is a very good example," Lieu said. "We've been in Afghanistan so long that someone who was born right before the war started can now enlist and be deployed to Afghanistan. So I think we definitely need to have Congress reassert its war powers authorities and stop having the executive branch making all these war and peace decisions."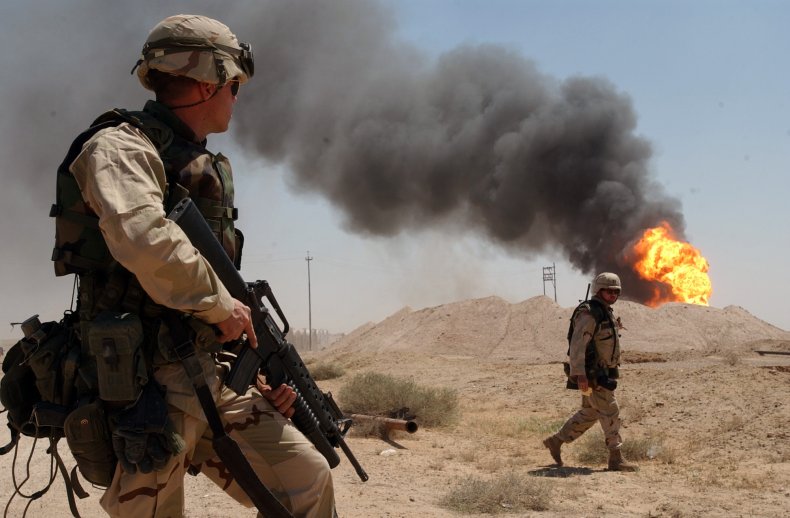 While Trump never withdrew from any country where the U.S. was involved in combat operations, he did oversee drawdowns in war zones in Afghanistan, Iraq, Somalia and Syria.
But the previous administration also made arguments based on previous AUMFs for potential military action against a new, more powerful foe, Iran, amid an intensified "maximum pressure" campaign after Trump pulled out of the 2015 nuclear deal.
In the final weeks of Trump's tenure, former U.S. Secretary of State Mike Pompeo attempted to establish a connection between Iran and Al-Qaeda, the Islamist militant group behind 9/11. The argument, matched with the administration's concerns regarding Iran's nuclear program, recalled Washington's talking points in the prelude to the Iraq War.
While war with Iran was avoided, the AUMF served as the basis for the U.S. killing of Iran's Revolutionary Guard Quds Force commander Major General Qassem Soleimani at Baghdad International Airport in early 2020, an act with widespread ramifications across the Middle East.
"To justify killing an Iranian political leader and general who happened to be transiting through Iraq, that was clearly not what the 2002 AUMF authorizes," Lieu said, "nor was it intended to authorize that kind of use of force."
As the Biden administration grapples with heightened Iran tensions without an official plan to reenter the nuclear agreement, the president has also inherited a pressing May 1 deadline to withdraw troops from Afghanistan, which was established by a historic deal reached between his predecessor and the Taliban.
Biden signaled during his first presidential press conference last week an unwillingness to withdraw troops in this timeline amid ongoing unrest in Afghanistan, but he suggested he was likely to pull U.S. troops before the end of the year.
Even if the exit is successful, however, a lingering AUMF would pave the way for a speedy return, something Rep. Ruben Gallego (D-Ariz.) worries is a strong possibility without repeal.
"I mean, you can't really be out of Afghanistan unless you sunset the AUMF," Gallego, who served as a colonel in the U.S. Marine Corps, told Newsweek. He warned of a situation in which "the Pentagon can just always be resending troops back in."
The issue with the existing framework, he argued, "is that you're always going to have a Pentagon that's going to rationalize using the AUMF in the Middle East without oversight."
Both the Obama and Trump administrations used the existing AUMFs established during the George W. Bush administration to justify ongoing military operations not only in Afghanistan and Iraq, but also in dozens of other nations across Africa and Asia. The rise of the Islamic State militant group (ISIS) has only broadened the scope of these actions.
And while post-9/11 wars have contributed to counterterrorism operations, they have also racked up a sizable cost both in finances and civilian casualties. At home, Gallego says sunsetting such vague AUMFs is necessary for the integrity of the country.
"We should focus on getting this done for the right policy reasons, so that we can't have these ongoing wars and endless wars with no real tangible goal and no real tangible end time," Gallego told Newsweek. "We are a democratic nation, a republic, and we should not be in forever wars. It's not good for our soul to be doing this."
But there are also strategic reasons.
Gallego argued that the dawn of 21st-century great power competition with the likes of China and Russia has arrived, and being bogged down in protracted conflict across the globe does not bode well for U.S. military preparedness, given the prevailing mindset at the Pentagon.
"If you allow the Pentagon to have its cake and eat it, too, they will," Gallego said. "They will both want to fight the counterterrorism wars, as well as the great power competition, and they will do neither well."
Echoing this point was Sen. Tammy Duckworth of Illinois, a retired U.S. Army National Guard lieutenant colonel who lost both of her legs when her helicopter crashed due to enemy fire about a year and a half after George W. Bush infamously declared "mission accomplished" in the early days of the Iraq War.
She acknowledged that the battle to phase out the current AUMFs would be an uphill one in the Pentagon.
"The folks in the Pentagon are gonna push back hard," Duckworth told Newsweek. "They're going to say, 'You're tying our hands, you're constraining us and we won't be able to defend the nation,' and in many ways they're right, we are tying their hands, we are constraining them. That's the job of the civilian government in a democracy like ours."
She also stressed the urgency of this mission, given the historic challenges posed by China and Russia, both of which have been identified by the White House as the premier strategic competitors of the U.S., as well as specific threats in the cyber realm.
"This AUMF that had to do with 9/11 needs to be sun-setted or repealed, or however we choose to do it, it needs to end," Duckworth said. "And then if we want to deal with Russia, then Congress needs to do its job and come together and debate for a new AUMF for how we deal with Russia, or Russia in Ukraine, or on cyber, whatever that is."
She argued that the hard work has to be done now in Congress.
"Keeping this old AUMF around has also been a crutch for politicians who don't want to do the hard work of having to debate and cast some really hard votes," she said.
Senators Tim Kaine of Virginia and Todd Young of Indiana reintroduced legislation earlier this month that would specifically repeal the 1991 and 2002 AUMFs. Asked for a reaction by the press, White House Press Secretary Jen Psaki responded positively.
Biden, she said, "wants to discuss a narrow and specific framework, moving forward." She referred to both the 2001 and 2002 AUMFs as "outdated."
"Those are 19 and 18 years old," she said. "And that's the discussion he hopes to have, in partnership and with the leadership of Senator Kaine, and determine what the approach and framework should be as we look ahead."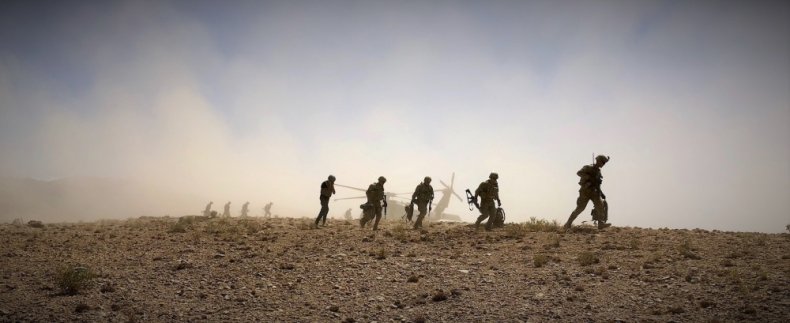 State Department spokesperson Ned Price elaborated on the administration position later that day, saying that it believes "deeply in Congress' prerogative in this area, and it's time to reset the balance between the Executive Branch and the Legislative Branch when it comes to the authorization for the use of military force."
He emphasized that this is a priority for Biden.
"It also gets to this president's view that for two decades now this country has engaged in forever wars, so-called forever wars, that have broadened in scope," Price said. "And we believe that it is very much in line with our democratic republic, very much in line with our Constitution that we engage in a constructive dialogue and that Congress assert its prerogative in this area."
Outside the halls of government, activists for veterans affairs are speaking out in favor of bringing a timely end to U.S. military involvement in countries like Iraq and Afghanistan lest future generations be caught in the same wars as their parents, or even grandparents.
Jon Soltz, a U.S. Army Iraq War veteran who serves as chairman for the VoteVets progressive veterans group, said the U.S. must move on and close the door behind it in the same motion.
"In an ideal world, we'd close out Forever Wars, and then shift focus," Soltz told Newsweek. "But, we simply don't have the luxury of time to properly end the Forever Wars we're in before we turn attention to China, Russia, and other threats. We have to do it all at once, and we are. But it's not ideal."
For this reason, he said, his organization has "always opposed these open-ended conflicts" dating back to the establishment of his group 15 years ago.
"When VoteVets formed, we said that the drain on the military that Afghanistan and Iraq caused would keep us from being able to respond to a quickly changing world," he said. "That's why we're so committed to ensuring that we don't find ourselves in this position again. It hurts our military, our troops, and our security."
But even if the U.S. succeeds in finally repealing the AUMFs that paved the way for military, strategic and humanitarian wounds still being felt today, many wounds remain fresh.
For Sean Davis, a former Infantry Platoon sergeant who received a Purple Heart for his service in Iraq, issues remain unresolved about the war, one he described as unwinnable because "we started declaring wars on ideas instead of countries."
"The question is, 'Why man?' I mean, for me it's, 'What did my friend die for?'" Davis asked.
"We still have to resolve this issue of, 'Why the hell did you send us over there?'" he told Newsweek. "There's no answer that's going to be acceptable, but at least I guess maybe the resolution could come in making sure this doesn't happen again."