Can Democracy be Saved in Tunisia? | Opinion
For the principled in Tunisia, President Kais Saied's actions of freezing parliament, dismissing the prime minister and assuming judicial authority on July 25 were an assault against the foundations of our fledgling democracy. It was a serious violation of the constitution, the penalty of which should have been his removal from office.
This coup thrust Tunisia, the last candle of the Arab Spring that remained flickering, into the center of an epic struggle for freedom—one in which our country has played a prominent role for centuries.
While most observers may associate Tunisia with the 2011 overthrow of former President Ben Ali, our resistance against authoritarianism has deeper roots. Let us not forget the Battle of Tunisia between 1942-43 that ended with a resounding defeat for Nazi Germany and Fascist Italy. In the midst of World War II, we succeeded in a conflict that led to freedom's victory in the face of populism, the triumph of democracy over tyranny.
Tunisia was also a pioneer when it adopted one of the first modern constitutions in 1861, making huge strides in religious reform and the emancipation of women. It remains the only Arab-majority country to date that has proscribed polygamy outright, thus establishing genuine citizenship based on de-facto equality between women and men.
These progressive values were further enshrined after the country's independence from French colonialism in 1956. At the height of the Cold War, Tunisia was being praised for beating back the tide of communism in Africa and the Middle East.
Today Tunisia, the country from which the Arab Spring flowed in late 2010, once again finds itself at a momentous crossroads. Our struggle is now to complete the course of democratic transition and resist the urge of some malign regional and global actors of slipping into dictatorship.
Tunisian President Kais Saied has been vocal about his aspirations for a new Tunisian constitution that focuses power in the hands of the president, labeling the current system—which places most powers in the hands of the prime minister, appointed by the ruling coalition—as having "locks." He has, for the past two years, failed to cooperate with the government and parliament, leading to a political deadlock that has worsened Tunisia's COVID-19 crisis and economic grievances until unrest reached its peak in recent weeks.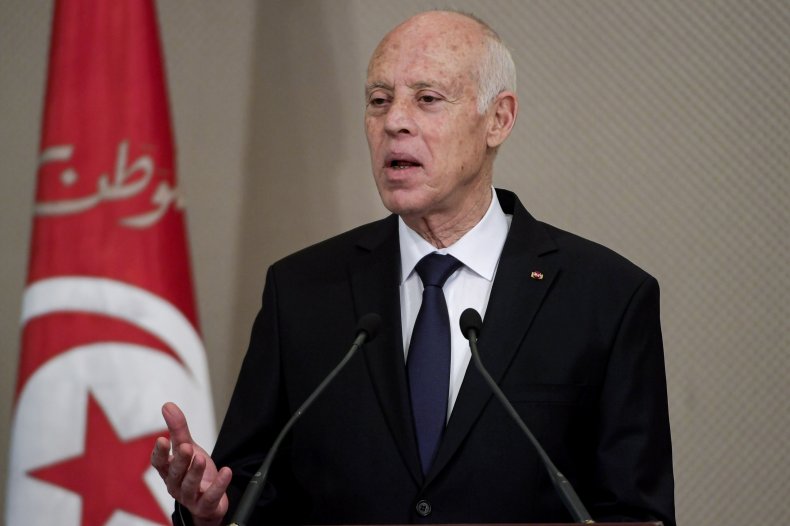 Saied is now riding on the waves of popular anger at the cabinet's performance. He has exploited the unrest in Tunisia as a pretext to implement his July 25 constitutional coup. He suspended parliament, lifted immunity off members of Parliament, arrested several who are critical of him and assumed judicial authority. He is seeking to portray this assault on Tunisians' hard-won freedoms as a response to the popular will of the people. Democracy in Tunisia is in danger.
We forget at our peril the pledges of the free world to support the post-2010/2011 revolution transition to democracy in Tunisia. These sentiments were led by former President Barack Obama alongside then-Vice President Joe Biden, in their regular meetings with Tunisia's former President Beji Caid Essebsi.
Tunisia's brave democratic experiment was brought into sharp focus as Egypt fell into ultra-authoritarianism and Libya, Yemen and Syria collapsed into bloodshed. Slowly we stood almost alone in the region, which both emboldened the symbolism of the Tunisian revolution and emphasized the risks we face.
The United States' support to Tunisia has long been instrumental. Tunisia obtained U.S. assistance in its ongoing negotiations with the International Monetary Fund to balance its budget. It has relied on American financial guarantees for loans, military and logistical support for the Tunisian army in its ongoing war on terrorism, in addition to hundreds of millions of dollars in development aid that have helped Tunisians develop state facilities, civil society organizations and municipalities.
There is no stronger pressure card now on President Saied to restore constitutional legitimacy and complete the democratic transition than the Biden administration, which has constantly promised to preserve a free and democratic Tunisia. It is the duty of countries that consider themselves part of the free world, foremost the United States and the European Union, to give their full support to the democratic transition in Tunisia.
Our allies must exert all their power and influence to ensure that President Saied's audacious move not be repeated. As the Tunisian democratic forces continue to urge calm on the streets, we demand a return to legitimate rule and a commitment to the principles of the constitution and parliamentary procedure. Only through this peaceful approach, without violent confrontation, can we hope to seek solutions to our economic and social crises.
One of the world's historic citadels of freedom is going through turbulent times, in a region where positive progress has been brutally curtailed. We hope that President Biden's commitment to foreign policy that supports democracy and confronts dangerous populism will ensure that Tunisia is not overlooked in its hour of need.
Khaled Chouket is president of the Tunis-based Arab Institute for Democracy and former minister and spokesperson of the Tunisian government from 2015-2016.
The views expressed in this article are the writer's own.