Can a Federal Jobs Guarantee Help Democrats Defeat Trump in 2020?
Democrats eyeing a run at toppling President Donald Trump are coalescing around a federal jobs guarantee they hope will propel them to the White House in 2020. In doing so, they are aiming squarely at winning back the voters who gave up on the party two years ago as they bought into Trump's pledge to provide for the "forgotten men and women."
This week, Vermont Senator Bernie Sanders's office announced plans to unveil a federal jobs proposal that would guarantee every American worker a minimum $15 an hour position complete with health care, a retirement plan and the same paid leave benefits granted to federal public-sector employees. Sanders is the third of a slate of rumored 2020 candidates to either endorse or propose a federal jobs guarantee, joining New York's Kirsten Gillibrand—the first Senate Democrat to speak out in support of guaranteed government jobs—and New Jersey Democrat Cory Booker, who on Friday announced legislation that would create a three-year pilot program to test a jobs guarantee in 15 cities and counties. (Gillibrand, along with Democrats Kamala Harris, Elizabeth Warren and Jeff Merkley, is expected to cosponsor Booker's bill.)
There's already widespread support for a federal jobs guarantee program among voters across the country, and—most notably—across the political spectrum, according to Sean McElwee and his colleagues at Data for Progress, a progressive polling and analysis firm. In March, they found that a majority of voters in all 50 states supported a jobs guarantee, even in states that went overwhelmingly to Trump. The state that polled lowest was Utah, where a solid 57-percent majority still said they would favor the proposal.
When researchers at Civis Analytics, another progressive data analytics firm, narrowed the data by voting pattern, they found that 56 percent of those who went from voting for former President Barack Obama in 2012 to Trump in 2016 supported a jobs guarantee, and 58 percent of nonvoters looked favorably on the idea as well.
"If we're speaking strictly about winning campaigns, running on jobs is 100 percent a smart move, and it's 100 percent what Democrats should be doing," McElwee, a researcher and co-founder at Data for Progress, told Newsweek. "Democrats can run on jobs without sacrificing other progressive causes."
McElwee cautioned Democrats against getting too excited about the number of Obama-turned-Trump voters they can win over with the policy—it's still modest. But it's enough to cut a path to victory in 2018, he says.
"If you can get back about one-third of Obama-Trump voters and energize nonvoters, there you are," he said. "You've got your House majority."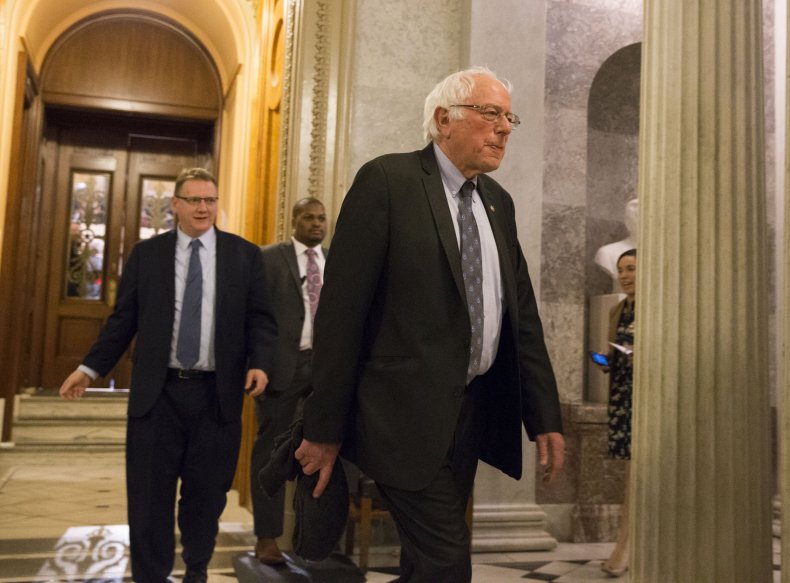 Indeed, some who switched their votes from Barack Obama to Trump told Newsweek the idea seemed common-sense.
"If this could help the people get jobs, I support it," said Eileen Sorokas, from Luzerne County, Pennsylvania, which went to Obama in 2012 but to Trump by 20 points four years later. "I know what it's like not to have a job—it's kind of scary. If it works, I'm all for it."
Before she retired, Sorokas, now 70, worked at a dress factory that shut down and went overseas in the mid-1990s. Her husband Richard worked at Procter & Gamble for over three decades until he retired 17 years ago. He said a jobs guarantee interests him because he'd like to see fewer Americans rely on the country's welfare system.
"I remember Trump wanted to get people off of welfare, and he said he was going to make jobs for people who want to work" he told Newsweek. "What stuck out for me was getting people off of welfare. I thought that was a great."
Both Richard and Eileen—who said they'd been lifelong Democrats—said they'd consider voting for a member of their party again if they campaigned on a strong jobs platform, like the guaranteed jobs proposal.
But they're not totally sold yet. After a beat, Richard posed what might just be a multibillion dollar question: "Where do you get the money?"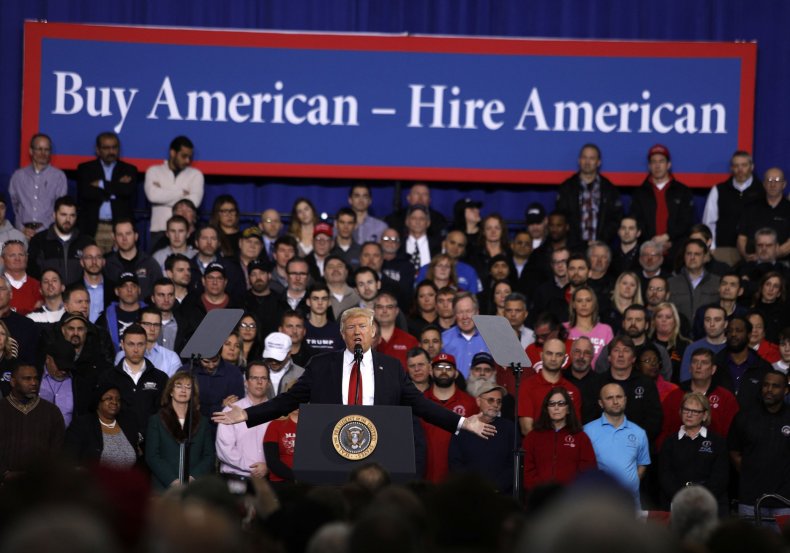 Policy research institutes like the Center on Budget and Policy Proposals and the Center for American Progress have priced federal jobs guarantee plans similar to Booker's and Sanders's at $543 billion and $158 billion, respectively. The government could fund a jobs program by raising income tax on the rich—a proposal that is controversial in some circles. But proponents of the policy in the Senate see it as a worthwhile expenditure.
"If this country can spend $1.5 trillion to give corporations that ship jobs overseas and the wealthiest among us a massive tax break—why can't we guarantee anyone willing to work for it a job in their community that benefits everyone?" Gillibrand said at a National Action Network event on Friday.
Still, a jobs guarantee might not do much to entice the Americans who work in industries that have seen the greatest job loss and believed that Trump, and only Trump, could fix it.
"Every coal miner I know wants to keep mining coal," Phil Smith, the director of government affairs at the United Mine Workers of America, told Newsweek. "Until we're talking about a job that pays more than $30 an hour with the same benefits miners get now, I'm not sure any miner would be interested in that."
Trump made big promises to miners during his presidential campaign, pledging to nix the environmental regulations he said had cost them their jobs under his predecessor and end the "war on beautiful, clean coal." In December, the president boasted that he'd created 45,000 coal jobs since he took office, but according to the Bureau of Labor Statistics, he'd created just 1,200 at that point.
Some regions of the country have seen tens of thousands of jobs disappear over the last several years, as coal plants shut down and the country embraced more cost-effective natural gas options.
"I think a guarantee of a job is better than no job at all," Smith said. "But I think we still need to know more."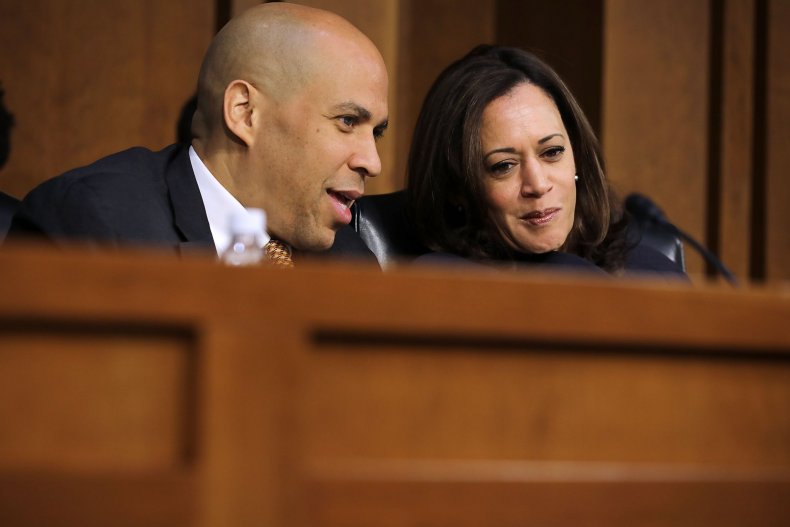 House candidates are already testing the waters for the 2020 presidential hopefuls. Dan Canon, who's running in the Democratic primary in Indiana's 9th District—which went to Trump by double digits in 2016—says he's spoken to hundreds of voters about his proposal for a jobs guarantee, and not one of them has voiced any opposition to the idea.
"A jobs guarantee is good for the economy, it's good for unemployment and it's good for infrastructure," Canon said.
In Canon's district, home to some of the most rural parts of Indiana, he says voters have two top concerns: jobs and infrastructure. As Canon sees it, fixing the first problem with a jobs guarantee can solve the other. If people need jobs, they can take government-sponsored work fixing the district's roads, public transit system, energy grids and broadband access, Canon says. The House candidate's proposal, and others like it, harken back to the Works Progress Administration implemented by President Franklin D. Roosevelt, a program that gave some 8.5 million unemployed Americans jobs building up the country's infrastructure during the Great Depression.
"I have not found a single person in Indiana that disagrees with this idea or thinks it's a bad one," Canon told Newsweek. "The only pushback I ever got when presenting people with a jobs guarantee is from political theorists who think the district just isn't ready. But those tend to be D.C. think-tank types who don't understand the people on the ground here in Indiana."