Can Doctors Really Write Mask Exemption Notes? We Asked One
As the coronavirus pandemic continues, more and more American businesses are asking patrons to wear masks. But some patrons are against the idea of a face covering, and refuse to comply with new regulations.
A handful of people who don't wear masks have even gone so far as to claim they can't wear them for medical reasons and have doctor's notes to prove it.
However, not all doctors are willing to be lenient in writing exemptions. Yes, doctors can exempt their patients from wearing a mask if they have a medical condition that could become agitated by the face covering. But Jeffrey A. Linder, MD MPH of Northwestern Hospital, told Newsweek that more than 99 percent of people have no excuse not to wear a mask regardless.
"Even patients with chronic lung disease like asthma or emphysema have no problems tolerating masks," he wrote via email. "If you have lung disease, you are at higher risk for complications of COVID and should especially wear a mask if you cannot properly physically distance."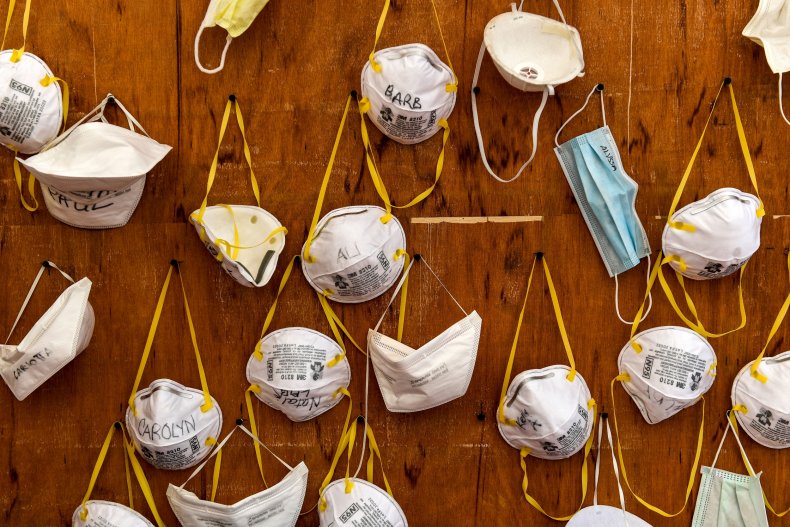 Linder continued to explain what the possible exceptions could be. "I can imagine very rare instances of severe psychiatric disease, horrible skin conditions, or a profound facial malformation or injury that might make wearing a mask problematic. These exceptions will be vanishingly rare."
This week, a viral moment raised the question of doctors exempting patients from wearing masks. A woman named Amber Lynn Gilles published an enraged Facebook post when a California Starbucks barista refused to serve her because she didn't wear a mask.
To Gilles, this was discrimination against her claimed disability. She provided a doctor's note to Fox 4, which was written by her chiropractor. "Amber has underlying breath conditions that prevent her from wearing a mask or any type of facial covering whatsoever. Please contact me if you have any questions," it read.
Gilles commented further on her breathing restrictions, too. "I get shortness of breath, dizziness and it messes with the heartbeat," she explained. "I do have asthma as well, and I do get mask-acne. So there's several things going on and not only that, but it doesn't even work."
Clyde Yancy, MD, told Newsweek there's a great, and simple, way to avoid mask acne, if users are concerned. "It is correct that some object to wearing a mask because of skin eruptions, even acne; this has entered the social vernacular as 'maskne,'" he said via email. "Acne associated with wearing a mask can however be treated with one approach deemed to be particularly effective—wear a clean mask; either change it out or wash the mask."
The barista who refused Gilles service was applauded with a public GoFundMe account when people learned of the action they took. The account raised $100,000 for him and now Gilles wants half of the funds.
The internet continues to reprimand Gilles for her refusal to wear a mask, and other doctors have stressed the lack of serious consequences that comes with a facial covering.
In a now-deleted Facebook post, Doctor Megan Hall measured her vitals in four different types of face masks. They didn't fluctuate much.
"Though maybe inconvenient for some, you can still breathe," she explained in the post, reported by Business Insider. "As a physician, I urge you and ask you to please wear a mask to protect yourself and those who cannot safely wear a mask (many of my patients because they are under 2 years old)."
And the ploys to get out of wearing a mask in public spaces has gone even further than enlisting doctors. Some people are even falsely using the Americans with Disability Act (ADA) in their citations. While the ADA doesn't require a person to reveal their disability, they certainly haven't created the "Face Mask Exemption Card" that's circling the internet.
The ADA debunked these cards, seen in the tweet above, in a press release on June 30. "Assistant Attorney General for the Civil Rights Division Eric Dreiband reiterated today that cards and other documents bearing the Department of Justice seal and claiming that individuals are exempt from face mask requirements are fraudulent," it began.
Those with questions about pandemic guidelines are always encouraged to reflect on the Centers for Disease Control and Prevention (CDC) guidelines. They do exempt a small handful of people from wearing masks.
The CDC outlines: "Cloth face coverings should not be placed on young children under age 2, anyone who has trouble breathing, or is unconscious, incapacitated, or otherwise unable to remove the mask without assistance."
Linder described the CDC guidelines and how they apply to the general public. "All that is to say for more than 99 percent of people, they should be wearing a mask. I would discourage my fellow physicians from being lenient in 'granting exemptions,'" he wrote. "I'll add, I hate wearing a mask in clinic too. They get in the way of seeing people, fog up my glasses, and sometimes makes it hard to talk...but I still wear one when at all times."
Yancy echoed the point. "Any physician in doubt should walk through a COVID19 unit or speak with a peer physician working in a COVID19 unit," he said. "This is an illness like no other. Prevention is our best approach. The number of exceptions, particularly given the CDC list, should be very few, if not rare."