Can Gambia's New Government Close Migration 'Backway'?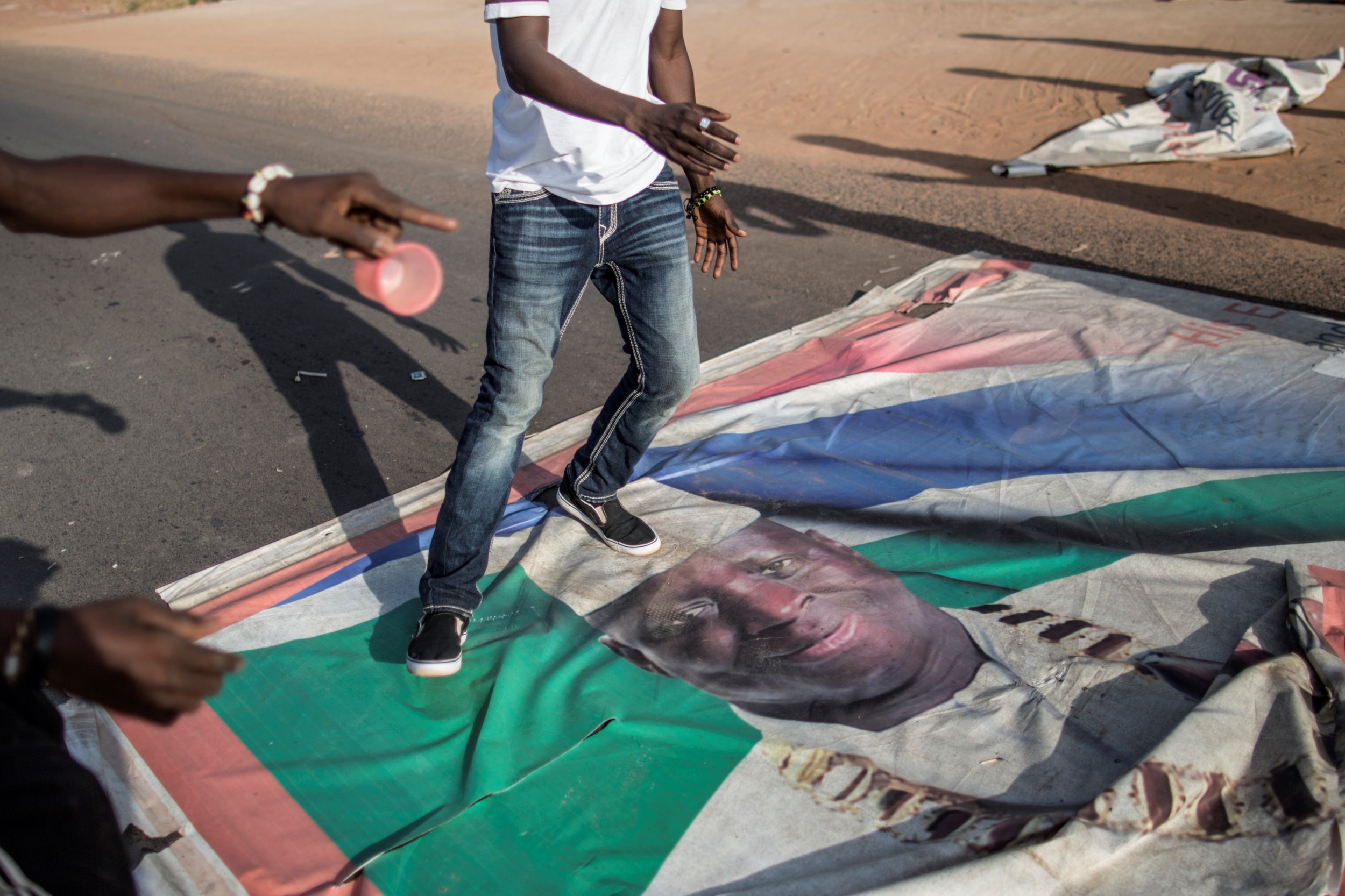 Bakary Manneh wasn't expecting an arduous journey when he set off from Gambia for Europe.
The 26-year-old, who comes from the village of Lamin around 20 miles outside Banjul, Gambia's capital, set off on September 18 with dreams of moving smoothly along the so-called backway—a term used to describe illegal routes used by migrants, including those in Africa, to reach Europe.
It's now December 14: Manneh is down 35,000 Gambian dalasi ($820)—almost double what most Gambians earn in a year—after paying off smugglers and unscrupulous border officials; is weary and browbeaten having traveled through five countries; and is grateful to be alive after spending almost two weeks wandering through the Sahara after his smuggler's vehicle broke down en route to Libya.
"I didn't expect that I would be more than one month on this journey. By my own calculation, I thought before one month I'd be in Tripoli," says Manneh, speaking via telephone from a transit center run by the International Organization for Migration (IOM) in Agadez, a dustbowl in central Niger that functions as a key passing point for migrants heading towards Libya.
For Manneh, the journey is over: he's run out of cash and can't make the journey to Libya, which he says will cost a further 17,000 dalasi ($398). He is preparing to board a bus back to Niamey, the capital of Niger, and from there to catch a paid-for flight back to Gambia.
But more will come after him. Despite having a population of less than 2 million and being the smallest country by area in mainland Africa, Gambians were the fifth-highest arrivals in Italy by sea between January and October, according to IOM. Of the 282,000 migrants recorded by the IOM passing through Séguedine—one of the last stops in Niger for migrants before reaching the Libyan border—15 percent were Gambians, the third-highest behind Nigerians and Nigeriens. "The numbers are huge; I understand there are villages [in Gambia] with no young males left," says Richard Danziger, IOM's regional director for West & Central Africa.
But change is afoot in Gambia. The country recently held a dramatic election in which a little-known property developer, Adama Barrow, unseated the authoritarian Yahya Jammeh, who has ruled Gambia for 22 years. Jammeh is currently refusing to step down after rejecting the election results and has appealed to the country's Supreme Court, but regional body Economic Community of West African States (ECOWAS) has promised to take "necessary actions" to ensure a smooth transition to Barrow's leadership on January 19. Should things go to plan, Barrow will be faced with an ailing economy and a legacy of human rights abuses that turned Gambia into a migration drain.
Barrow—who himself migrated to the U.K. in the early 2000s to study real estate before returning to Gambia—tells Newsweek that he is keenly aware of the problem. "Gambians are desperate. There is no work for them in Gambia, so that's why they are making the very dangerous journey to Europe," says the president-elect, speaking via telephone from Banjul. "When we come to power, we will overhaul everything and try to see whether we can create jobs."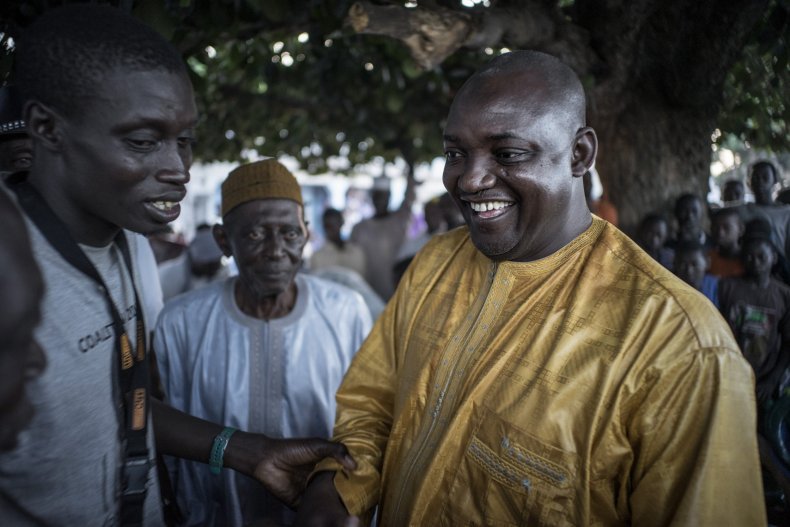 There is no comprehensive record of the reasons why Gambians (or indeed other Africans) migrate, but according to the IOM's Danziger, most do so due to economic push factors. The economy of the coastal country—which is totally surrounded by Senegal except for its coastline—is largely dependent upon tourism and agriculture, both of which are vulnerable to external shocks. In 2014, for example, Gambia's GDP growth plummeted from an estimated 7 percent to just 0.9 percent, in large part due to tourists being scared off by the regional threat of Ebola and delayed summer rains resulting in a weak harvest, according to the African Development Bank. Outward migration actually forms a key pillar of the Gambian economy, too— the World Bank estimated that remittances from Gambians abroad made up 22.4 percent of the country's GDP in 2014.
Money, or rather the lack of it, was the primary driver for Manneh in leaving Gambia. He worked at security firm G4S but only drew a salary of 1,650 dalasi ($37) per month. "The salary is not enough to feed me and my family," says Manneh, who is the main source of income in a six-person family that includes ageing parents.
But among the tens of thousands of Gambian migrants using the backway, a significant proportion are also classed as genuine asylum seekers by European authorities. One-third of Gambian applicants applying for asylum for the first time in the EU in 2015 received positive decisions on their applications, according to Eurostat.
While Gambia has been a relatively stable country since Jammeh's bloodless military coup in 1994, the former army officer has created a climate of repression, where opponents are silenced, allegedly tortured and, sometimes, killed. Earlier in 2016, scores of opposition activists were arrested for protesting against Jammeh's government and at least two leading opposition politicians, Solo Sandeng and Solo Krummah, died in police custody. Amnesty International has said that Sandeng's death was likely the result of beatings he received in custody. In its annual report for 2015, Human Rights Watch has said that Jammeh has utilized the country's police force and intelligence agency to target journalists and LGBT persons, among others; Jammeh has personally threatened to "slit the throats" of homosexual men in Gambia.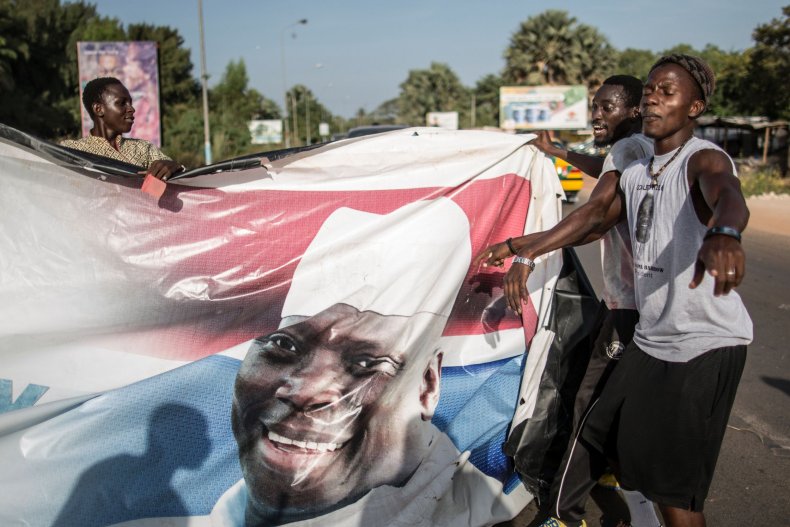 Barrow says that he will reverse some of Jammeh's most capricious decisions—such as notifying the United Nations of the country's withdrawal from the International Criminal Court, due to take effect in October 2017—and restore the country's status as "a democratic state with good governance."
If the president-elect can combine an improved human rights situation with attracting international investment, it will have a slowdown effect on the number of Gambians leaving the country, say analysts. "Probably the best way to do that [attract foreign investors] is to signal that the era of very idiosyncratic policies under Jammeh is over," says Ben Payton, head of Africa at U.K.-based political risk consultancy Verisk Maplecroft. But Payton warns that Gambia may see a short-term spike in migration if Jammeh digs in: ECOWAS has mooted the prospect of military intervention to force the outgoing president from his seat, which Payton says could cause some Gambians to temporarily seek refuge in neighboring Senegal.
Barrow says he is keen to open Gambia up to the world. "We will accommodate investors, we must have very good laws to protect investors," says Barrow, citing the industry of agriculture—which he describes as "the backbone" of the country—as an area to be exploited. The president-elect says he is calling upon Gambians tempted to migrate to stay put and help rebuild the country as it moves toward a post-Jammeh era. "We have worked very hard to get to this level," he says. "Let us remain united and work hard on that to help create a new Gambia."
But for would-be Gambian migrants like Manneh, talk is cheap. He wants to see concrete results to convince him to stay. "When I go back to Gambia, if I see that the situation there is the same as normal, I will try again," says Manneh.