Can a Gay Lawyer Work for a Christian Group? Seattle Court Case Tests Issue
Are staff attorneys at a religious organization "ministers"?
The answer to this question is at the basis of a lawsuit over whether gay people can get hired at nonprofits owned by religious groups.
Ground zero in this debate is on the grim streets near Seattle's enormous King Street railroad station, near the tents spread out on the damp sidewalks and the huddled humans in jeans, hoodies and baseball caps gathered at South Jackson Street and Third Avenue.
Flower baskets, decked with purple, yellow and gold pansies under a large sign proclaiming Union Gospel Mission (UGM) in red and green neon, do their best to lighten the mood in a city under enormous stress.
Seattle, the 18th largest American city with the country's third largest homeless population (roughly 11,751 souls on the streets on any given night), needs help. The state ranks sixth in the nation in terms of the percentage of its adult population (22 percent, or 1 in 5) having mental health problems. It ranks almost dead last in the nation in terms of inpatient psychiatric beds.
And since 1932, UGM has been out on the rainy streets with food and shelter. But the venerable Christian ministry, which began in downtown Seattle during the Depression, then spread to surrounding King County, has been sued by a bisexual lawyer who says UGM discriminated by not hiring him for a staff attorney position five years ago.
Having sprung from one of the country's most gay-friendly cities in a part of the country noted for its sparse church attendance, the case involves one of the state's largest Christian ministries. First filed in November 2017, Woods v. Seattle's Union Gospel Mission has wound its way through the courts and is now before the U.S. Supreme Court. The Court is expected to announce on January 10 whether it will take the case.
It has gotten a lot of attention, including friend-of-the-court briefs from attorneys general in 17 states who are weighing in on how much say religious organizations have in whom they can hire. Title VII of the Civil Rights Act of 1964 says organizations can give employment preference to members sharing their beliefs, but this exemption can only apply to employees who perform religious functions.
Up for debate are the employees—such as the janitors, cooks or lawyers—whose connection with a religious purpose is less clear.
"The constitutional question here has been what is the job and whether it involves core religious functions," said Jennifer Pizer, senior counsel for Lambda Legal, a gay advocacy organization. "If it does, the employer can decide whether the person is religious enough. If the job does not involve core religious functions, it does not matter whether the person is considered religious or not."
The Alliance for Defending Freedom (ADF), a Christian legal group in Scottsdale, Arizona, that is representing UGM, says everyone who works for UGM, including lawyers, falls under the ministerial exception rule.
"We are hoping the court will weigh in on this critical First Amendment issue," said Jake Warner, an ADF staff attorney.
"A lawyer is interfacing with people, and if one person is living inconsistently with the beliefs of the organization, it undermines their message. All the lawyers who work for the mission are expected to not only agree with the mission's religious beliefs but to communicate them with those they are serving," Warner said.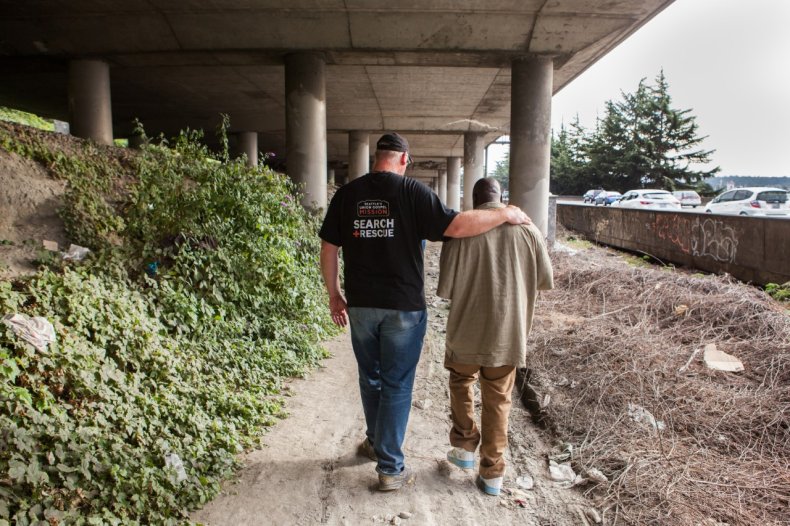 This was evidently news for Matt Woods, a sandy-haired lawyer now in his mid-30s who had been volunteering for UGM's Open Door Legal Services since 2012, when he was a law school intern. When he got wind of a full-time opening in October 2016, he believed he was a good fit and contacted ODLS Director David Mace to apply.
According to the lawsuit, he was familiar with UGM's statement of faith—which doesn't reference or forbid sexual behavior—but not with its code of conduct, which does. He told Mace he had a boyfriend and hoped to eventually marry a man. According to the lawsuit, Mace said, "Sorry, you won't be able to apply."
Woods applied anyway but did not get interviewed, and the job went to someone else. More than a year later, he sued on November 16, 2017, for "lost business opportunities...monetary damages."
Warner said that Woods noted on his application that he hoped to change UGM's stance on human sexuality. "He was a low-level volunteer, but what's clear when he applied is that he had the intent of changing the organization's religious beliefs," Warner said. "That was certainly a concern for the Mission."
Moreover, Woods "didn't follow the religious lifestyle requirements, and he was not a member of a church. That underlines the importance of this case," Warner said.
Asked about Woods' personal beliefs, Denise Diskin, executive director of the QLaw Foundation of Washington, which is representing Woods, declined comment. In the foundation's complaint to the King County Superior Court, it said that because the attorney position, which involves providing legal advice to the poor, has no religious duties attached to it, UGM could not discriminate on basis of sexual orientation.
Woods sued for an "amount to be determined at trial." A Superior Court judge dismissed his suit, saying the state allowed religious nonprofits like UGM to only hire like-minded employees because, in theory, anyone could be called upon to give spiritual counsel.
But last March, the state Supreme Court overturned that ruling and sent it back to the lower court, saying it was unclear whether a staff attorney had enough ministerial responsibilities to qualify such lawyers as "ministers." One justice wrote that religious nonprofits should be "forewarned" that the court's decision "bars redefining every aspect of work life as 'ministerial.'" She pledged that the court will insist that trial courts closely review attempts by religious institutions to invoke the ministerial exception.
Instead of retrying the case, ADF petitioned the U.S. Supreme Court to accept Woods v. Seattle's Union Gospel Mission.
It's understandable why Woods would want to work for UGM, a Seattle institution started when the city was a rough and tough backwater known for its logging industry, coal deposits and salmon fisheries on Puget Sound. It had such a trusted relationship with the city of Seattle that the municipality contracted with the mission in 2016 to help clear "the Jungle," a stretch of greenbelt beneath Interstate 5 known for its homeless encampments.
UGM helped resettle approximately 300 people during that cleanup. Its workers are still active in the area, says spokeswoman Jennifer Rice.
"They have served the homeless community for decades," she said. "They and the city worked together for years to help each other. We know where the encampments are, where the troublemakers are and more.... Our success rates are better than what other agencies do, and we believe that faith is at the center of that."
The organization says that three-quarters of the people who finish their residential recovery programs are still sober two years later. In 2019, UGM brought in noted hairstylists from the highbrow Gene Juarez hair salon to give haircuts to 50 homeless men (haircuts were running about $60 at the time) and new suits from a local men's clothier. The Seattle Times called them "'Queer Eye'-style makeovers."
The ministry has also gotten raves from reality TV star Robert Herjavec (Shark Tank), who briefly volunteered there.
The ministry's orange search-and-rescue vans—which provide food, snacks, water, hygiene products, and blankets for the homeless—go out seven nights a week. In the past year, they have helped hundreds of people off the street and into housing and provided 4,474 legal consultation hours, according to UGM. Its latest financial report says it received $33.6 million in revenue in 2020.
And theologically, it wants its paid staff to be speaking off the same page.
"What is being argued by some on the far religious right is a blanket free pass should be issued for organizations that identify as faith-based; that they can hire and fire at will with no restrictions or limitations by civil rights law," Pizer said. "To them, it shouldn't matter what an employee's job is; the employer can deem everyone a minister and require religious activity in all parts of their job."
There are way too many unanswered questions in the case, she added, which is why it should be remanded to the lower court.
"The employer needs to furnish discovery on the requirements and how the job was advertised," she said. "What is the job of the lawyers in that program? Are they proselytizing on the job or not? That would seem odd while giving legal advice on secular subjects. And if they are not requiring people to proselytize, then that should be seen as sexual orientation discrimination. So are they hiring ministers or lawyers?
"And what about hiring people of other faiths to prepare food or do financial accounting? The goal among some conservatives—often Christian evangelicals—is to secure a legal free pass that faith-based organizations need not adhere to civil law to operate in the public sphere but without accountability to public laws. This is paving a path to a theocratic society we have not seen in the United States in a couple hundred years," Pizer said.
Warner disagrees, framing the issue as the government forcing a religious group to hire individuals who would subvert the organization.
"If you have an employee, a lawyer who does not agree with those beliefs and sends out a different message, the Mission's message will be undermined and it will affect the ministry's ministry," he said. Woods had indicated, he added, that he hoped his presence would induce UGM to hire more people like him.
"The implication was that he wanted to change the Mission's beliefs on human sexuality," Warner said. "He didn't follow the religious lifestyle requirements, and he was not a member of a church.... He was a low-level volunteer, but what's clear when he applied is that he had the intent of changing the organization's religious beliefs. That was certainly a concern for the Mission."
Pizer pointed out that two recent U.S. Supreme Court cases—Our Lady of Guadalupe School v. Morrissey-Berru and Hosanna-Tabor Evangelical Lutheran Church and School v. EEOC—gave religious schools wide latitude in determining which teachers qualified for a ministerial exception from anti-discrimination laws.
Also, Justice Clarence Thomas wrote a concurring opinion with Justice Neil Gorsuch in Morrissey-Berru, saying that courts should defer to any religious organization's claim that a certain employee's position is ministerial. If the justices take up the UGM case – and she thinks at least four justices may wish to do so - that means they probably intend to broaden who qualifies as "ministers," which could allow religious organizations to ignore multiple anti-discrimination laws.
"Would the same reasoning apply at Catholic hospitals, from scrub nurses to surgeons?" Pizer asked. "Would it mean that eye surgery is a religious function and an employer can fire the Jewish doctors?... When they engage with the public and perform public functions, we need them to follow the rules that go along with those public functions."