Can GOP Stimulus Package Even Pass? Lindsey Graham Indicates Half of Republicans Will Vote No
Without votes from half of Senate Republicans, which Senator Lindsey Graham predicts is possible, the GOP could be forced to seek support for their economic relief package from the majority of Democrats.
Republicans, including Senators Ted Cruz and Rand Paul, have publicly criticized their party for its approach to a new coronavirus package, and infighting has reportedly delayed the unveiling of a bill. In-party issues don't seem to have been resolved, and on Sunday Graham told Fox News that it was a "fact" that half of Republicans will vote against the legislation, regardless of what it contains.
If half of the Republicans in the Senate, about 27 people, vote against the proposed package, the GOP will need 24 Democrats—or 22 Democrats and two independents—to reach the 51 votes necessary to pass a bill. Republicans will also have to wrangle 118 votes from Democrats in the House if they lose 100 Republican votes, the equivalent of about 50 percent, to have a simple majority.
Newsweek reached out to Senate Majority Leader Mitch McConnell for comment but did not receive a response in time for publication.
Legislators expected McConnell to unveil the GOP-led package last Thursday. But the Republican leader said the Trump administration needed more time to delve into the details, and he pushed the release of a potential package to this week.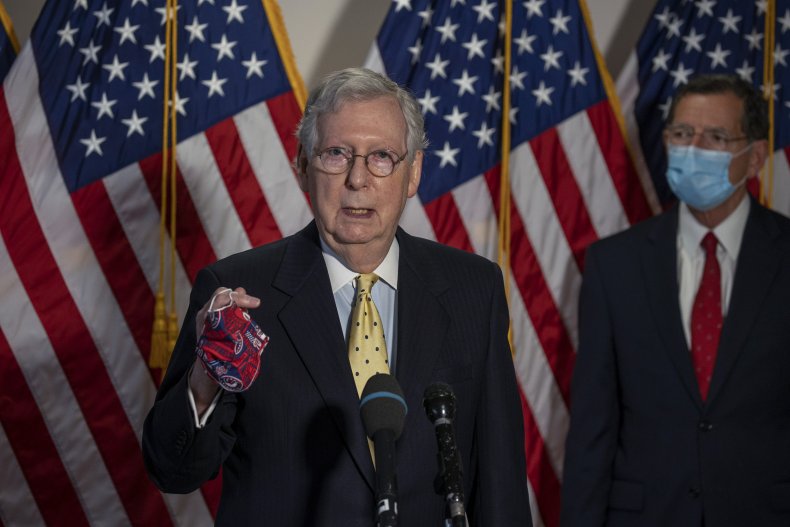 McConnell acknowledged that passing a bill would require Democrats' support. On Thursday, he said he hoped Democrats would come to the table because doctors, nurses, unemployed Americans, working parents and schoolchildren need them to.
Some details of the bill that have trickled out, such as $105 billion for schools and stimulus checks, seem in line with the Democrats' wishes. But Democrats are pushing for a resolution to the federal unemployment benefits impasse, despite the Republicans' hard line on the matter.
The expanded unemployment benefits put an extra $600 extra per week into jobless Americans' pockets, on top of state benefits. And with millions of people still out of work, Democrats are pressuring Republicans to extend the federal benefits.
However, Republicans have criticized the measure for incentivizing people to stay jobless, since about 70 percent of people were earning more from unemployment benefits than they did while working. So the GOP is pushing for extending the benefits but reducing them so that an unemployed person will receive 70 percent of the wages from a lost job.
On Monday, House Speaker Nancy Pelosi lambasted the Republicans for hitting the "pause" button on relief during a time when "children are hungry, families cannot pay the rent, [and] unemployment is expiring."
She rejected the idea of tackling unemployment as a separate entity, apart from the entire relief package, and called on Republican leaders to meet with her and Senate Minority Leader Chuck Schumer within half an hour of releasing their plan. The goal of the meeting, which needs to include President Donald Trump's' representatives, would be to negotiate and "get the job done," Pelosi said.
As is the case with such negotiations, the package put forward by the Republicans is likely to be adjusted during the course of discussions, But GOP members are hopeful a deal can be reached. Despite opposition within the party, Graham told Fox News he was confident Trump would lead legislators to a deal before Congress leaves Washington for its summer recess next month.