Can Hollande Live Up to His Defiant Rhetoric?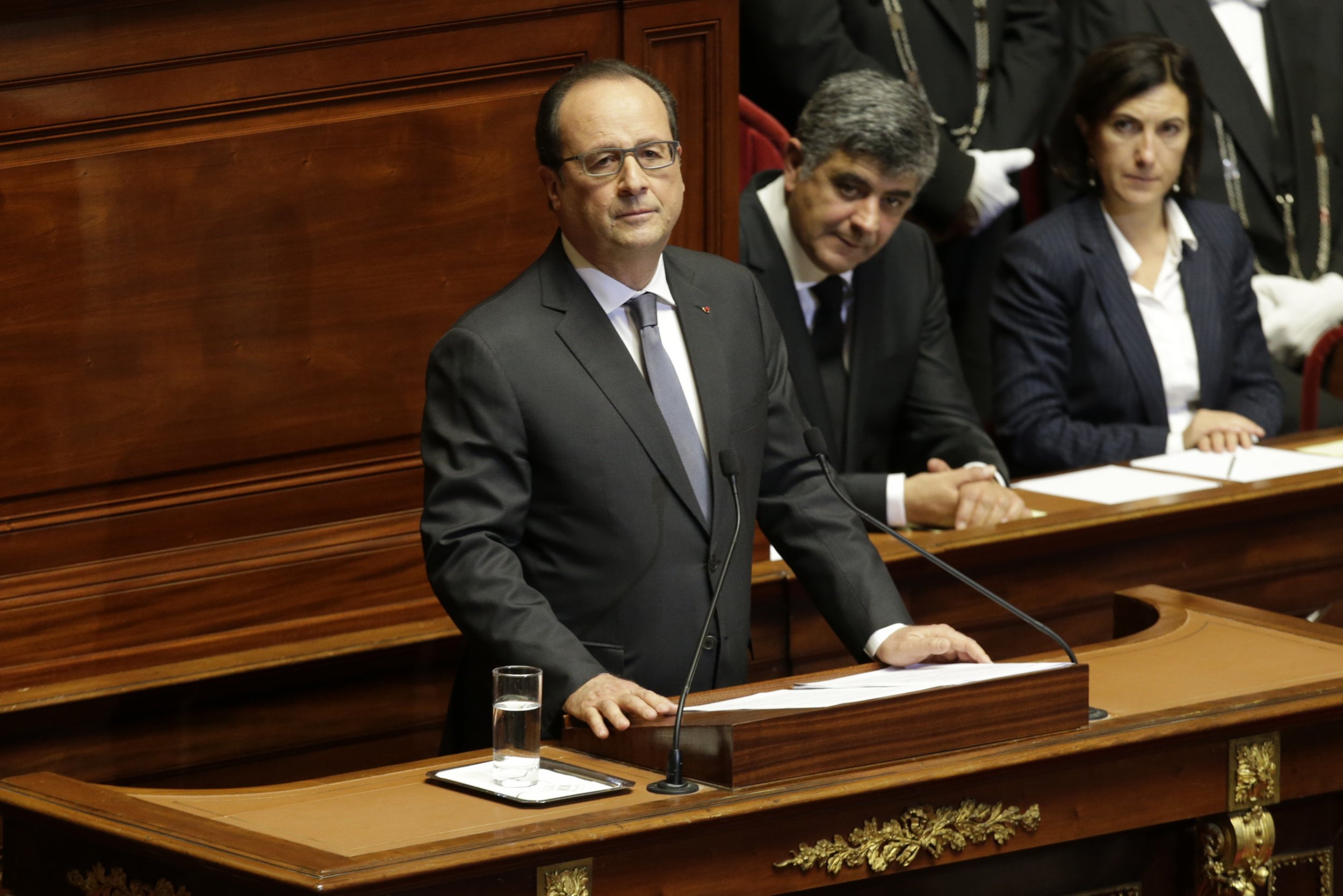 This article first appeared on the Atlantic Council site.
On November 16, three days after ISIS struck Paris, French President François Hollande told a joint session of parliament that France is "at war." He outlined a robust domestic and international agenda to target ISIS, which has claimed responsibility for the attacks in Paris.
Hollande faces the greatest test of his presidency. His ambitious agenda will stretch the Republic's military, diplomatic, and financial resources—as well as the president's newfound political capital—to the limit.
Below are five key questions, the answers to which will prove critical to the success of Hollande and France in the weeks and months ahead:
1. Can the French military eradicate ISIS?
Hollande has pledged to be "pitiless" in his effort to "eradicate" ISIS. To prove his point, French warplanes bombarded Raqqa, ISIS's de facto capital in Syria, just days after the Paris attacks.
In his speech to parliament, Hollande announced the imminent departure of France's Charles de Gaulle aircraft carrier for the eastern Mediterranean. The carrier's 20 combat aircraft will triple the number of French combat aircraft in the region.
But France's overall military capability will remain modest, particularly compared to that of the United States and Russia. And it will likely fall short of what is needed to achieve Hollande's goal of eradicating ISIS.
France's enhanced contributions to the U.S.-led coalition are welcome and important, but their political value—demonstrating French resolve to ISIS and to the people of France—will ultimately outweigh their military value. To eradicate ISIS, France will need a greater effort from other allies and partners in the region as well.
2. Will France's allies step up?
In his address, Hollande turned not to NATO for solidarity but to the European Union, invoking Clause 42.7 of the EU's Lisbon Treaty.
Paris has put Europe on the spot. Will Europe step up? Paris is skeptical—even cynical—about the willingness and ability of its European partners to take on their share of the burden for European defense and counterterrorism.
France's northern and eastern European allies would prefer to focus their capabilities on defending against Russia. France's American ally stepped up soon after the attacks in Paris by providing important intelligence, which enabled France to retaliate against ISIS in Raqqa. The United States also provides important refueling assets to French combat aircraft.
But President Obama's November 16 press conference at the G20 summit in Turkey must have alarmed Paris. Obama showed a distinct lack of urgency and an unwillingness to significantly increase America's military contribution to the fight against ISIS.
If that attitude holds, Paris may be tempted to cooperate more closely with Moscow in Syria on the military front, which presents its own operational limitations.
What about France's Gulf Arab allies, who have been on a spending spree buying French military equipment? Will Saudi Arabia, Jordan, and the United Arab Emirates ramp up their participation in anti-ISIS operations in Syria? Or will they remain focused on what they see as a greater threat—Iranian-backed rebels in Yemen?
3. Can France facilitate Russia's integration into the U.S.-led anti-ISIS coalition?
Hollande is about to go on the diplomatic offensive. Paris will seek a U.N. Security Council resolution condemning terrorism and the French President will visit Washington and Moscow in the hopes of building a "unique coalition" that would unify the separate Russian and U.S.-led coalitions operating in Syria.
Hollande's diplomatic offensive is a high-risk, high-reward proposition. Convincing Russia, which suffered a terrorist attack of its own in Egypt just weeks ago, to focus its strikes on ISIS instead of on moderate Syrian rebels would be a significant victory not only for Hollande but also for the entire U.S.-led coalition.
It will be harder still to convince Russian President Vladimir Putin to part ways with his Syrian ally Bashar al-Assad. Washington and Paris still see Assad as a core problem in the region.
In an evolution from France's "neither Assad nor ISIS" policy, Hollande made clear that ISIS is France's primary enemy in Syria. This emphasis on ISIS may offer new opportunities for cooperation with Russia, but will still meet resistance from Turkey and the Arab Gulf states, which remain implacably opposed to Assad.
Hollande says France is ready to talk to everyone to achieve its goals, but it is far from clear that France can identify a political solution in Syria that will satisfy the key parties in the region.
4. Can France afford its new war footing?
Hollande told parliament that France will hire 5,000 police and gendarmes, 2,500 correctional and judicial staff and 1,000 customs officials. He also promised to forestall any cuts to defense spending out to 2019.
In his speech, the French president declared that the "solidarity clause" trumps the "stability pact," meaning France would prioritize its investment in security over efforts to rein in its bloated budget deficits, which persistently violate EU rules.
Brussels (and Berlin) may not protest this statement in the immediate aftermath of the attacks, but they may very well begin to grumble in the months and years ahead if enhanced security is seen as a new excuse for Paris to miss its EU budget targets.
5. Will the opposition give Hollande the emergency powers he has requested?
Hollande has proposed several measures to enable the state to more rapidly confront the terrorist threat. The most controversial measure is his proposed constitutional reform to give the government exceptional powers.
Constitutional reform requires either a successful referendum or a three-fifths vote in the joint parliament, which would require the support of former President Nicolas Sarkozy's Les Républicains. The head of the center-right Les Républicains party in the National Assembly has already come out in opposition to constitutional reform. A referendum is unlikely.
Regional elections are just weeks away and presidential elections loom in 2017. Hollande's party looks vulnerable in both. Will France's opposition support a "wartime" head of state, even if it means giving the terminally unpopular leader a new lease on life? Or will they conclude that Hollande is unpopular enough that they can defy him without cost, even at a time of crisis?
We will find out very soon.
Jeff Lightfoot is a nonresident senior fellow in the Atlantic Council's Brent Scowcroft Center on International Security.