Can I Get an Antibody Test? Tests to Determine Whether People Had Coronavirus Rolled Out in All 50 States
A new coronavirus antibody test is now available in all 50 states, but there are restrictions on who can get tested.
The serology test, which requires a blood sample, can determine if a person has antibodies to the new coronavirus in their system. This indicates if they were ever infected with the virus even if they were asymptomatic and didn't receive the nasal swab test that confirms if a person is presently infected.
Since it's believed that a person will have some sort of immunity to the virus for at least a few months after recovering, officials claim the antibody test could be key in easing restrictions.
The Centers for Disease Control and Prevention (CDC) started administering serological tests to people in New York City and Washington during the week of March 30. The goal was to determine the level of community transmission in these areas and then, in the second stage, expand the study to include other areas with high numbers of confirmed cases.
Quest Diagnostics is also offering the test and has made it available to people in all 50 states. To be eligible for the test, a person must be asymptomatic at the time of the test and have been asymptomatic for at least 10 days. At the time of their visit, Before the test is conducted, patients will also have their temperature taken and those determined to have a fever will be disqualified.
Getting the test done at a Quest lab also requires a person to have a test requisition from a health care provider. Some health care providers are able to conduct the test directly from their own office.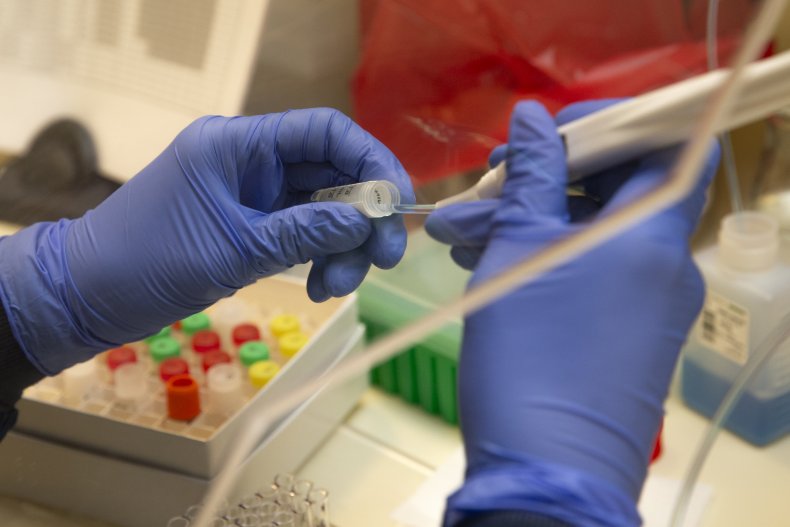 In theory, it would be ideal for everyone to get the antibody test, Dr. Robert Segal, a co-founder of LabFinder.com, told Newsweek. However, in the short term, priority should be for health care workers and people on the front lines, he said. Those looking to get tested can find a testing location near them by putting their location into LabFinder.com.
In Chicago, people are able to get tested at Innovative Express Care, an urgent care center. The test, which is done by Quest, is being administered by the center and can provide results in two to five days. Anyone who is well and has not had symptoms within 14 days can be tested, although an appointment is required.
Innovative Express Care is accepting insurance for both the test and the medical evaluation, or people can pay for the testing themselves at a rate of $250.
Although it's suspected that the presence of antibodies indicates some immunity, there isn't enough research to say for certain. So, Segal said, even those who have a positive antibody test should still take precautions in case they are able to infect others.
"The human race has not developed an immunity to this virus," Segal said. "There is a possibility that re-infections could occur in a second wave, so we cannot be certain of that at this time."
New York's Health Department started a statewide antibody testing survey on Monday that will test 3,000 people. Participants will be randomly selected from 20 grocery stores around the state, including at least one in each of New York City's boroughs.
Governor Andrew Cuomo said testing would be done in the "most aggressive way in the nation," adding that getting people back to work is dependent on testing. New York has had the largest outbreak of any state in America and reported 263,292 cases as of Wednesday, according to a Johns Hopkins University tracker. That is about 30 percent of the total cases in the United States. Cuomo said the state won't have a real idea of the outbreak's scale until antibody tests are performed.
"This will be the first true snapshot of exactly how many people were infected by COVID-19 and where we are as a population and will help us to reopen and rebuild without jeopardizing what we've already accomplished," Cuomo said on Sunday.