Can I Travel to North Korea? Number of Tourists Crossing From China Expected to Peak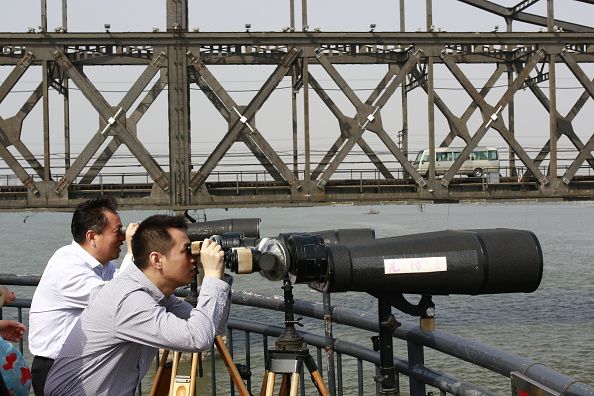 The number of tourists traveling across the border from China to North Korea is expected to spike this year as interest in the rogue nation peaks, according to reports.
While President Donald Trump prepares a potential meeting with North Korean leader Kim Jong Un, and as leaders from South and North Korea discuss the denuclearization of the peninsula and the end of a long-standing conflict, more people are starting to believe the hermit kingdom will open its doors. With that in mind, some tourists are expressing interest in visiting the country before it "opens up," and the number of people searching for North Korean tourist agencies has jumped. Chinese travel agencies in provinces bordering North Korea have also started promoting cross-border trips.
One tourism official from China's Jilin province told Chinese journalists that around20,000 tourists traveled from Jilin into North Korea last year and that the number was expected to rise by up to 40 percent this year.
However, the State Department continues to advise Americans against visiting the country. The high-profile case of Otto Warmbier, an American college student who died in 2017 after suffering a brain injury while in captivity in North Korea, only compounded the fear that the North Korean regime is too unpredictable to be trusted. In September 2017, the State Department issued a blanket ban against U.S. citizens traveling to North Korea due to the "serious and mounting risk" that they would be detained.
"Individuals cannot use a U.S. passport to travel to, in, or through North Korea without a special validation from the Department of State," the department's website reads.
Americans and travelers from other Western countries have visited the country in the past, and some said they felt unsafe during their journey. The North Korean regime often orchestrates the trips and keeps travelers under close watch.
For now, the relationship between the U.S. and North Korea remains uncertain. Trump was expected to meet his North Korean counterpart in June but suddenly canceled the meeting after the Kim regime insulted Vice President Mike Pence. Now it appears the talks may be on again.
North Korea sent an envoy to New York this week to meet with Secretary of State Mike Pompeo, who had already met with North Korean leadership twice. Pompeo later said the situation was "moving in the right direction."