Iraq has stepped up its involvement in the battle against the Islamic State militant group (ISIS) and the hunt for its elusive leader by teaming up with neighboring Syria, a move that could potentially see the U.S. working with its rivalsRussia and Iran.
Iraq sent F-16s to launch a surprise attack on a suspected ISIS stronghold in eastern Syria on Thursday, an operation in which both the Moscow-backed Syrian government and U.S.-led coalition signed off. Iraqi Prime Minister Haider al-Abadi told reporters Tuesday that the strike killed a number of the beleaguered jihadi group's leading officials, thanks to Iraqi intelligence, and that such operations would not only continue but escalate.
"We will continue to direct these strikes in Syria and do more than that to eliminate ISIS and what remains of it outside of Syria because of the terrorism and the crimes it has committed in Iraq. We will not allow the resurgence of ISIS or anything that resembles it," Abadi said at the press conference, as cited by a number of local and regional outlets, including the SNG news agency and the Iraqi parliament.
"There is unfinished business in Syria," he added. "But that doesn't mean we'll be interfering in Syrian affairs."
Abdel Aziz Hassan, head of the Iraqi parliament's defense and security committee, told SNG Monday that the Iraqi air force would coordinate with Syria for further strikes intended specifically to "eliminate the terrorist ISIS leader," Abu Bakr al-Baghdadi, who, despite making only one public appearance in 2014, established a global jihadi network and united rival international powers against him.
The involvement of the U.S. and Syria in Sunday's airstrike revealed the extent of the unlikely alliance in the fight against ISIS. Baghdad has been a partner of Washington since the U.S. invaded and overthrew former Iraqi President Saddam Hussein in 2003. The mostly Shiite Muslim government that succeeded Hussein grew close not only to the U.S. but also to neighboring Syria and Iran, two traditional U.S. foes. In the decade that followed, a Sunni Muslim insurgency raged in the post-war chaos of Iraq and ultimately produced what's known now as ISIS.
The group took this name in 2013 after capitalizing on an anti-Syrian government uprising sponsored by the West, Turkey and Gulf Arab states to cross the border. The U.S. switched its focus from funding an increasingly jihadi opposition to bombing ISIS, but refused to endorse the Syrian leader who is accused of war crimes. Russia entered the fight too, backing Assad and his Iranian allies as the U.S. began to sponsor a mostly Kurdish militia known as the Syrian Democratic Forces in 2015.
Related: Iraq bombs ISIS 'terrorist death machine' in Syria, siding with U.S. foes Russia and Iran
As ISIS lost more than 90 percent of its ground in both countries, the U.S. remained close to Iraq and distant from Russia, Iran and Syria, all of which call for an end to U.S. military presence in the region. The U.S. has even escalated its opposition to Assad by recruiting NATO allies France and the U.K. for cruise missile strikes against suspected Syrian chemical weapons facilities after an alleged toxic gas attack near Damascus.
After Abadi announced Sunday that the Iraqi strike in one of Syria's final ISIS-held regions near Al-Bukamal was coordinated with the Syrian government, however, the U.S.-led coalition said in a statement later that day that it too provided "intelligence support." Coalition spokesman Colonel Ryan Dillon said in a press briefing, "The majority of the support that the coalition provided was intelligence support on the target. And, both before, during and after, we also provided some other assets in the air nearby that were also a part of the support package.
"But it really was the Iraqis who planned this all the way through. It was their commitment and their coordination, also, with their neighbors in the Syrian government, before they conducted these strikes," Dillon added.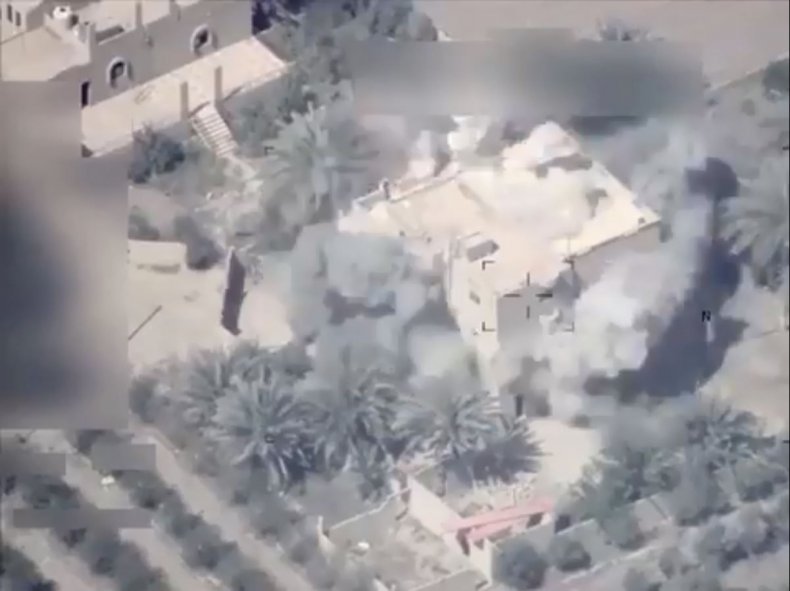 Since two separate campaigns waged by the Russia-backed Syrian military and U.S.-backed Syrian Democratic Forces wiped out ISIS from most of the Euphrates River Valley region in the country's east, the dynamics of a seven-year civil war have grown even more complex. Kurdish fighters of the Syrian Democratic Forces have left ISIS front lines to battle a Turkish and Syrian rebel offensive in the north, bringing them closer to Assad. Meanwhile, potentially hundreds of pro-Syrian government fighters died—including Russians—after clashes with an Arab-majority faction of the Syrian Democratic Forces in eastern Deir Ezzor province.
The U.S.-led coalition admitted in March that the Kurdish flight led to an "operational pause" in the Syrian Democratic Forces' ground offensive against ISIS. The U.S. has continued to conduct airstrikes, but soon after the pause, the jihadis took aim at nearby pro–Syrian government positions, especially as Syria's armed forces focused on battling the rebel and jihadi remnants near Damascus and in the north. ISIS has also used this as an opportunity to attempt to re-enter Iraq.
Related: Does Trump have a Syria plan? U.S. needs Russia and Iran to end the war
The so-called deconfliction line maintained between the U.S. and Russia may be intended to prevent violence, but it may serve as an intelligence-sharing hotline as well. In last week's press briefing, Dillon said that the coalition has shared ISIS positions with Moscow, hoping that "they will act on the information that we provided."
The notion of a U.S.-Russia alliance against ISIS may have been unheard of under former President Barack Obama, but it was a key talking point for President Donald Trump as he assumed power. Assad himself even welcomed the U.S. as "a natural ally" if it cut support to anti-government groups, who Trump once said "want to fly planes into our buildings." Trump continued to express admiration for Russian President Vladimir Putin's efforts in Syria, even as Western allies condemned them.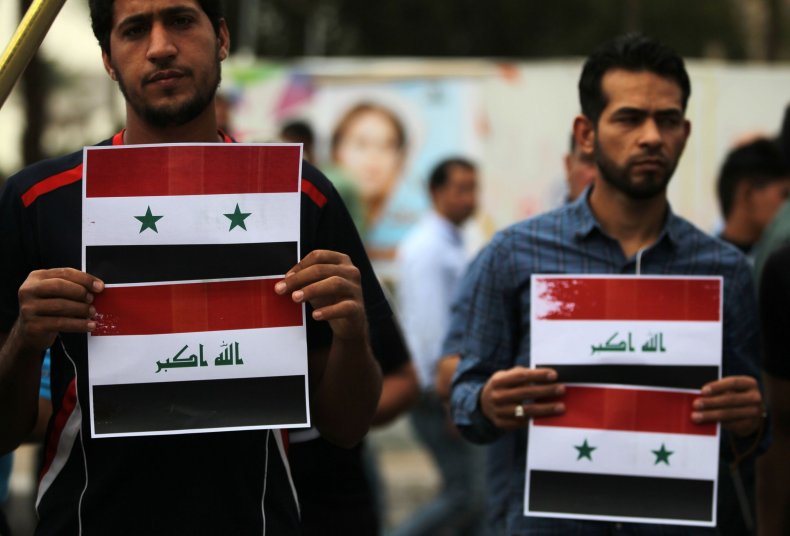 However, reports of chemical attacks in April 2017 and April 2018 pushed Trump to military action, despite denials from Russia and Syria. The Trump administration also adopted a hard-line stance against Iran, which has grown more influential as it backed majority-Shiite Muslim militias battling ISIS in Iraq and Syria. Still, Iraq remained close to all parties in the conflict and established a quadrilateral joint operations command with Iran, Russia and Syria in 2015. Military officials from Iran, Iraq, Russia and Syria met in Baghdad on Thursday, pledging closer ties in a gathering that coincided with Iraq's airstrikes in eastern Syria.
Despite heightened international tensions between the U.S. and its Syrian, Russian and Iranian foes, the narrowing lines of conflict have made it difficult for any one faction to truly finish off the jihadis without some sort of collaboration. Hassan Hassan, a senior fellow at the Tahrir Institute for Middle East Policy, observed Wednesday that "a delicate security triangle is forming along the Syrian-Iraqi borders."
"Operational lines of separation have prevented the United States, Iraq and the Damascus camp from working together to fight ISIS," Hassan wrote in a commentary featured by The National. "But new complications have forced a fresh dynamic that effectively enables the U.S. to target ISIS outside its established jurisdiction by proxy, through the Iraqis."