Will Katie Ledecky Still Be Competitive for the Paris 2024 Olympics?
Olympic gold medalist Katie Ledecky wants to continue making history in the Olympics in 2024.
The 24-year-old, who just won gold in the 800m freestyle in the Tokyo 2020 Olympics wants to return to the 2024 Summer Olympics which will be held in Paris.
"That was not my last swim," Ledecky said. "I'm at least going to '24, maybe '28. We'll see. You never take anything for granted. You don't know if you're gonna be back at the next Olympics, so you just try to soak it all in."
Over the course of her Olympic career, she's won a total of 10 medals (seven golds, three slivers). Ledecky first competed in the London Olympics in 2012 at 15 years old. She won the 800m freestyle during that year and has since become one of the most decorated swimmers in American history.
This year she captured two golds (800m freestyle, 1500m freestyle) and two silvers (400m freestyle and 4x200m freestyle).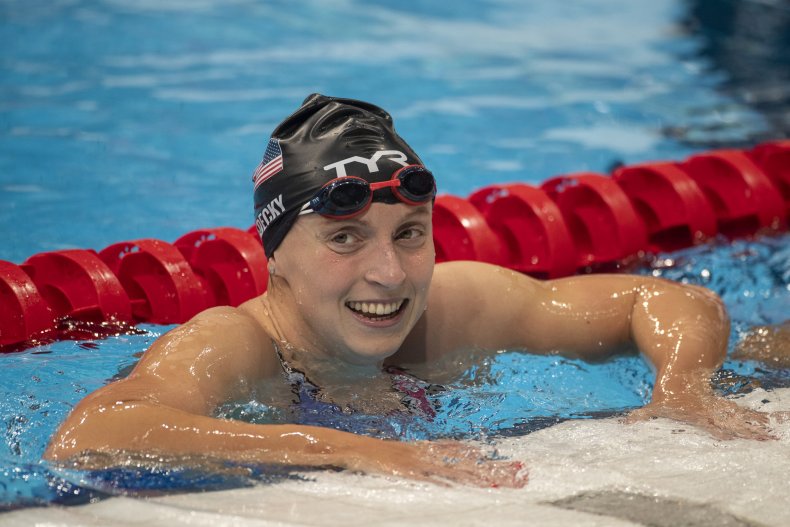 Ledecky's participation in the Paris 2024 Summer Olympics made Twitter users question her age and if she should still be competing in the Olympics.
One user said, "This was a pretty bad Olympic for USA swimming all things considered but it was bound to happen. Too many good years in a row. No Lochte/Phelps/ Ledecky getting old/ Regan smith not performing all added up and nobody really stepped up outside of Finke."
Another user said, "When did you realize you were older than the athletes on the verge of being 'too old' to compete? They're treating this like Alison Felix's Swan song. Same for Ledecky."
By the time the Paris 2024 Olympics arrive, Ledecky will be 27 years old. In Olympic swimming, the average age is 21, the lowest amongst all Olympic sports.
Dara Torres is one of the most decorated Olympic swimmers of all time. She's the former holder of three world records and is the first Olympian to represent the U.S. in five different games (1984, 1988, 1992, 2000, 2008). Also, at 41 years old, she became the oldest swimmer to earn a place on the U.S. Olympic swimming team. She retired from competing in 2012.
Like Ledecky, 15-year-old Katie Grimes is making her mark in this year's Olympic games. Grimes finished second behind Ledecky in the 800m freestyle and became the youngest American since Amanda Beard in 1996 to do so.
When asked about Grimes' performance, Ledecky stated that "she's the future" according to Swim Swam.
The Paris 2024 Olympics will take place from July 26, until August 11. This will be the biggest event ever organized in France, according to the official website.
Over the last 100 years, there have been Olympians of all ages competing in the games, which takes place every four years.
Oscar Swan, who won a silver medal in moving target shooting at 72 years old in the 1920 Olympic Games, is the oldest athlete in modern Olympic history.
Dimitrios Loundras, who won a bronze medal at 10 years old for parallel bars in the 1896 Olympic Games, is the youngest athlete in modern Olympic history.
Furthermore, the Olympics themselves have stated that you don't have to be a certain age in order to compete in the Olympics.
"There is no specific age limit for taking part in the Olympic Games," according to the International Olympic Committee. "This depends on each International Sports Federation and the rules it lays down for its sport."