Can Lebanon Survive? Massive Beirut Explosion Follows 'Crisis Upon Crisis'
The eyes of the world turned to Beirut on Tuesday as a massive blast destroyed the Lebanese capital's port.
As the world replayed the video clips of the devastating explosion, captured from nearly every imaginable cinematic angle and range, the death toll rose as the wounded flooded overwhelmed and damaged hospitals. Although the search for survivors continues, the death toll has risen above 130 with more than 4,000 injured from the blast felt across the country.
The blast exacerbates the situation in an already strained country where the economy's continuing collapse and soaring inflation rate have led to empty grocery store shelves and daily power cuts tied to a growing fuel shortage.
"Lebanon is grappling with a crisis upon crisis scenario. A harrowing financial crisis has paralyzed access to deposits, and has led to the closure of businesses and to the crippling of livelihoods and opportunities," Dr. Tamirace Fakhoury, an associate professor of political science and international affairs at the Lebanese American University in Beirut told Newsweek. "People are tired, exhausted and their so-called resilience that is celebrated in books and on the media borders has dissipated."
Government officials said the Beirut Port explosion was caused by an industrial accident, resulting from some 2,700 tons of ammonium nitrate being left in storage since 2014. When the stockpile exploded Tuesday, it created a massive blast that shook the earth with the power of a 3.3-magnitude earthquake and carried a soundwave that reverberated across the Mediterranean to Cyprus over 160 miles away.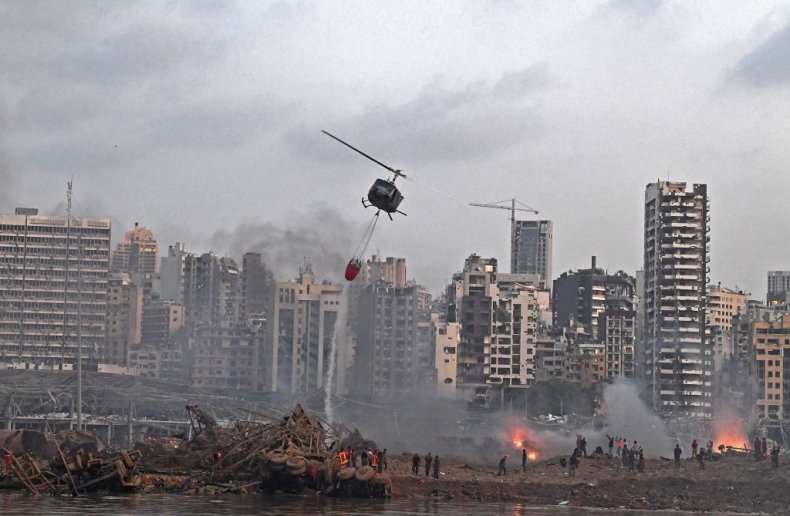 Maha Yahya, director of the Carnegie Middle East Center, told Newsweek that the port's destruction "accelerates the collapse" of the Lebanese economy "and aggravates all preexisting challenges." Yahya explained that Lebanon relied on imports for about 80 percent of what it consumes, particularly when it comes to food.
"Most of those imports used to come through the port. Wheat granaries were also in the port and they have been destroyed," she said. Prior to the explosion, Lebanon was already facing severe food insecurity concerns due to rapid inflation and a lack of money to purchase products from abroad. Now, that problem has been significantly exacerbated.
Massive protests erupted in Lebanon in October 2019, as the country united in opposition to its ruling class of politicians as they attempted to implement austerity measures and new taxes. Millions took to the streets, rallying against endemic corruption, daily power cuts, water shortages and an ongoing trash crisis that began in 2015. Although that movement led to the resignation of the government of former Prime Minister Saad Hariri and some hope of reforms, positive sentiments faded as the economy crumbled.
The Lebanese lira, long pegged at 1,500 for $1, now trades for 7,000 to 9,000 for $1 on the black market, fluctuating somewhat depending on the day. Banks have set limits on how much Lebanese citizens can withdraw from their bank accounts, and dollars have become a hot commodity coveted by all. However, those with bank accounts in dollars are unable to withdraw or transfer significant amounts, as the cash has become merely numbers on a screen or piece of paper with no real currency remaining to back them up.
"The standards of living were much higher during the civil war than they are now. The banks continued to operate normally, and dollars were plentiful, even when the Lebanese currency lost much of its value to the dollar," Dr. Hilal Khashan, a professor of political studies and public administration at the American University of Beirut, told Newsweek. Lebanon went through a bitter civil war from 1975 to 1990, a period from which the nation has never fully recovered.
Lebanon's present economic situation has been compounded further by the novel coronavirus pandemic. Although the Mediterranean nation did relatively well in flattening its curve of new infections through stringent curfews and lockdowns, those measures came at a high cost. Additionally, the country continues to host well over a million Syrian refugees along with more than 470,000 Palestinian refugees, whose community has been living in the country for decades.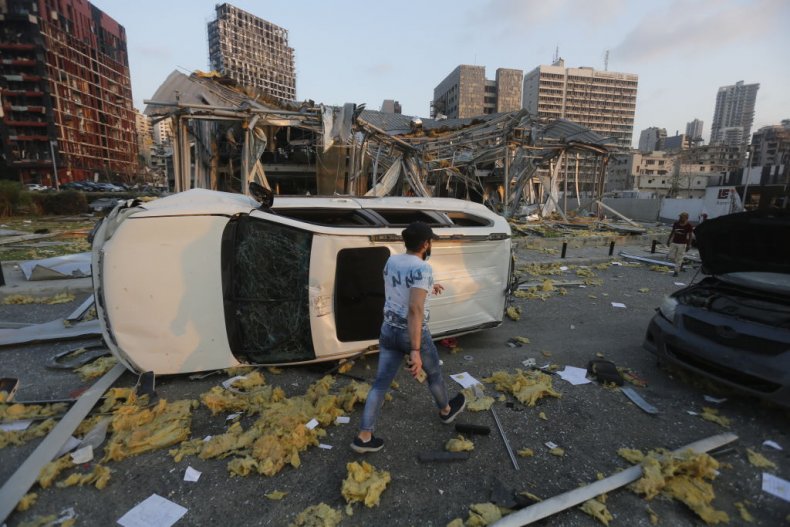 "I see no hope as long as the government is not serious about reform," Khashan said.
Fakhoury pointed out that recent surveys show that Lebanese increasingly "aspire to leave the country as they feel stuck in an impasse." She said that their "aspirations to leave and emigrate show that they have lost hope in contributing to the country where they live."
Many Lebanese who spoke to Newsweek expressed a desire to leave, saying their friends had the same perspective.
"I do not have a future here and young Lebanese educated people don't have a future here. The only people who have a future are the thugs of the political parties that get instated in government jobs," Mohammad Hijazi, an international communications consultant and trainer, said.
Christina Sfeir, an interior architect, said that a small minority of Lebanese had always hoped to remain in the country and make it better, but "after what happened yesterday [on Tuesday] everyone wants to leave." Sfeir said people are "very tired [of] living in new difficult situations." She explained that people had already "normalized" the regular power cuts, water shortages and trash filling the streets.
"I am personally applying to jobs anywhere in the world," Sfeir said.
Dima El Ayache, a recent university graduate, said that "a lot" of people have "lost hope" in the country. But she optimistically suggested that many want to "stay to make sure the people responsible for all that has been happening be held accountable."
"It's very hard to leave here, Lebanon is my home," El Ayache told Newsweek, adding that she feels "stuck somewhere in between" wanting to emigrate or remain.
Karim Safieddine, a university student, said he believes there is a "small amount of hope" left in the country. "Many Lebanese have already immigrated, but for those that are still here, there is indeed a decent amount of resilience," he said.
An international effort has been launched to support Lebanon in the wake of the Beirut port explosion. The European Union has pledged support, as have specific European nations including France, Greece, Poland, the Netherlands, the Czech Republic and Germany. British Prime Minister Boris Johnson tweeted on Tuesday that "the UK is ready to provide support in any way we can, including to those British nationals affected."
France's President Emmanuel Macron plans to travel to Lebanon on Thursday for an official visit. The European nation quickly dispatched two planes filled with rescue workers, supplies and specialists on Wednesday.
But analysts told Newsweek that Lebanon's future will be almost entirely dependent on foreign aid in the near term. With more than $90 billion in public debt, totaling approximately 170 percent of annual gross domestic product (GDP), the government has already defaulted on loan repayments amidst its severe dollar shortage.
The nation's debt crisis is illustrated in the graphic below, provided by Statista.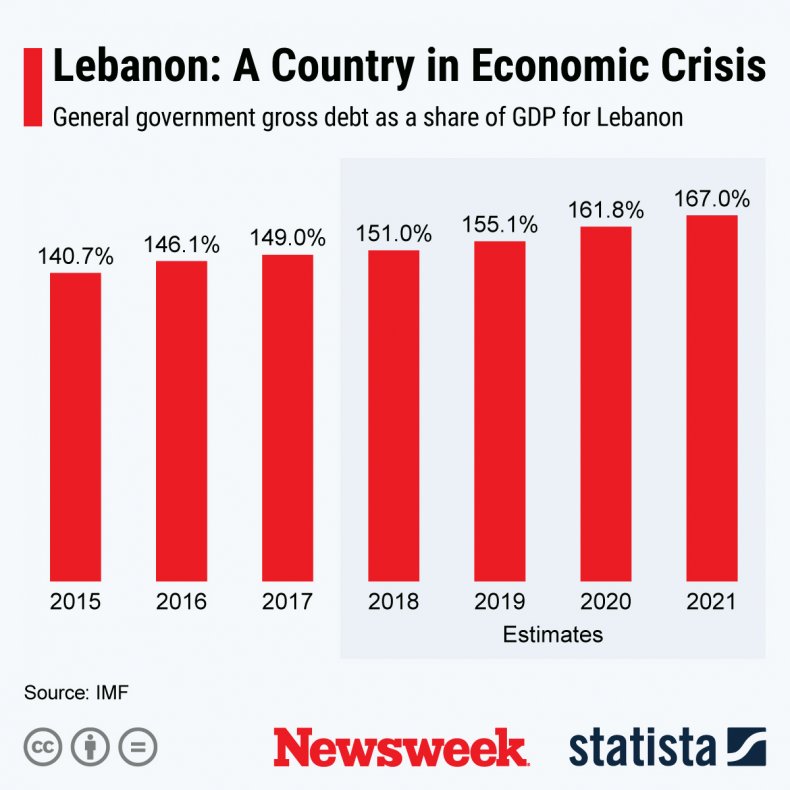 Yahya said that Lebanon's main option to deal with its crippling crises is international aid. "The [Lebanese] diaspora has stepped in and are already channeling humanitarian support. The international community will do the same. But this is a mere band aid compared to what the country needs," she said.
Although many have expressed concern about transferring aid to Lebanon without serious government reforms to tackle corruption, Yahya explained that aid can be given to the country "through the United Nations agencies or directly to credible NGOs that have been at the forefront of providing support for Lebanese in need."
Fakhoury stressed the importance of aid as well, but she said government reforms are necessary in the long-term. "An international viable aid and rescue strategy is contingent on governmental accountability and trust, and these prerequisites currently lack," she said.
But whether any amount of aid and reform can change the sentiments of the many Lebanese currently determined to leave appears increasingly unlikely.
"We have nothing here, and it keeps getting worse by the day," Hijazi said. "I have wasted my youth and the amount of trauma and anxiety that I hold from 31 years of living in this country will haunt me for the rest of my life."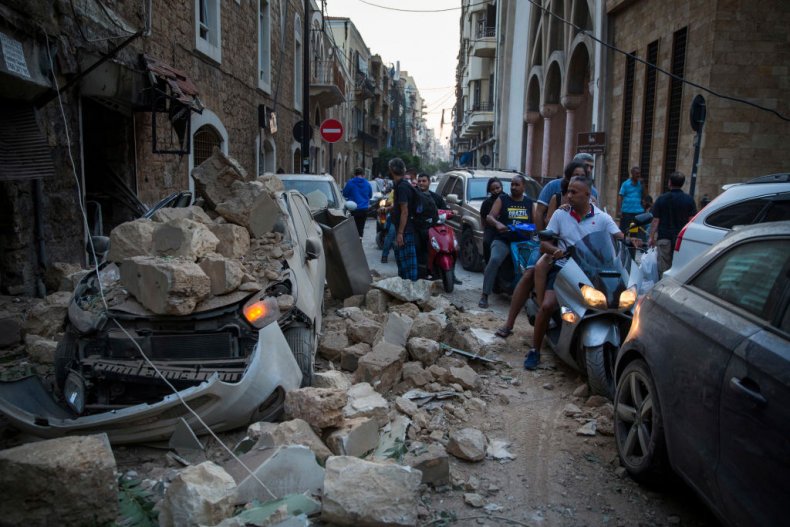 Update 8/6/20: This article was updated to include an infographic.