Can London Fashion Week Grow Up Without Selling Out?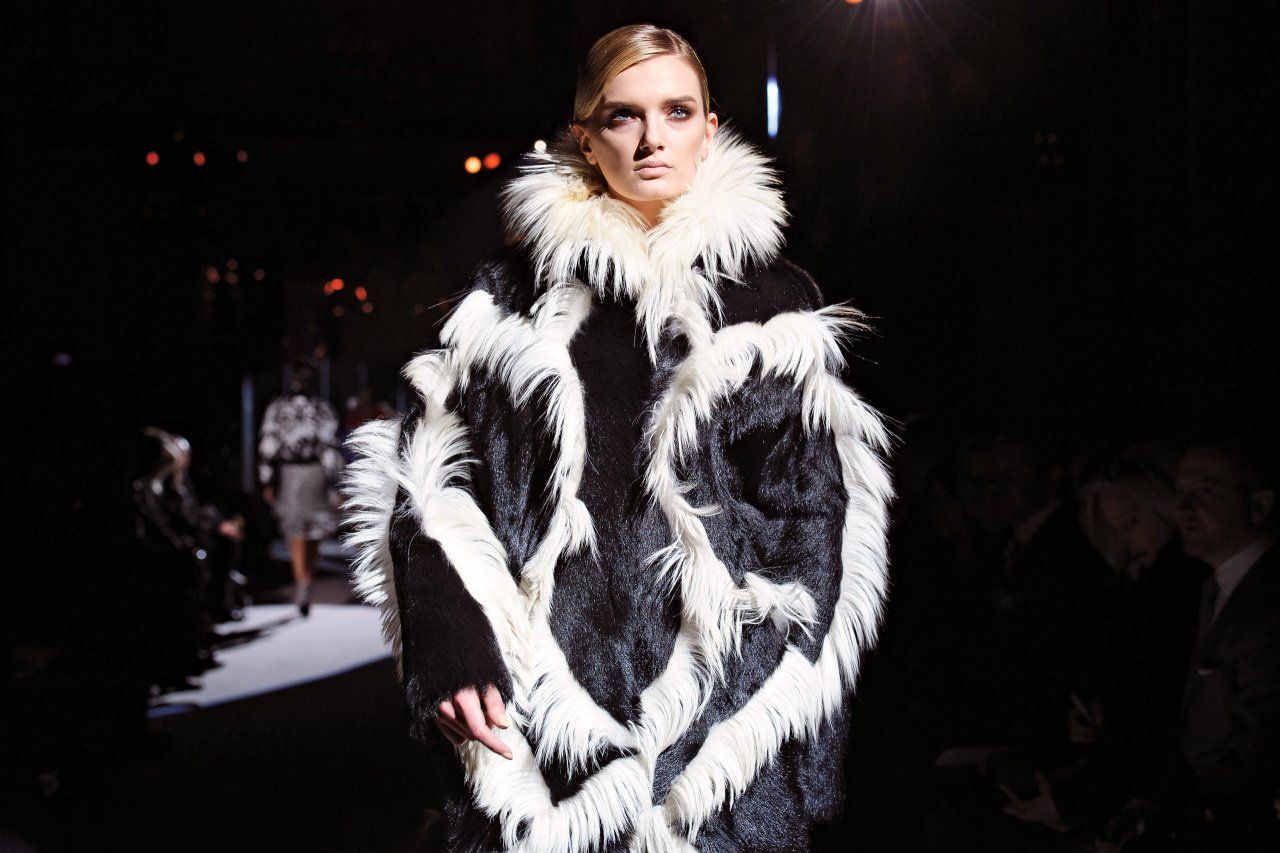 The last time I was in London for Fashion Week was in the spring of 2001. I was working for GQ magazine in London and blagged a few tickets off the girls who toiled upstairs on the pages of Vogue. The event struggled so badly to attract financing that shows were held in cheap and drafty tents on the lawn of the Natural History Museum in South Kensington.
Cheer up, vets of the scene scolded me, the tents were better than the car parks where the shows had once been held.
The most exciting show—to which I did not have a ticket—was by a young designer named Alexander McQueen, who exhibited in a desanctified, abandoned church in the East End, the front row dotted with skeletons. After the show McQueen promptly announced that he had sold 51 percent of his label to Gucci and wouldn't be showing in London again—he was off to Paris.
The depression in London was palpable, but the old hands were unsurprised. McQueen was only the latest to follow a well-trodden path. The story of London fashion designers still tends to follow that same trajectory: young designer goes to Central Saint Martins College (alma mater of McQueen, Stella McCartney, and Zac Posen, to name just a few); young designer thrills crowds with degree show (insert here the possibility of the late Isabella Blow buying entire collection) and receives acres of press coverage (but few sales). Young designer gets it together to have own show in London. Young designer gets investment, starts selling product, and promptly relocates to Paris, New York, or Milan—"proper" fashion capitals where actual money (as opposed to reputations) can be made, either on his or her own or working for one of the big fashion houses—never to darken London's streets again.
London has always provided the best and freshest talent, but, frustratingly, the talent has always then left, putting London Fashion Week in perpetual fourth place behind Paris, New York, and Milan.
As Luke Leitch, deputy fashion editor of The Daily Telegraph, points out, "Milan sits at the center of high-quality manufacturing, so for prêt-à-porter it will remain a hub. And the two biggest fashion multinationals are French, so until that changes, Paris will stay at the apex."
Then, of course, there is New York. I moved to New York myself in 2003, and covering the shows for the New York Post, I couldn't believe the glitz and glamour and money that sloshed around Bryant Park during Fashion Week.
But this year, back in London, reporting on Fashion Week in the lovely, posh, draft-free tents as good as anything Bryant Park has to offer, London didn't feel like the poor relation anymore. Instead, we found ourselves sitting among the most powerful American fashion editors (including Anna Wintour), watching the likes of Tom Ford, Burberry, and Christopher Kane bring forth staggeringly inventive, starry, and exceedingly well- financed collections.
As Tony Chambers, editor in chief of the magazine Wallpaper*, says, "It was a huge leap from previous years, but there is still room to go. There is a certain amount of slickness missing. But creatively, it's all there. It is ingrained in London's DNA, slightly quirkier, a touch of anarchy, that eccentric flair. A few more designers might think about coming back to London."
Such words will be music to the ears of those who for the past five years—since Harold Tillman was appointed chairman of the British Fashion Council—have striven tirelessly to have London taken more seriously as a commercial as well as creative center of fashion.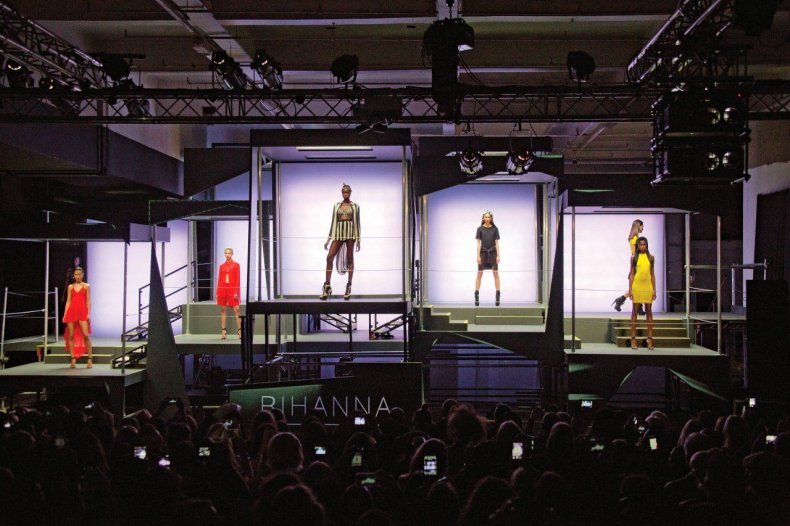 Tillman's big coup was to tempt back Burberry. The iconic British brand returned to London three years ago and continues to be one of the most important fashion shows in the world and a talisman for London Fashion Week. The show took place in a specially constructed transparent tent in Kensington Gardens, which housed over 1,000 guests. The show was called "Trench Kissing," and every attendee simultaneously received a personalized email from Burberry's chief designer, Christopher Bailey, minutes before the event kicked off.
As Godfrey Deeny of Le Figaro told me, "Burberry is the biggest show in Britain. It has been and continues to be."
The minute the show was over, you could order anything seen on the runway from its website. Burberry couldn't have made it clearer that it was in London to actually sell stuff.
Also here to shift product as opposed to garner industry praise was River Island. Although few designers would go on the record criticizing Rihanna's show (standard high-street fare given a predictably porny twist), several told me privately that they thought the involvement of River Island was a step too close to selling out the soul of London Fashion Week.
But what is the right balance? The BFC clearly regarded the inclusion of Rihanna as a coup and took the controversial decision to support the highly commercial show. Although it was not part of the official London Fashion Week lineup, it was promoted by the BFC in emails and mailings.
The Saturday-night show undoubtedly raised the profile of London Fashion Week, but it also sucked up all the available media attention for 24 hours, depriving Fashion Week stalwarts like Julien Macdonald and Issa, who had the misfortune to show on the same day, of oxygen in Sunday's papers.
But if Rihanna was too commercial for some, nobody could quibble with the inclusion of Tom Ford. Getting Ford to stage his first-ever full-scale catwalk show in London was undoubtedly a huge victory for Tillman's successor at the BFC, Natalie Massenet, the dynamic founder of Net-a-Porter.
Ford's show, held in a royal palace adjacent to Buckingham Palace that overflowed with champagne, was stunning. And while some had feared that the show was simply a one-off PR stunt to promote the new Tom Ford flagship due to open shortly in London, Ford told me, in an exclusive after-show interview, that he was here to stay. "London is the most international city for me, which is why I choose to spend so much time here and make it my second home. I find it the most exciting, exuberant city in the world. I moved my design studio to London when I was at Gucci in the mid-'90s," he said. "I've had a house here for the past 15 years, and I have a son who I hope will go to school here. My showroom is here.
"England generates great, great designers, and it's sad that so many of them feel the need to leave. I wish we could get some of the design houses that really are English and really are based here—and some of them are my friends, like Miss McCartney—to come back, and show in London."
The BFC really couldn't have put it better itself—and Londoners will be hoping that the McCartneys of the world are listening.