Can LSU Rebuild After Mass Departure of Key Coaches, Players Just 72 Hours Following National Championship?
The LSU football team capped a season for the ages Monday night when it completed a perfect record and national championship win over Clemson. But just 72 hours after the victory, key players and coaches in that historic run are fleeing Baton Rouge at breakneck speed.
The latest happened Thursday night when it was announced that defensive coordinator Dave Aranda has taken the position of head coach at Baylor University. This news comes two days after the Carolina Panthers hired LSU passing game coordinator Joe Brady as its new offensive coordinator.
The Panthers just hired Matt Rhule as head coach. Rhule spent the last three years at Baylor, where he leaves Aranda a team that finished 11-3 and a spot in the Sugar Bowl.
The LSU offense just completed one of the most prolific seasons in college football history. They had a 5,000-yard passer in Joe Burrow, who threw for an NCAA record of 60 touchdowns en route to the Heisman Trophy. The Tigers had a 1,000-yard running back in Clyde Edwards-Helaire, and two 1,000-yard receivers in Justin Jefferson and Ja'Marr Chase.
Burrow is a senior who has already completed his master's degree. Edwards-Helaire and Jefferson have already declared for the NFL Draft.
"A Louisiana man through and through, I made the hardest decision of my life by choosing to stay home and continue my life's journey at Louisiana State University," Edwards-Helaire tweeted Wednesday night. "The past 3 years of my journey produced memories I will never forget."
The mastermind of the new LSU offense was Brady, who was hired last offseason to help bring the Tigers into the 21st century of spread formations and throwing the ball downfield. Though Brady initially signed an extension with LSU, he was courted by elite college and NFL programs before bolting for Carolina.
Starting left tackle Saahdiq Charles has also declared he will enter the draft.
Here are the defensive players who have declared they will enter the NFL Draft this spring:
Grant Delpit, Safety
Patrick Queen, Linebacker
Jacob Phillips, Linebacker
Kristian Fulton, Cornerback (Fulton is a senior)
Burrow is expected to be the overall top pick in the 2020 NFL Draft. The Cincinnati Bengals have the first pick, and the Bengals are expected to draft Burrow, who is from Ohio. Then there has been chatter of other teams willing to trade up so they can draft the Tigers quarterback.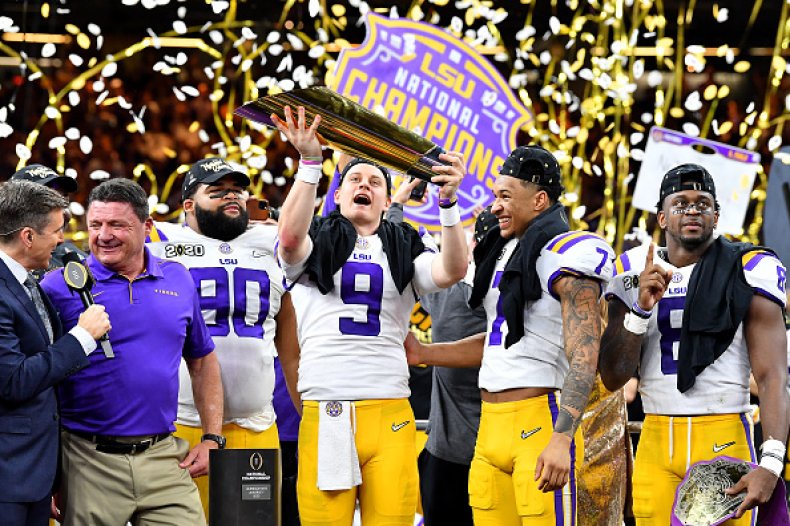 Regardless, the mass exit has begun, and other players could follow. LSU is a team that can restock a cupboard left bare. They did it when the 2007 draft pulled four LSU players in the first round, including No. 1 overall pick JaMarcus Russell.
LSU restocked after the 2013 and 2014 drafts, when nine Tigers were selected in each draft—both team-highs for the draft.
LSU has lost the likes of Jarvis Landry, Odell Beckham Jr., Leonard Fournette, Patrick Peterson, Tyrann Mathieu and countless others to the NFL. The Tigers already have offensive weapons who can fill in, including quarterback Myles Brennan, who was supposed to be the next big recruit. Brennan lost a quarterback battle in Fall 2018 camp to Burrow, and has learned behind him.
When Edwards-Helaire was injured for the Peach Bowl, a trio of underclassmen running backs—John Emery, Chris Curry and Tyrion Davis-Prince—filled in and performed without missing a beat.
The biggest question marks will be answered when LSU head coach hires a new defensive coordinator, and whether he will hire another Joe Brady-type guy to sit with offensive coordinator Steve Ensminger and direct a similar run-and-shoot offense.
The Tigers will have a White House celebration on Friday, and then a parade in Baton Rouge on Saturday. Then work for the 2020 season begins.