Can Major League Baseball Bring China Into the Big Leagues?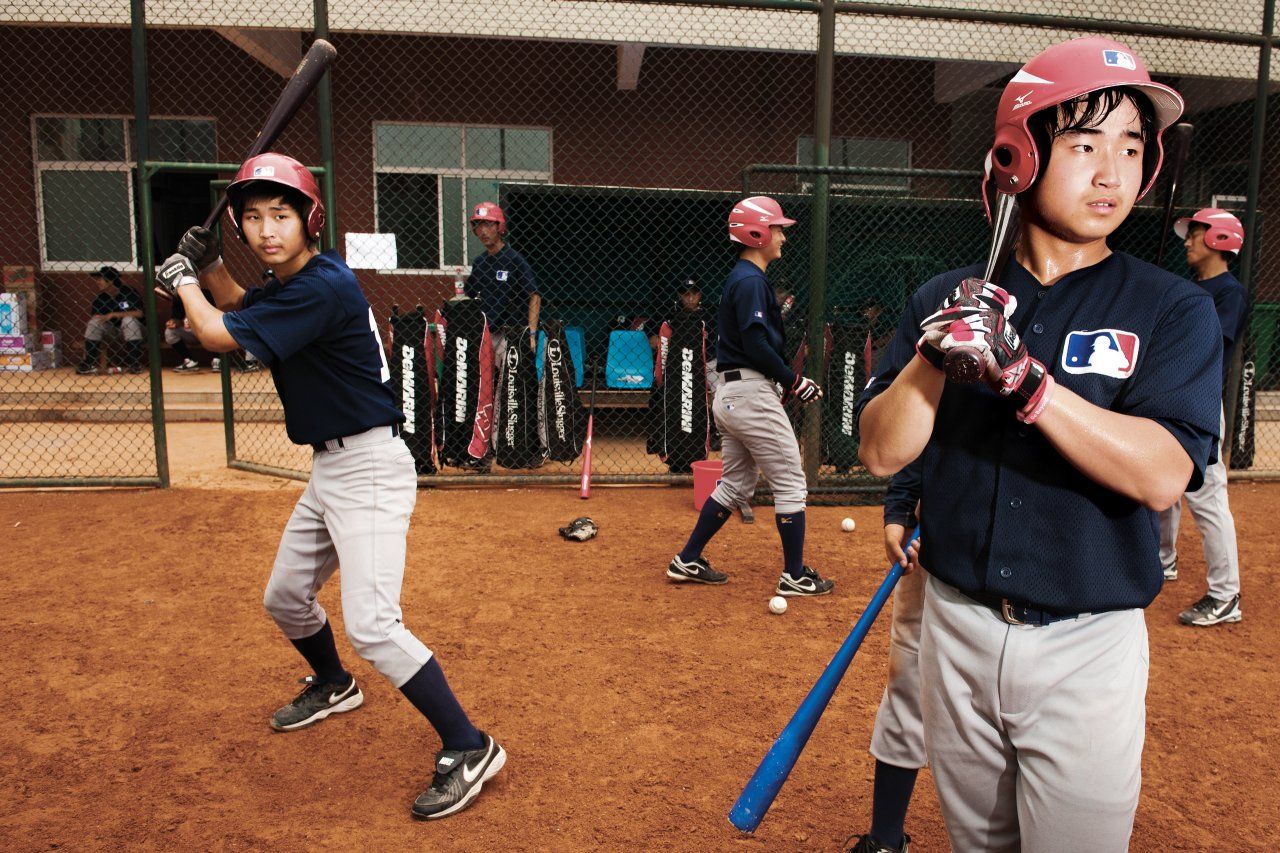 There was a moment when Leon Xie was ready to admit that he'd made a mistake. He had been the director of sponsorship for the 2008 Beijing Olympics, an important man responsible for the promotion of thousands of important products in dozens of important venues. But six months later, he was responsible for promoting exactly one product: a slow and confusing farm game in a country where the biggest draws are Ping-Pong, basketball, and handheld diversions that crackle like a personal USB cord to the brain. "What am I going to do?" Xie thought on his first day as Major League Baseball's managing director in China, a position that hadn't existed until he filled it.
Baseball wasn't unheard of in China, but baseball sure seemed unwanted by the Chinese. In a country of a 1.3 billion people, most of them male, the game was played by fewer than 10,000 oddballs, an out-of-sight band of foreign nationals, and local fans of Cracker Jack. A fledging six-team pro league attracted fewer spectators than a disabled vehicle on the side of the road. And "unless you are related to a player," admitted one of Xie's superiors at the time, baseball in China was "not a sport you would attend."
That was the moment the game's most promising bid for global ubiquity might have ended, but for a funny thing that happened next: Xie's father showed up. He wanted to honor his son on the first day of his new job, but as he ambled into MLB China's three-person office, the 78-year-old retired mechanical engineer did much more. He spurred two thoughts in his son, the first a simple, sad observation: my father is getting old. And then, with some surprise: my father is holding a baseball bat? "I love baseball," the elder Mr. Xie explained, and to his son's quiet astonishment he wrote the same in bold Chinese characters across the barrel of the bat. He had used the thin, blond artifact during college in the 1950s, the decade before the game vanished beneath a wave of Chinese nationalism. And he presented the bat in hopes that his son would be able to seed love for the game in a new generation. "That proved to me that baseball has a long history here," Xie remembers today, speaking by phone from the same office in Beijing, where the bat is displayed with pieces of traditional Chinese porcelain.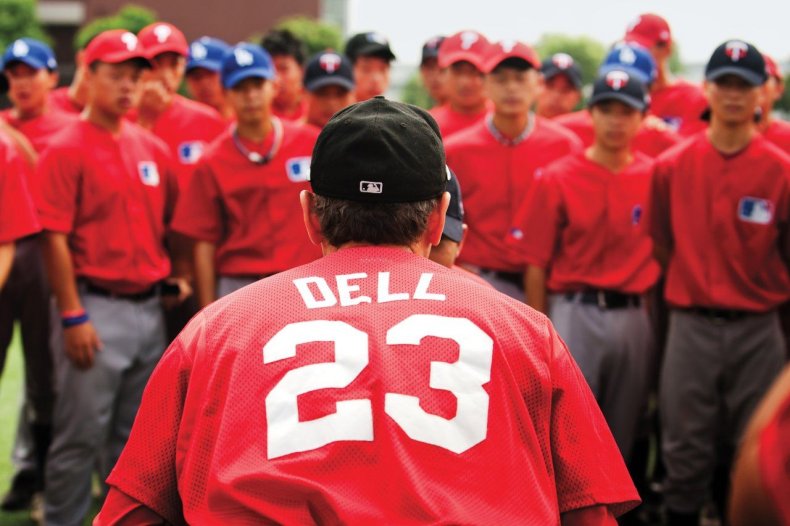 Four years later, as another Major League Baseball season is scored into existence, Xie is packaging the game as a Confucian pastime with modern relevance, a quintessentially Chinese sport. And the strategy has worked, building to the point where baseball is once again played and followed in China, sometimes with a passion that rivals the American original. The sport is on 10 government-owned television channels, reaching hundreds of millions of people, while ad campaigns, retail stores, carnival-like traveling events, and state partnerships reach millions more. Every rush hour in Beijing, commuters are fed a Mandarin-language version of the TV show This Week in Baseball on 12,000 screens aboard the city's public buses. Elsewhere, viewers get the "Join Us" campaign, which features attractive young converts to the game—people you might not expect to be players or fans—who introduce themselves, disarm the viewer, and wham them with a confession like Xie's father made: "I play baseball."
In the process, baseball's peculiar qualities are sold as native virtues. "I mean, talk about Confucianism," says Jim Small, the director of Major League Baseball for all of Asia, and Xie's boss, rattling off parallels between China's ethical philosophy and the American game that inspired nickel-beer night and dugout-dancing mascots. "There's no clock, you sacrifice yourself for the team, everything is in threes ..." At the same time, in conversations with Chinese officials, the game is spun as a geopolitical weapon: a way for the competition-mad nation to top its regional rivals, Taiwan, Korea, and Japan, where baseball has flourished for decades.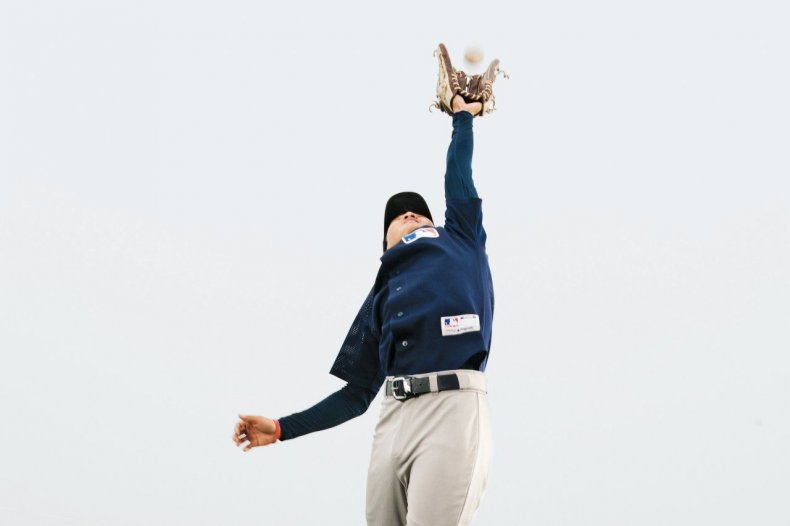 So what's holding MLB back in China? In a word: talent. The country has a billion people, but no pitching; a few hundred million young men, but no hitting; and a reputation for organizational genius, but no idea how to develop baseball players. Taiwan, Korea, and Japan have all sent multiple players to the major leagues, but fewer than five Chinese-born players have ever signed professional contracts, and each has languished in the minors, eating American Chinese food until giving up for home. Recently, China's National Baseball Team had to be taught how to play catch ahead of the Beijing Olympics, and at this year's World Baseball Classic, the sport's equivalent of the World Cup, the team featured reedy hitters, breezy pitchers, and not a single professional prospect. "There's really nobody there," says Ben Badler, who covers international prospects for the trade bible Baseball America.
That's a big problem for Xie. When the Houston Rockets signed the 7-foot-6 Yao Ming in 2002, he finger-rolled the whole NBA into a Chinese fan base valued at more than $2 billion. In Korea, Taiwan, and Japan, the chance to see homegrown superstars take on the world made last month's WBC games among the most-watched sporting events of the 21st century. That's the power of talent. But when Xie took over, China didn't even have room to develop it: there were just three serious baseball diamonds in the whole country, one of which—the 2008 Olympic stadium—had just been bulldozed to make way for a mall.
But here, too, MLB is making progress. It has lobbied baseball into the physical-education program at 120 Chinese lower schools. For the first time in generations, thousands of 8-to-12-year-old kids are introduced to the special sadness of striking out, the special pleasure of not. Millions of other kids are lured to the game via MLB's traveling pop-up batting cage and pitching station. And the most interested players are embraced by an independent baseball program, one of the dozens of ragtag groups that MLB supports with gear or expertise, all in exchange for one inestimable favor: developing talent. The most promising, as young as 12, are invited to live in MLB "Development Centers," where most every afternoon, 12 months a year, they squint and scratch like old pros on a new diamond. "This is the great experiment," as Jim Small has described it. "Can you take a kid from a nontraditional baseball country, and with the right training, nutrition, and coaching, can you make him a prospect?"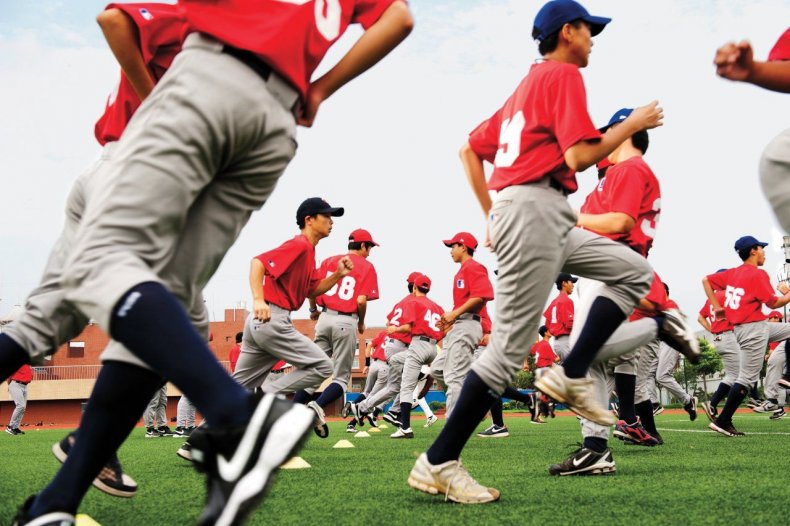 MLB is about to find out. The first training center opened in 2009 in Wuxi, a gray-toned city at the mouth of the emerald, ungliding Yangtze River in southeastern China. By this fall, at least three players from the first class of recruits will be professional material, says Rick Dell, MLB's director of game development. Dell was speaking by phone from the outskirts of a shaved cornfield in baseball's next frontier: the Philippines. With the sound of a baseball tournament in the air around him, every third word cut out, but his pride came through. "The first thing you would say if you were to see these kids is, 'Wow, they look like the real thing.'"
And even if they're not quite the real thing, MLB remains confident. Behind Dell's first batch of graduates, there is another and another, each slightly bigger, stronger, and, in baseball-speak, "more projectible" than those who came before. One lanky, hard-throwing 16-year-old is the son of two elite volleyball players. "He is like the pure, whitest paper on which the Americans can draw their masterpiece," the boy's father told a Chinese journalist last year. This summer the boy and others will head to America, parachuting into elite high-school leagues in California and New Jersey. "No one starts in Yankee Stadium," Dell says. "But if we can just be patient, it's going to happen."
As he waits, Leon Xie remembers the doubters from those early, dispiriting days of 2009. He has kept a list of all the professional friends who questioned him, however respectfully. They felt baseball was an "alien" sport, destined for obscurity in roaring China. Now their inboxes are filled with the evidence otherwise. Every new field, new partnership, new stride of the alien invasion, "I make sure they know," Xie says.
BIO