Can a Marching Band Pull Off Björk?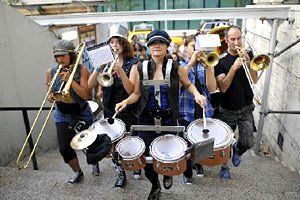 There are an awful lot of weird crossover "classical" records vying for attention out there. Often the concept behind each one is something along the counterintuitive lines of "we made something not very heavy metal into something resembling heavy metal." The idea is to call attention to yourself for having done something so supposedly wild. Almost always, though, the resulting product makes you wish the cynical artists behind it hadn't bothered. So in those rare moments when you encounter musicians who actually put some thought into the process of making unlikely musical components work together, it's more than a revelation: it's a damned relief.
Last summer, the 12 members of Asphalt Orchestra—a marching band of highly skilled musicians from the jazz and classical worlds—started stomping and oompahing up a reputation not just for playing tunes by Frank Zappa and Charles Mingus in public, but also for daring to make their musical alchemy seem natural. If you look at the composers listed on the back of their first, self-titled CD, out now from Cantaloupe records, you might think it all seems a little precious. Can a chamber-size marching band really pull off Björk's "Hyper-ballad" and a new tune composed by Broadway sensation Stew (Passing Strange)—not to mention something by a Swedish metal band named Meshuggah?
After so many years of hey-Ma-look-at-my-crossover, such suspicion is warranted. But Asphalt's new recording turns out to be as pleasingly unified as its source material is eclectic. The answer to the question "Why does 'Zomby Woof' need a marching-band arrangement?" is answered in the sly moments when the group introduces some New Orleans–ish touches that probably have Zappa dancing in his grave. And the contrapuntal complexity of modern "math rock" also finds a pleasing analogue in the streetwise history of the marching band, when Tyondai Braxton (until recently a member of the indie band Battles) turns in a piece for the Asphalters called "Pulse March." When the Asphalt Orchestra plays this music in public, usually in the environs of Lincoln Center (which, along with the Bang on a Can collective, sponsors the group), it becomes natural for mobs of ecstatic listeners—many of them accidental ones—to dance with the musicians around the plaza. It's not a stretch at all to say the complex music of Conlon Nancarrow has never had a better public advocate than these Asphalt players, since their best performances wind up being a dreamy, best-of-all-possible-worlds combination of the intellectual, the hip, and the catchy.
Only one track on the new record ventures somewhat beyond the group's grasp. Most of Charles Mingus's songs are taxing for musicians to play, though "The Shoes of the Fisherman's Wife Are Some Jive-Ass Slippers" has to be one of his most complex. No one in the Asphalt Orchestra actually fails to play well, though the group overall sounds just a touch too thin to bring the middle section of the piece across. (If you don't have double bass or piano in an arrangement of a Mingus piece, you're probably missing some crucial sonic information.) But this is a relatively small complaint, given the overall depth of feeling that comes across in the group's playing. Earlier this month, the band hit New York's streets again, as part of the Lincoln Center Out of Doors summer festival. The ensemble's updated repertoire included a new tune written specially for them by David Byrne and St. Vincent, as well as another commission from Yoko Ono. It's unusual to be praying for a follow-up release so soon after a debut album, but that's exactly the kind of enthusiasm the Asphalt Orchestra inspires. The sousaphone hasn't had it this good in ages.