Can Resistance Candidate Marie Newman Beat a Pro-Life Democratic Incumbent Backed by the Establishment?
For the last month and a half, Marie Newman has started her day around 4:30 a.m. She rolls out of bed while it's still dark outside and, while her family sleeps, pops in an exercise DVD that guides her through cardio and resistance training. After burning a few hundred calories, the real work begins: Newman, a first-time candidate in Illinois's 3rd District, spends the rest of her day answering voter emails, knocking on doors, attending fundraisers and meet-and-greets, and phone banking until—usually around midnight—she can collapse back into bed.
Newman says she has had to work tirelessly to have a shot at defeating her Democratic primary opponent, seven-term incumbent Dan Lipinski, a pro-life, anti-Affordable Care Act, anti-Dream Act Democrat with establishment support from the Democratic Congressional Campaign Committee and party leaders like House Minority Leader Nancy Pelosi. Lipinski's held onto the seat since 2005, sailing to victory after his father, who won that cycle's primary, withdrew from the race and suggested Democrats back his son instead.
"For 35 years we've had the Lipinski monarchy, which is supported by the Chicago machine," Newman told Newsweek on Sunday. "We believe we can pull this out, but we have to keep pushing every minute, right up until Tuesday night at 7 p.m."
The thing is, on Tuesday, Newman just might win.
Polls from earlier this month show her just two points behind Lipinski, when months ago, she still faced a daunting 21-point gap. In the state's solidly blue 3rd District, the bloodiest battles are often fought in the Democratic primaries. This year's Republican challenger, Arthur Jones, a former leader of the American Nazi Party, shouldn't stand a chance.
Newman has held her own with the support of groups Planned Parenthood Action Fund, NARAL and EMILY's List, local grassroots organizations like Indivisible and sitting members of congress, including New York Senator Kirsten Gillibrand, who's offered money and support to several first-time female candidates this cycle. (Gillibrand isn't in the business of losing, either—two of the female candidates she endorsed in this month's Texas primaries emerged definitive victors, while the other five advanced to May's runoff elections.)
If Newman succeeds, her victory could signal that the Resistance wing of the Democratic Party has enough momentum to usher in a new class of progressive candidates who echo the concerns of an electorate that the Trump administration has only pushed further left.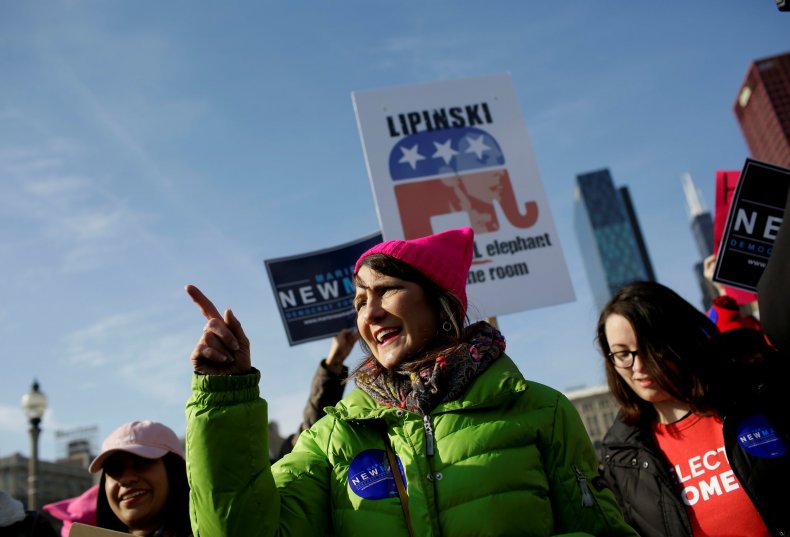 In the 3rd District primary, the remaining distance between Newman and Lipinski could come down to social issues like abortion. In attempts to match the $1.6 million in independent expenditure pro-choice groups spent on broadcast, cable television, mail and digital ads supporting Newman, the anti-abortion group Susan B. Anthony List has shuttled dozens of canvassers to Illinois' 3rd district to rally voters for Lipinski to the tune of $100,000. Some $24,000 of that went to Southwest flights alone, while another $16,000 went to hotel lodging, according to a ProPublica report. SBA List activists have said they see Lipinski as a "longtime friend of the pro-life movement," and Newman as an "abortion extremist."
Though both campaigns have been helped by activists, Lipinski said it's Newman who bears the responsibility for making the campaign about abortion.
"She's so overly focused on one issue (abortion) that she hasn't spent the time to articulate anything substantive she'd do to create jobs or address economic issues like trade," Lipinski told Newsweek in an emailed statement.
Some activists believe that Lipinski represents an underserved Democratic constituency.
"Groups like Planned Parenthood and NARAL have a death grip on the Democratic Party," Mallory Quigley, SBA List's communications director, told Newsweek. "There just aren't enough pro-life Democrats like Lipinski, and if they don't want to keep sustaining losses, Democrats need a new plan."
Since President Donald Trump's election, some party members have wondered if Quigley is right. The question arose most recently in December, when some Democratic strategists worried that Alabama Senator Doug Jones' pro-choice stance would cost him the special election against Senate candidate Roy Moore, who allegedly dated high school girls as an adult man. It didn't — but Conor Lamb's recent House win in Pennsylvania reignited the conversation about whether running candidates with more moderate stances on abortion could be the key to picking up seats in districts that went to Trump.
"This is part of the reason Donald Trump won," Lipinski told the New York Times of the party's shift farther left of center. "Democrats have chased people out of the party."
Those who share Lipinski's view think it best for Democrats to play it safe in the 2018 elections by backing incumbents who have a strong record of winning at the ballot box. Others think the path to victory for Democrats—the sure-fire way to flip at least one chamber of Congress—involves chasing after moderate Democratic voters who turned their backs on the party when they voted Trump. Democratic strategists say members of the party may just need to take it one district at a time.
"It's not about the direction of the party—it's about the direction of the district," Joe Trippi, the strategist who helped lead Jones to victory in Alabama, told Newsweek on Monday. "You often have incumbents who've been standing in the same place for a decade or more and don't realize the electorate and the district are changing. That's creating a lot of vulnerability for incumbents in both parties."
Lipinski said he's hard at work carving a middle path through Congress. "I've taken a lead role in the Problem Solvers Caucus crafting bipartisan legislation that would cut Affordable Care Act premiums by 30 percent, and a bipartisan plan that would give Dreamers a pathway to citizenship," Lipinski said. "I am currently fighting against extremists on both sides to get this done." But as many Democrats in Illinois' 3rd District size up Lipinski's voting record on these and other key issues, Lipinski may just find on Tuesday that his constituency has shifted right under his nose.
"This is a bright blue district so we should have a bright blue Democrat representing it," Newman said. "My gift to [Lipinski] once I win will be a time machine so he can go back to the 1940s. That's where his attitudes belong."