With more doctors and politicians pushing medical marijuana in favor of prescription opioids, patients are calling for a hard look at the evidence.
For almost every study that demonstrates marijuana and cannabidiol can provide relief to certain types of pain patients, another shows that these drugs perform even worse than placebos, according to a literature review by the Center for Pain Medicine at the University of California San Diego (UCSD).
That presents a problem for people with legitimately painful conditions, according to Nita Ghei, director of policy editing for the Mercatus Center at George Mason University. More and more opioid-wary doctors are placing them on less effective drugs like marijuana—when their previous course of treatment may have been working fine.
"Marijuana is not a panacea. It is limited in its effectiveness, and the last thing pain patients need is more misinformation in an already terrible twisted narrative," Ghei said in an interview with Newsweek.
Ghei, who suffers from daily headaches and an incurable form of neuralgia that makes her feel like a "chisel" is running through her left eye, uses opioids and a series of other medications prescribed by her neurologist in order to cope.
"It's never the first thing we try," Ghei said, speaking in her capacity as a pain patient and not as a policy editor for the Mercatus Center.
The daily headaches, a symptom of chronic migraines, started in her early 20s and never let up, according to Ghei. In the years since, she's tried antidepressants, anticonvulsants, intravenous infusions and rounds of Botox delivered through 30 shots all around her head every three months. Opioids were the only treatment that restored full functionality, Ghei said.
That didn't stop a major hospital network, Inova Health System, from taking the pills away. Several years ago, its neurology wing in McLean, Virginia, eased every single pain patient off medication, according to Ghei.
Since the rise of the opioid crisis, it isn't uncommon for a physician to tell pain patients to seek treatment elsewhere. According to a recent survey, more than four out of five doctors are reluctant to take on patients who are using prescribed opioids. At the same time, more than half expected their peers to start recommending marijuana instead, according to the report.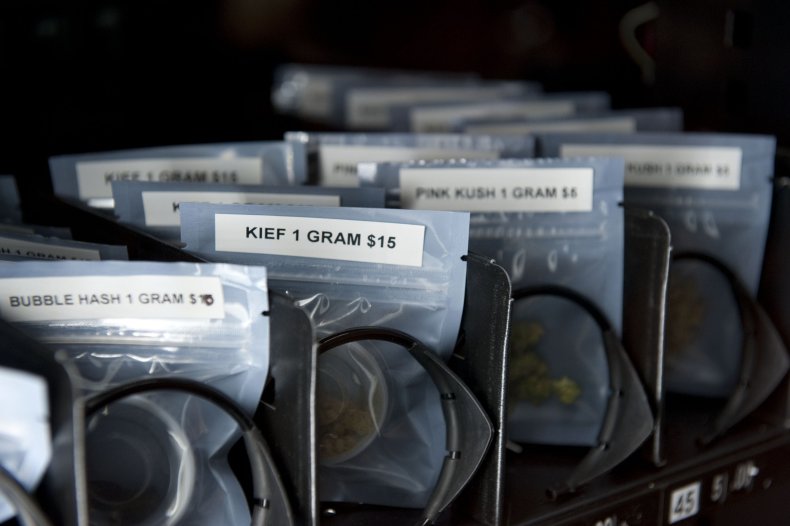 Ghei said pushing marijuana in the face of the current opioid hysteria presents a danger for millions of pain patients left without the drugs they need, but enthusiasm for the drug seems to be contagious.
In the recent Democratic presidential debate, Pete Butigieg, former mayor of South Bend, Indiana, told viewers about a veteran he knew, originally prescribed an opioid, who later bought heroin on the street.
"Now, imagine if that veteran, instead of being prescribed an opioid, had been prescribed marijuana because we made that legal in America, ensured the V.A...." Buttigieg said.
"Yes, preach, Beto," candidate Andrew Yang interjected.
"...could prescribe it, expunge the arrest records for those who've been arrested for possession, and make sure that he was not prescribed something to which he would become addicted," Buttigieg concluded.
While marijuana, its synthetic forms and cannabidiol have been shown to help people with chronic pain, acute pain and pain related to cancer, according to studies in the UCSD review—several studies also demonstrated these drugs had no significant effect on pain or even made it worse.
Narrative accounts reveal the same story. Chronic pain patients wrote the Drug Enforcement Administration by the hundreds last month, begging for looser regulations on opioid production. Many of them have already tried marijuana but complained it was too expensive and didn't work when their conditions got worse.
According to a recent thread by Sean Mackey, chief of Stanford Medicine's pain division, opioids can be the right course of action. A patient of his, currently on opioids for a lower extremity injury, came to Stanford using fentanyl patches that his primary care doctor wanted to take away.
A physician, pain psychologist and physical therapist evaluated the patient and, in the end, decided not to change anything.
"The team concluded after a long conference that this patient is a functioning member of society and is doing everything that's been asked of him. Every time he's tried weaning down (three times), he's had to quit work," Mackey said on Twitter earlier this week.
"We cannot generalize these tools (i.e., opioids) and make broad statements across everybody. For some people, opioids will lead to major problems. On the other end of the spectrum, there are people who will benefit greatly," he continued.
10/26/19, 5:43 p.m.: This story has been updated to remove non-essential information at a source's request.