Can Men Get Breast Cancer? Symptoms, Statistics to Mark National Breast Cancer Awareness Month
While breast cancer predominantly affects women, men can also be diagnosed with the disease.
Tuesday marked the first day of October, the month designated National Breast Cancer Awareness Month. National Breast Cancer Awareness Month gives people the opportunity to raise awareness about early detection and raise funds for research and support for those who have breast cancer and their families.
During October, organizations and individuals will hold fundraisers, people will wear pink ribbons to show support and share stories of how breast cancer has impacted their lives. Breast cancer, according to the Department of Health and Human Services, is the most common cancer found in women and one in eight women will be diagnosed.
Unlike women, it's rare for men to be diagnosed with breast cancer, although it is possible. An estimated one in a thousand men will be diagnosed with breast cancer, according to the National Breast Cancer Foundation, which accounts for less than one percent of all breast cancer cases. It's more common among older men, according to the Mayo Clinic, but similarly to women, men of all ages can be diagnosed.
Male breast cancer occurs when breast cells divide more rapidly than healthy cells, forming a tumor, but, the Mayo Clinic said it's unclear what causes the cells to divide. However, some men could be more likely to develop breast cancer because they inherit abnormal genes, including BRCA2, from their parents.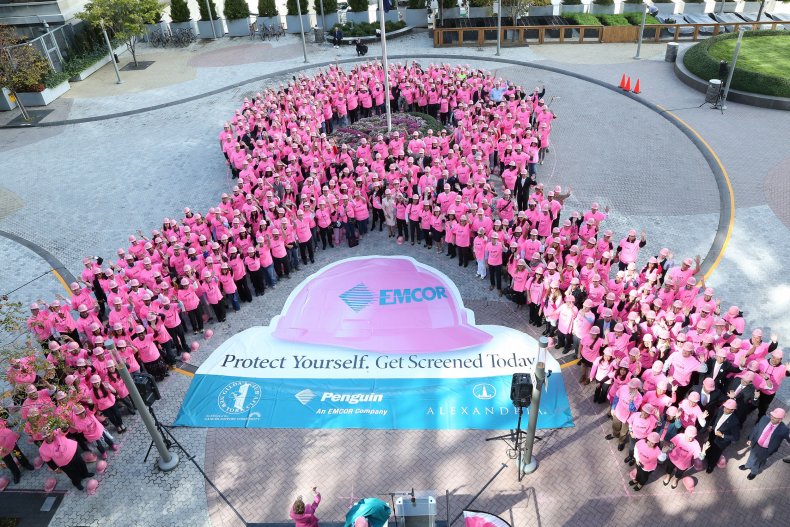 As is the case with women, early detection gives men the best chance at being cured and treatment typically involves surgery to remove the breast tissue. Treatments are based on individual situations and could also include chemotherapy and radiation.
Symptoms for breast cancer in men include:
A painless lump or thickening in the breast tissue
Changes to the skin covering the breast, such as dimpling, puckering, redness or scaling
Changes to the nipple, such as redness or scaling, or a nipple that begins to turn inward
Discharge from the nipple
In men, there are multiple types of breast cancers, but ductal carcinoma, cancer that begins in the milk ducts, is found in nearly all cases involving men, according to the Mayo Clinic. The other types are lobular carcinoma, which begins in the milk-producing glands, and other, rarer types.
The Mayo Clinic noted that breast cancer in men can go undiagnosed longer than women because lumps are less likely to be felt. If it goes undetected, it can spread in three main ways: growing into nearby areas, through the lymph system and by getting into the blood.