Can Mike Huckabee 2.0 Win in 2016?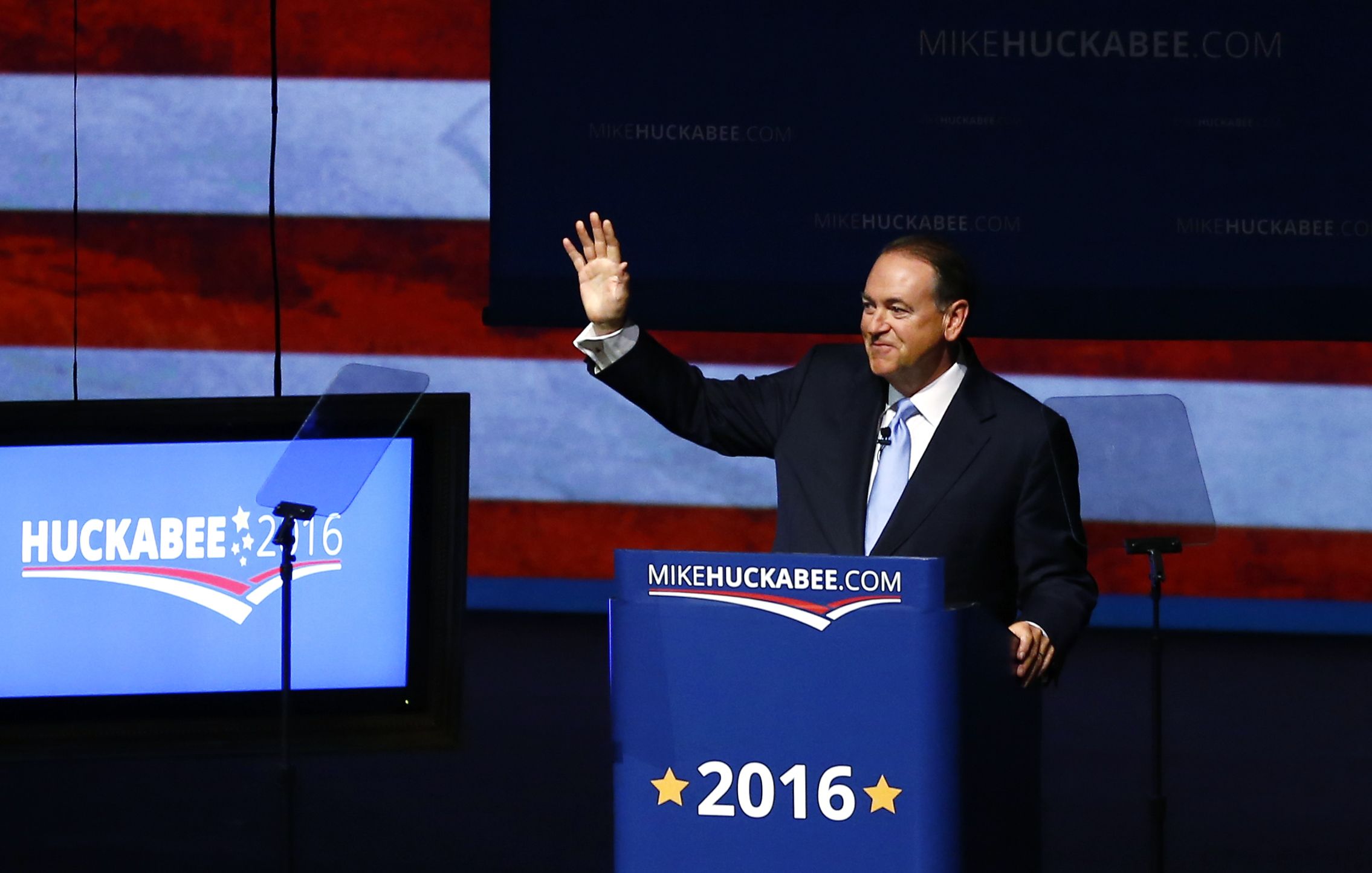 Mike Huckabee hasn't changed much since 2008, when he won the Iowa caucuses before fizzling out in the Republican primary. There's the same grin and "aw' shucks" demeanor. The world, however, has changed a lot in eight years. And that presents problems for the former Arkansas governor as he takes another swing at the White House.
When Huckabee ran in 2008, he was a fresh, friendly face with a record of bipartisan dealmaking in Little Rock. "We didn't know what Obamacare was; we didn't know what the Islamic State was," says Steve Deace, a prominent Iowa talk radio host whose backing of Huckabee in '08 was credited with helping swing evangelical votes, and the Iowa caucus, Huckabee's way.
Christians, adds Deace, weren't getting run out of business for their religious beliefs, a reference to the fight over "religious freedom laws" that has engulfed the right. "I think every cycle starts over from scratch, every one. Environments change, even the issues sometimes change."
Huckabee, however, seems to be picking up right where he left off. A little edgier, a little slimmer, maybe, and a lot richer thanks to his six-year run as a television host on Fox News. He has chided Obama's "Kenyan, anticolonial" views, which wrongly implied the president was from Kenya and not Honolulu and which oddly suggested that America, born in colonial rebellion, was somehow at odds with such a sentiment. But despite the occasional Foxism, Huckabee is more or less the same folksy, populist character who puts a cheerful face on social issues like abortion and gay rights. He's even using the same anecdotes.
Huckabee repeated himself on Tuesday in his hometown of Hope, Arkansas (yes, the same one Bill Clinton made famous), launching into a tale of humble upbringing he likewise highlighted in a speech to the National Review Institute the day he launched his '08 campaign. His now deceased father took him to meet Arkansas' governor when he was kid, "because you may live your whole life and may never, ever get to see a governor in person," the elder Huckabee told his son. The fireman and mechanic died three months before his son was sworn in as governor, Huckabee lamented both times. The theme of his 2016 launch, "From Hope to Higher Ground," was also the title of his 2008 book.
To be sure, Huckabee raised issues in his remarks Tuesday that didn't come up in January 2007. Veterans affairs, jihadism and America's relationship with Israel and Iran all got prime billing, as opposed to George W. Bush's Iraq War, a major subject in the Meet the Press interview where he confirmed his first run (though it's certainly relevant again). Obamacare also got a mention.
But there was plenty of continuity: opposition to free trade, talk of balanced budgets and the need for tax cuts—his pledge to pursue a flat "fair tax" drew particularly loud cheers—and Christian values were major themes.
There's currency there, still. Huckabee's populist tack is even more timely now than it was last decade, with inequality the political buzzword of the day. There's "a greater strain of economic populism running through the veins of Iowa caucus goers than there was in 2008," GOP strategist and one-time Iowa Republican chair Matt Strawn says.
Lambasting the Trans-Pacific Partnership (the massive Asia-Pacific trade deal that's pending) and denouncing congressional proposals to cut Medicare and Social Security will set Huckabee apart from many of his Republican rivals, and could help him claim the common-man mantle. The migration of so many white working-class voters into the GOP could also provide fertile ground for a tough-on-trade, protect-entitlements message. Plus, he sticks to his roots: Decrying the "criminalization" of Christianity and "the false God of judicial supremacy" will be appreciated by social conservatives with the shadow of a major Supreme Court decision on gay marriage looming.
But with such a large field and several others bidding for the same evangelical base—Texas Sen. Ted Cruz looming largest—social conservatives aren't just looking for someone who agrees with them, but someone who can win. And they're not sure Huckabee can raise the cash or broaden his appeal enough to run a national campaign, something he failed to do in '08. It's not only that "we have to have someone who has proven that they are willing to fight for our issues," says Deace, but "they have to show they have appeal outside just social conservatives."
That means winning over the party's hawks, who have been ascendant in the GOP since last summer, when the images of masked ISIS terrorists beheading American prisoners consumed our screens. Just a day ago, a new NBC-Wall Street Journal poll found that Republicans ranked national security and terrorism, collectively, as the biggest issue facing the country. It's part of the reason Huckabee spent so much time Tuesday talking about foreign affairs, as he has on various campaign stops in the last couple months. But having been out of office since 2006, he'll be at a disadvantage against some of the senators and governors in the field who can point to a track record of trying to tackle things like the ISIS threat.
GOP strategist Strawn thinks Huckabee also has an electability argument to make, albeit one he failed at last time around. He was, afterall, elected governor in a state then dominated by Democrats—at the time only the fourth Republican elected statewide in 150 years, he once noted. "That is part of the story Governor Huckabee needs to tell," Strawn says. It could be a selling point "for those more pragmatic-minded voters among the Christian conservatives," in Iowa and beyond, he says—an argument that a conservative in say, Texas, can't really make.
Can Mike Huckabee 2.0 Win in 2016? | U.S.