Can Mindfulness Meditation Lower Your Blood Pressure?
Updated | Can one session of mindfulness meditation reduce an anxious person's blood pressure? Maybe. But small studies, like one whose results were presented Monday at the Experimental Biology meeting in San Diego, won't prove that.
Researchers from Michigan Technological University presented results from their study of 14 young adults with mild to moderate anxiety and normal blood pressure. They found that mindfulness meditation might be linked with a reduction in anxiety, resting heart rate and aortic blood pressure, defined as the difference between the two numbers that make up a traditional blood pressure reading.
Participants reported feeling less anxious after a single 60-minute meditation session. They also reported feeling less anxious a week after the session. But the results concerning the practice's long-term effectiveness are difficult to interpret, because some people meditated between the times researchers evaluated anxiety.
Experts cautioned that 14 people doing one one-hour session is not a large enough study to draw firm conclusions. The authors themselves noted that the results were just preliminary.
"It's pretty promising results with anxiety specifically," John Durocher, a physiologist and one of the researchers behind the study, told Newsweek. Durocher's student, Hannah Marti, led the study.
Some evidence supported the idea that meditation might be helpful for some conditions like anxiety, said Dr. Madhav Goyal, an assistant professor at Johns Hopkins medical school. Goyal and his colleagues published a paper in JAMA Internal Medicine in 2014 analyzing other studies on meditation's possible health benefits; they found moderate evidence for anxiety, depression and pain.
"There are numerous studies showing that mindfulness reduces anxiety," said Goyal. "If it reduces anxiety, we should also see reductions in some of the things that are associated with more anxiety," which can include blood pressure and heart rate. However, he said, "the evidence for meditation—it's still in kind of the infancy stages of where we would like it to be."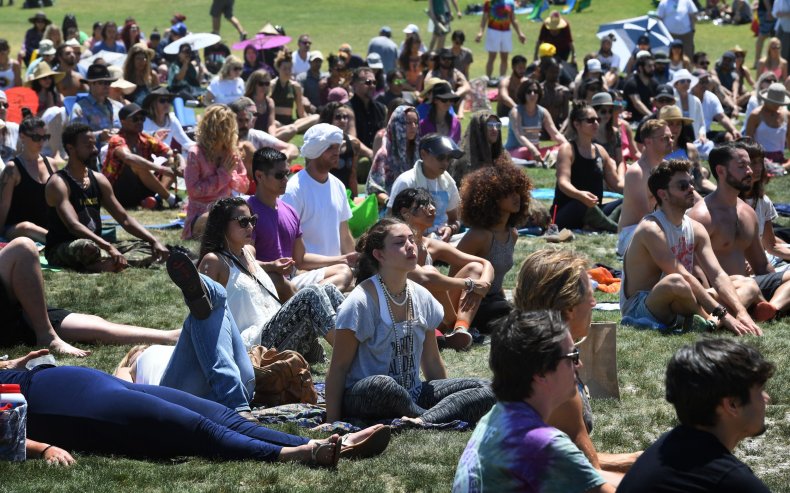 For a study of 14 people, a strong conclusion would be inappropriate, Goyal said. "That's the kind of conclusion I would want to draw from a very large study, or from a systematic review that looks at numerous mindfulness studies measuring blood pressure as an outcome." Ideally, he said, the study should include far more participants—possibly even hundreds of people.
Dr. Glenn Levine, a professor at Baylor College of Medicine who chaired a committee for the American Heart Association's statement on meditation and heart health, agreed. He also noted that the criteria used for this study were not the same that a doctor would use. (In addition to aortic blood pressure, the researchers used aortic pulsatile load, which is the aortic blood pressure multiplied by the heartbeat.)
"There are studies that do show meditation reduces your blood pressure," Levine said. But to draw conclusions, more research is necessary. Specifically, he said, "we need well-designed, well-controlled, randomized, multicenter studies done by investigators who can be as objective and non-biased as possible."
Those studies need funding—which Durocher said his team will have from the National Institutes of Health for a longer, eight-week study for people with higher blood pressure. If Durocher's preliminary results hint that an anxious person's blood pressure might be lowered through meditation, he said, then "we want to get after, well, how is it lowered."
This article has been updated to clarify comments from Dr. Madhav Goyal about the ideal sample size for studies.