Can Ndamukong Suh Shore Up New England's Porous Defensive Line?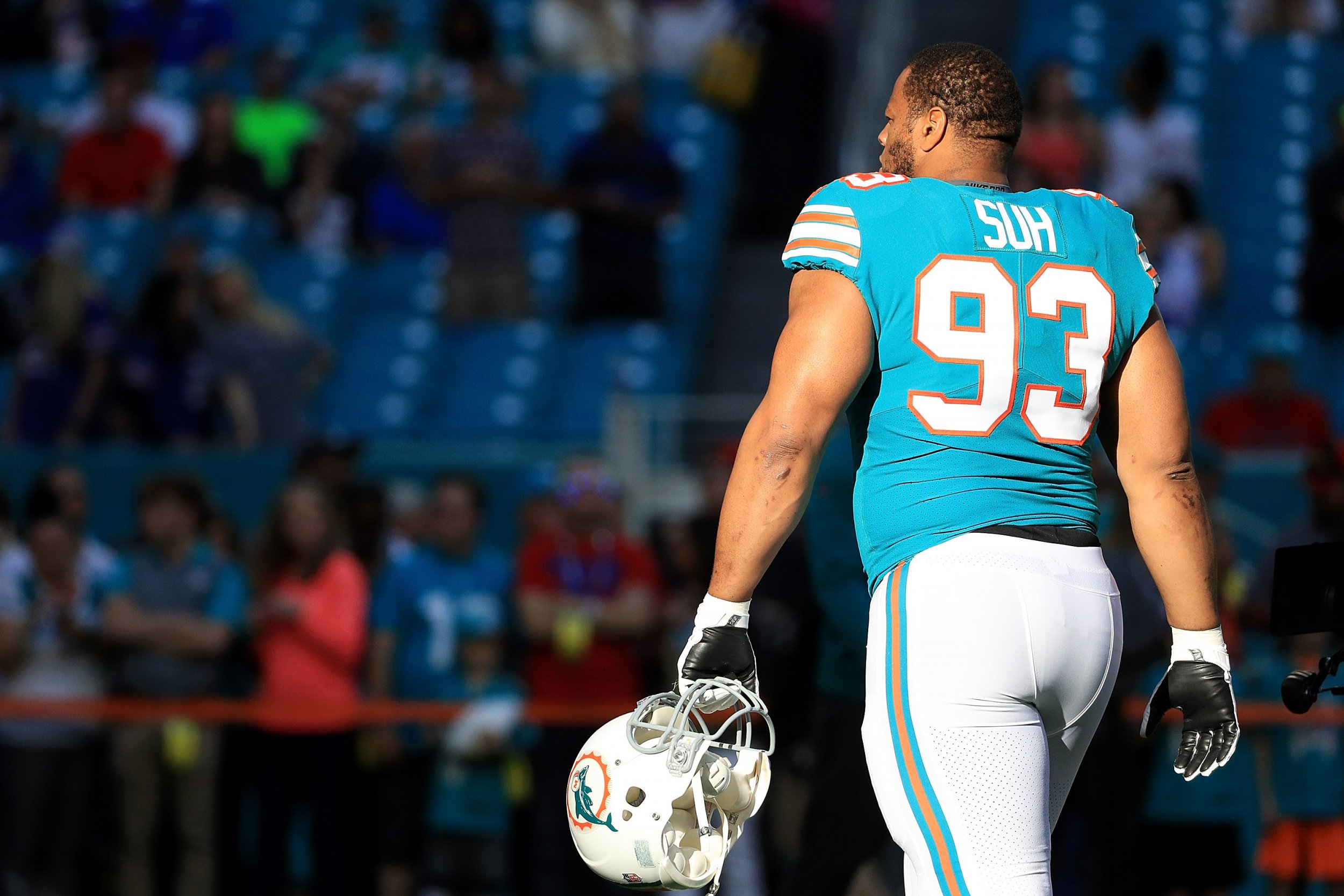 One of the NFL's worst kept secrets was finally revealed on Wednesday as the Miami Dolphins cut Ndamukong Suh.
Over the last month, speculation linking the three-time All-Pro defensive tackle with a move away from Miami had grown, and the Dolphins made it official at the opening of the new league year.
No sooner was Suh released than the rumour mill over his next team went into overdrive, with the New England Patriots linked with the Oregon native.
According to NFL Network's Ian Rapoport , the Patriots could be looking to Suh as the man they need to shore up their inside defense.
"There's no way we can possibly talk about a veteran, big-name player at the end of his career without talking about the Patriots," he said. "So of course, the Patriots will be in the mix as well."
New England has waved goodbye to Nate Solder, Danny Amendola, Dion Lewis and Malcolm Butler so far and is looking to add talent to its roster, with defense being one of the main areas of focus.
Speaking on the same panel, fellow NFL Network analyst Mike Garafolo suggested the Patriots' interest in Suh "absolutely" made sense but warned the player's salary could be an issue.
"There is going to have to be a point where he decides what kind of money he wants to take," he said. "And what you have seen with New England [...] they for the most part will tell agents and players that 'players take less to play for us.' That's the way they negotiate things.
"For Suh, I don't know what less means but it's not going to be anywhere near $20 million for him to play with the Patriots—I wouldn't think. That's probably a decision Suh has to make more so than the Patriots are going to have to make at some point. "
However, the race to sign Suh is unlikely to be a formality, as Rapoport added the New Orleans Saints and the Seattle Seahawks are also thought to be in contention for the former Dolphin.
ESPN's Dianna Russini suggested the Dallas Cowboys could also be in the running but, according to SportsDay, a club source dismissed the rumour, indicating they are not interested in Suh at the price he is likely to command.
Still only 31-years-old, Suh is in the prime of his career and ranked third on NFL.com's top 101 free agents list, behind Kirk Cousins, who has just joined the Minnesota Vikings on a three-year deal worth $81 million, and New Orleans Saints quarterback Drew Brees.
Since 2010, Suh, who recorded 15.5 sacks and 181 combined tackles in his time in Florida, ranks second in his role in sacks and total pressures, with 51.5 and 381.5 respectively, and first in QB hits and tackles for loss, with 147 and 103 respectively.
The defensive tackle was just three years into a six-year deal worth a whopping $114 million with the Dolphins. According to NFL.com, he is being released with a June 1 designation, which means $9.1 million of his $22.2 million annual salary will count against the 2018 cap, while the remaining will count against Miami's 2019 cap.