Can Foursquare's New CEO Right the Ship?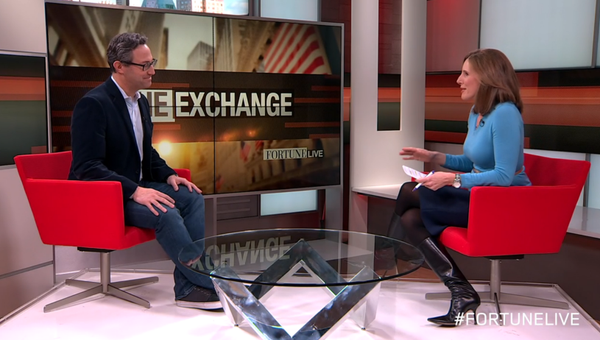 During an informal meeting with some San Francisco market analysts in December, I found myself in the middle of a straw poll on why Foursquare, the locally based discovery app, was slogging behind its competitor Yelp.
The vote did not take long, and I remember it was a nearly unanimous. Foursquare was struggling, the analysts said, due to a management problem, not a technical one. They agreed that Foursquare's back-end technology and its mobile app were superior to Yelp's, and they pointed fingers at its top brass as the reason why its valuation has nearly halved since its $650 million peak in 2013.
That straw poll replayed over and over in my head as I was speaking on the phone with the new Foursquare CEO, Jeff Glueck, on Thursday for 20-odd minutes. Founder Dennis Crowley left the CEO position in January as the company's valuation plunged and private funding dried up. Glueck, who was the COO before, took over. While Wall Street preached gloom and doom, Glueck did not seem fazed from his New York City office.
"It's not like there has been any change in our plans," Glueck says. "Dennis asked me to step in to take Foursquare to the next level. We're doubling down now."
Once the darling of the New York startup scene, Foursquare is experimenting in an increasingly crowded market squeezed in by the Silicon Valley big boys. Facebook, for one, has been creeping into Foursquare's territory—with a personalized notifications tab on mobile that can recommend restaurants and stores based on a user's location. And Google Maps since 2014 has provided an "Explore around you" feature that's reminiscent of Foursquare.
Meanwhile, Foursquare is shedding its old colors for something new. In the first major announcement in Glueck's tenure as CEO, Foursquare introduced the Trip Tips feature, for travelers to crowd-source their future itineraries from fellow users. The website and the idea remind one of older but still functional travel websites like TripAdvisor, but Glueck insists that Foursquare's huge depository of information gives Trip Tips an advantage over competitors.
"Three-quarters of daily users are from outside the United States," Glueck says. "Foursquare is a very global company, and Trip Tips are here to help you find that special place anywhere around the world."
The knowledge Foursquare has accumulated since 2009 might be a bigger asset to the company than any of its user experience features. Foursquare's top investor, Fred Wilson, recently promoted Foursquare not as a consumer social app business but rather as a data company. "Think of it more like comScore than Instagram" Wilson says.
Already some executives in the Foursquare company have heeded Wilson's call. President Steven Rosenblatt has been quietly building an ad-targeting and location data business, according to Wired. Glueck acknowledged that Microsoft and Twitter has been importing Foursquare's data for their own services.
But Glueck wasn't so quick to dismiss Foursquare's apps as just a data goldmine. In addition to Foursquare the app, the company runs a game app called Swarm that allows friends to check in with one another based on location.
"We think of ourselves as a tech company," Glueck says when asked about Wilson's comments on being a data company. "Fred is right, though, many do come to us for the platforms that we have built. But we behave like a social app company."