Can NEWSWEEK Find True Love on eHarmany?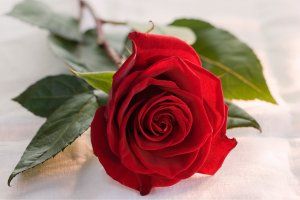 Monday was a really big day in my life, as it was for many of my friends and colleagues at NEWSWEEK. For the past few months, we've all been anxious with anticipation. I've speculated wildly, started unfounded rumors, and chewed my nails down to the quick. But finally, on Monday, I got the news I'd been waiting on for so long: Ali gave the final rose to Roberto, the impossibly handsome—and impossibly sweaty—bachelor on The Bachelorette, in the highest-rated finale for the show in years.
If that wasn't enough, we learned on Monday that NEWSWEEK, the company where I've worked for nearly 25 years, was being sold to 91-year-old Sidney Harman, a deep-pocketed Renaissance man and self-made kajillionaire who also seems to have found Ponce de Leon's spring of eternal youth. Harman made his fortune selling high-end stereo speakers and audio equipment, and is now chairman emeritus of Harman International, as well as a professor of polymathy at the University of Southern California.
Remarkably, Harman was already a teenager when NEWSWEEK was launched back in 1933. Now, after a few more i's are dotted and t's are crossed, he will own it. The magazine has been in the Graham family since 1961, and after deciding to sell, The Washington Post Company decision makers had to dodge the corporate raiders and investment bankers who would fire everyone and sully the magazine's good name. After winnowing down the choices, the prize went to Harman, who has called the magazine a "national treasure."
But when the Post Company finally asked Harman if he'd accept this particular rose, it included more than a few thorns—like millions in subscriber liabilities and a staff that will be reduced still further—LOOK!! Squirrel! Nothing to see here in this cubicle!! But in his talk to the anxious NEWSWEEK staff in New York this week, Harman won over the crowd with quotes like this one: "I'm not here to make money; I'm here to make joy." He closed with a line from an essay called "Our Best Hope," by the writer Maxwell Anderson: "The leaders too are soon forgotten unless they have the wisdom and the foresight to surround themselves with doers, poets, artifices of things of the mind and the heart. So I tell you that I am more than delighted to celebrate this day of transition with you artifices of things of the mind and the heart."
It was a deeply moving speech. Hearing someone talk about NEWSWEEK's future with that much optimism, considering the downward spiral we've been on the last couple of years, was remarkable. And that whole "not making money" thing was good to hear too. But ironically, when we tried to listen to Harman's New York speech here in the Washington, D.C., bureau, the sound system didn't work, and we couldn't hear anything through the little speakers except applause. I'm sure that's one problem that won't happen again under Harman's ownership. Which brings me to this awkward question: do we get an employee discount on speakers?
Whatever happens in the future, NEWSWEEK has been a wonderful place to work. And over the last few years, when we were down and nearly out, we'd always comfort ourselves around here by saying, "At least Don Graham's in charge," or "At least we have the Graham family." It was a rare and beautiful thing to be at NEWSWEEK in its heyday, by which I mean the moneymaking part. The Grahams took a personal interest in every employee, and it didn't matter what your job was. I know, because I've had lots of different ones here, from IT to researching to writing. I recently saw Mr. Graham at a book-signing event and he put his hand on my shoulder and looked me in the eye and apologized for having to sell the magazine. It was touching, because he meant it. Even with the sad outcome and all of the uncertainty, I felt honored by his gesture, and honored to have worked for his family, which worked so hard to make the transition as painless as possible.
I've been here since not long after college. I'm nearly 50 years old now—that's about as many years as the Grahams have owned the magazine. I grew up in rural Virginia, pretty much in the middle of nowhere, and somehow wound up working at NEWSWEEK. That was a dream come true. "I can't believe I work at NEWSWEEK," I often thought to myself. I've still thought that over the last couple of years, but the meaning has sort of been turned on its head. Here's hoping that it reverts to the way I used to mean it. The odds are long, but I sure feel a helluva lot better about them now.