Can Rahm Emanuel Win the Chicago Mayor's Race?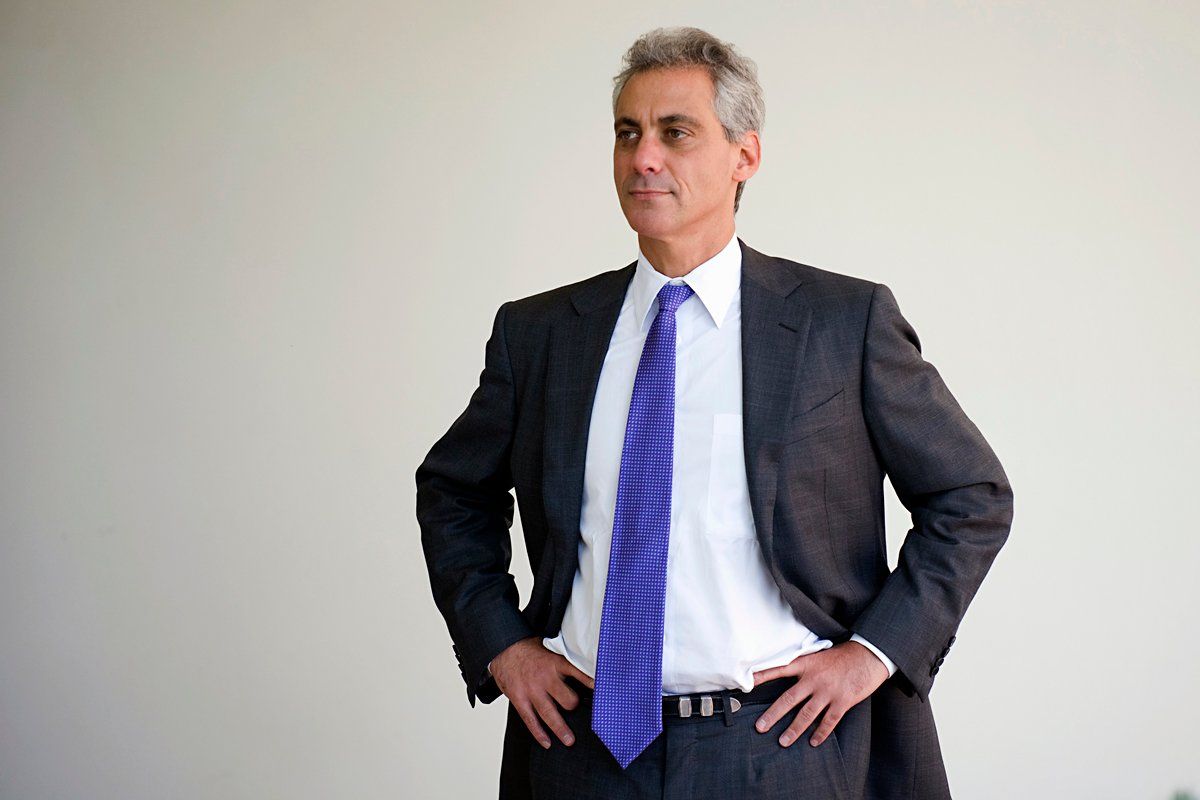 If White House chief of staff Rahm Emanuel leaves Washington to run for mayor of Chicago, plenty of Americans might see it as an odd career move. But Chicagoans get it. Being mayor of this city has often been more like being king, at least when a man named Daley has occupied the seat.
What is less clear is whether Chicagoans will warm to Emanuel. He certainly has a good-enough résumé. He served as a congressman from Chicago from 2003 to 2009 (replacing a fellow named Blagojevich). He also received what sounded like an endorsement from President Obama, who remains a very popular figure in his old town.
But the more important endorsement would have to come from the top dog. That would be Richard M. Daley, the current mayor, who will not seek reelection next year. As Dick Simpson, a former Chicago alderman, summed it up: "The president isn't on high here. Daley is."
Daley insists he will not make an endorsement in the race, although analysts—a list that includes practically everyone and her sister in this politics-obsessed city—suspect that Daley will eventually bless a candidate and give the nod to organizational foot soldiers so they can do their duty. Emanuel, who was a top fundraiser for Daley when the mayor first won office in 1989, is regarded as a candidate with access to mountains of cash—but who shows little evidence of a political base.
But some suggest that with a reputation for being foulmouthed and ill tempered, Emanuel possesses the kind of toughness that could be an asset in running a city known for its political knife fights. Paul Green, a political analyst who teaches at Roosevelt University, says that Chicago government traditionally works best with leaders "who are strong enough to crack heads." There is a difference, however, between being strong and being abrasive. Emanuel is often seen as the latter, as well as ruthless, and those are not charming qualities for a candidate, even in a shin-kicking city like Chicago.
An even larger problem, as Green sees it, is the shortage of time. If Emanuel waits to begin campaigning until after the November elections, he will have just two weeks to gather his nominating petitions. By then, other candidates will have already been rounding up allies.
The February election is expected to draw a crowded field. If no candidate reaches 50 percent, a runoff between the top two vote getters will be held in April, creating numerous possible scenarios. Monroe Anderson, a former press secretary under Mayor Eugene Sawyer, says the results are impossible to predict. "Anybody who claims to know how it's going to shake out at this stage," he says, "is selling you a bill of goods."
The conventional thinking is that the contest will likely be shaped by tribal politics in a city that is roughly a third white, a third black, and a third Hispanic. "The African-Americans are going to want a black candidate," says Anderson. "The Hispanics think it's their turn. And the whites aren't going to want to give it up."
During the "Council Wars" period of the early 1980s, when the city elected its first black mayor, Harold Washington, Chicago became a national embarrassment for its raw racial politics, and there is an undercurrent of concern here, according to Anderson and others, "that things could get ugly."
Some of those thought to have a shot at winning the race include Tom Dart, the Cook County sheriff; Miguel Del Valle, the city clerk; and Carol Moseley Braun, the former United States senator. Rep. Jesse Jackson Jr. is mulling a run and held a private meeting with Emanuel, but neither man disclosed the details of their talk. Both Jackson and Emanuel could be called as witnesses in the corruption retrial of ex-governor Rod Blagojevich.
Despite the challenges to an Emanuel candidacy, the chief of staff is regarded as one of the frontrunners, according to Don Rose, a political consultant who has worked for both Democrats and Republicans in Illinois. "With his money and his business connections," says Rose, "he's got to be considered one of the top three."
While money can go a long way, organization and workers on the ground still count for a lot in city politics. Rose says Emanuel is "regarded as a parvenu by a lot of the machine politicians he's going to need." A few of the old-school Chicago pols have already expressed their disdain for a man they regard as an arrogant hotshot.
Emanuel would be the city's first Jewish mayor. But he will receive no help from Alderman Bernard Stone, who represents a North Side ward that includes a large number of Jewish voters. "I think he'd be a terrible mayor," said Stone, who has been on the City Council for 37 years. "What does he know about the city of Chicago? Our problems? Our budget? I don't think he could find the bathroom at City Hall."
Whoever is elected mayor will have to figure out a lot more than his or her way around the office. The city has an operating deficit of $655 million, and the state of Illinois is in disastrous financial shape—so broke that it is in serious arrears on debts to contractors and universities.
Emanuel, of course, knows something about inheriting a tough economic situation. And his pockets are plenty deep. "What's his political base?" asks Anderson. "His base is having $10 million."