Can Republicans Keep Outgoing Trump Critic Justin Amash's Seat? Polls Suggest the Michigan Race Is a Toss-Up
The race to replace ex-Republican Representative Justin Amash of Michigan's 3rd district currently appears to be a toss-up less than two weeks before Election Day on November 3.
Amash, a staunch critic of President Donald Trump, formally left the Republican Party and declared himself an independent on July 4, 2019. The conservative lawmaker, who briefly considered seeking the Libertarian Party's presidential nomination, also voted alongside House Democrats to impeach Trump in December 2019. In July, Amash officially confirmed that he would not seek re-election.
Now, the race to replace him appears close—despite Amash representing a district that historically leans Republican. Democratic contender Hillary Scholten, a former Department of Justice attorney, hopes to flip the district blue as she faces off against Republican candidate Peter Meijer, an Army veteran and a member of the billionaire family behind the Meijer supermarket chain.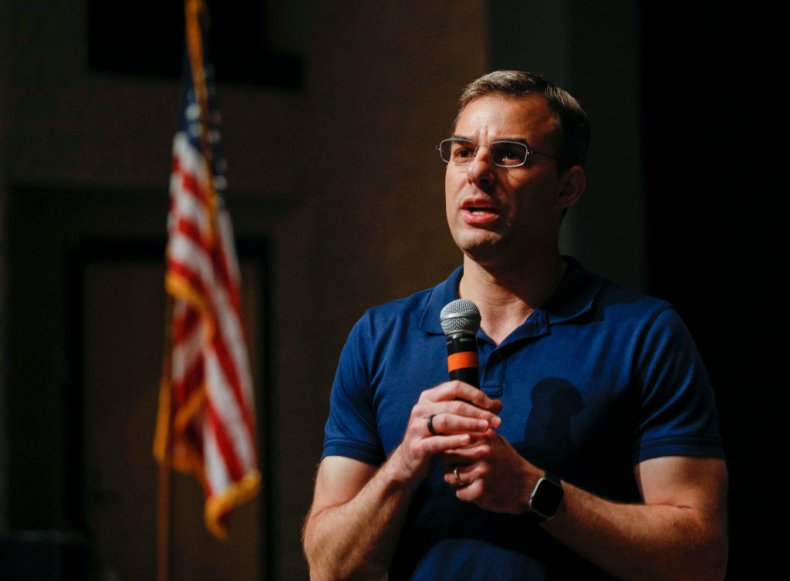 Recent polling shows mixed results. In an October poll conducted by the Democratic Congressional Campaign Committee, Scholten led Meijer by 5 percentage points. The Democrat was backed by 47 percent of voters compared with 42 percent who backed Meijer. But a separate poll conducted by National Research in October for Meijer's campaign showed the Republican with the support of 50 percent, while just 43 percent backed his Democratic rival—a lead of 7 percentage points.
Noah Sadlier, political director and spokesman for Meijer dismissed the Democratic poll in a statement emailed to Newsweek. "I was born in the morning but not this morning. DCCC polls are as unreliable as it gets. Our polling reflects that folks want forward-thinking, service-oriented leaders like Peter Meijer, not someone like Scholten who has a hazy background," Sadlier said.
A press representative for Scholten emailed Newsweek a write up by the Cook Political report reclassifying the Michigan congressional race as a "toss-up." Real Clear Politics also currently rates the contest as a toss-up.
Scholten described the race as "neck in neck," saying that her campaign is "on fire."
"We are on the brink of making history by electing the first Democrat to represent this area in nearly 50 years," Scholten said in an email to Newsweek. "Today's rating change confirms what we've seen again and again here in West Michigan—Republicans and Democrats alike want something new. They are looking for an independent-minded leader who will bring West Michigan values to Congress and work across the aisle to put people first."
Courtney Rice, a DCCC spokesperson, previously told the Ionia Sentinel-Standard that her committee's poll demonstrated that Michiganders in the 3rd district want change. "MI-03 is in play, and Hillary Scholten is the candidate to flip it, even as she holds her largest polling lead yet, this poll shows Scholten still has room to grow among undecideds in the final two weeks leading up to Election Day," Rice said.
The DCCC poll showed that Biden leads Trump by 2 percentage points in the historically Republican district. Biden was backed by 48 percent of voters while Trump was supported by just 46 percent of voters.
Amash weighed in with his thoughts on his district's election on Tuesday, commenting on how the polls and attack ads targeting Scholten.
"The polls showing Trump losing in #MI03 are no surprise to me or others who pay attention to politics in West Michigan. 2016 was the fluke. This district has been close for many years. While I consistently won by large margins, other Republicans fared worse over the same areas," the congressman tweeted.
"Speaking of #MI03, I hate the negative ads coming from both sides, but the recent NRCC ads against @HillaryScholten are particularly bad," Amash wrote in a follow-up post.
Newsweek reached out to press representatives for Amash for further comment, but they did not respond by the time of publication.
Updated October 21, 2020 at 3:01 p.m.: Additional comments from Scholten have been added.