Can Rex Tillerson's Diplomacy Save U.S. Relations With Russia?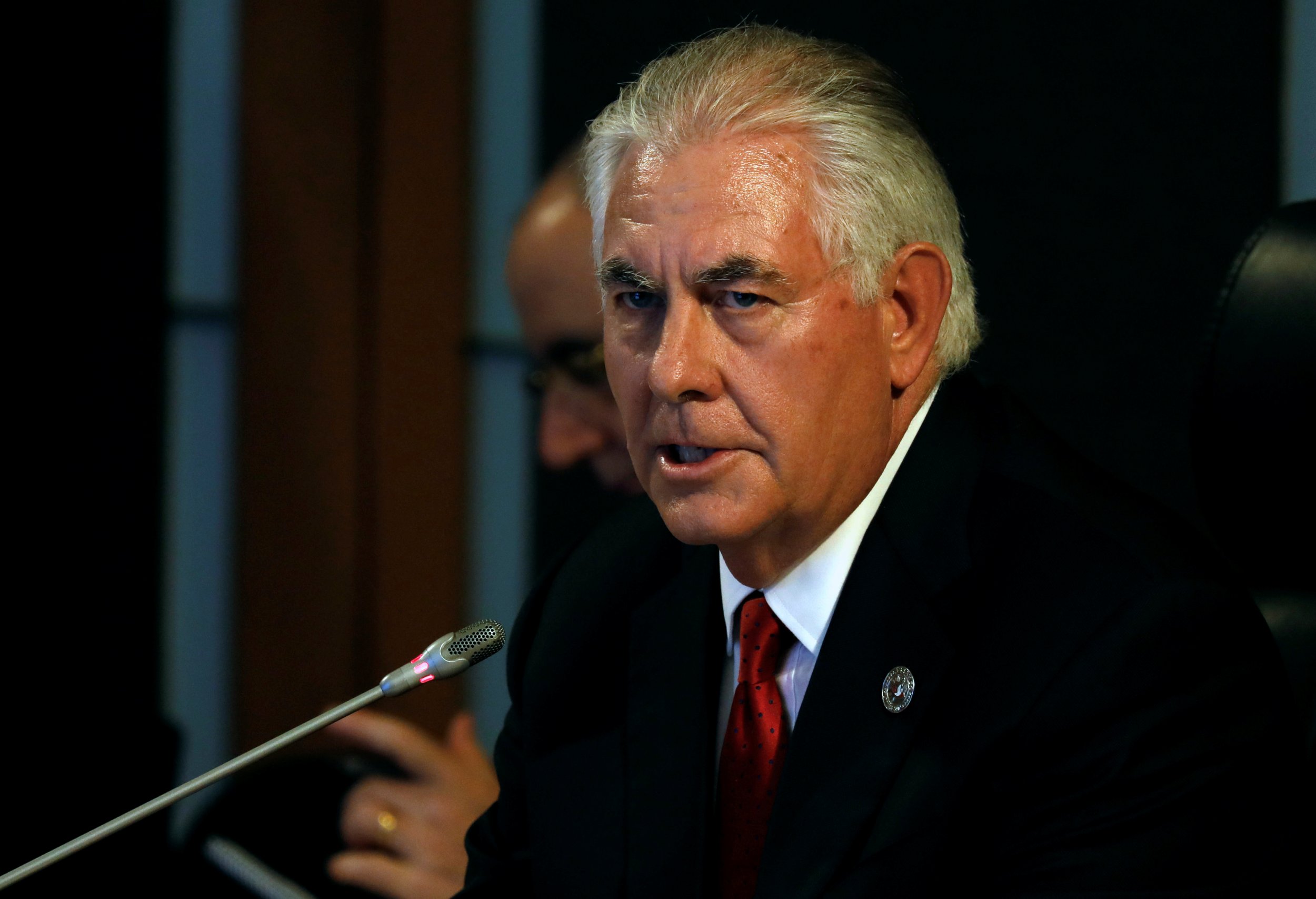 President Donald Trump has said nothing about Russia's July announcement that it will expel American diplomats, seize American properties, and force the U.S. to cut 755 staff from its embassy and consulates there.
But on Monday Secretary of State Rex Tillerson said the U.S. is ready to talk.
Tillerson said he told Russia they can expect the Trump administration's response to the expulsion of the diplomats by September 1.
Russian President Vladimir Putin first announced his decision to kick out the diplomats during an interview with Vesti TV on July 30 and gave the U.S. the September deadline. The move was in response to a bill that gives Congress control of American sanctions on Russia that was grudgingly signed by Trump last week after it received a veto-proof majority.
The Senate and House distrust Trump on the issue of Russia after he sought to roll back sanctions imposed by the Obama administration late last year. Those sanctions expelled 35 Russian diplomats and seized two properties used for spying.
Russia's meddling in the 2016 election "created serious mistrust between our two countries," Tillerson said Monday. Yet "I don't think it is useful to just cut everything off on one single issue," he said.
"These are two very large countries and we should find places that we can work together, let's try to work together," Tillerson said. His comments follow his meeting with Russia's Foreign Minister Sergey Lavrov on Sunday on the sidelines of a summit of Asian nations in the Philippines.
Read more: Putin's plan to expel U.S. diplomats 'uncalled for,' says State Department
"We felt that our American counterparts need to keep the dialogue open," Lavrov said Monday, noting that they have resumed a diplomatic communication channel that was frozen after the U.S. moved to tighten sanctions. "There's no alternative to that," Lavrov said.
In May Tillerson said U.S.-Russia relations had reached an "all-time low point since the end of the Cold War, with a very low level of trust."
Last Thursday Trump wrote on Twitter that "you can thank Congress" for that low level of trust and that it is to blame for America's relationship with Russia being "at an all-time & very dangerous low." Trump complained that elected officials were taking away his power to negotiate with Russia in their sanctions bill.
The Trump administration has attempted to salvage what it can of the relationship. Trump has refused to acknowledge American intelligence community findings that Russia interfered in the 2016 election and has repeatedly called those conclusions a "hoax."
When Trump met with Putin for his first time during the G20 Summit in July he accepted Putin's claim that Moscow did not interfere in the election. Their talks led to the announcement of a ceasefire in southwest Syria.
Tillerson cited this agreement as a key reason for the U.S. to continue talks.
Even so, "Russia has continued to meddle in U.S. politics," said former U.S. Ambassador to Russia Michael McFaul on Sunday. McFaul cited that the top hashtag among 600 Twitter accounts linked to Russian influence operations last week was #FireMcMaster. The social media campaign calls for Trump to remove his National Security Advisor H.R. McMaster who has been critical of Russia.
To smooth over relations with Putin, Tillerson has held off on using nearly $80 million available to the State Department to fight Russian disinformation campaigns.
Tillerson's approach has led to some results as he said Monday that Russia shows "some willingness" to begin discussing a solution to the conflict in Ukraine. Russia annexed the Crimean region of the country in 2014.
The U.S. will send its special envoy for Ukraine negotiations, Kurt Volker, to Moscow, Lavrov said, to discuss next steps.